Blog
Warm Butternut Squash Smoothie – Deliciously Comfy Plant Based Drink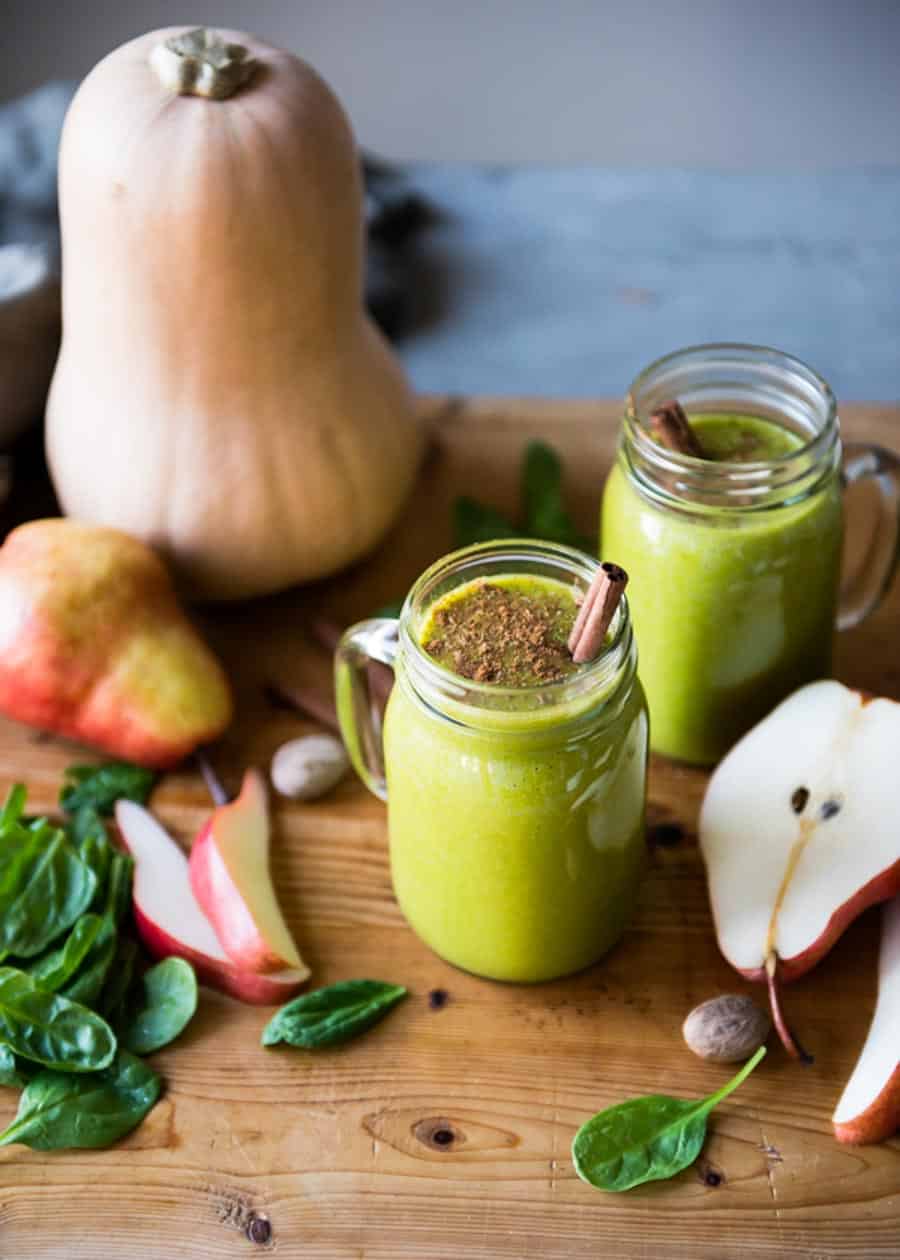 You already braved leaving those warm covers, hopped across a cold floor, and shivered after getting out of the shower. The last thing you want for breakfast is a chilly smoothie! I hear ya… so I present my Butternut Squash Smoothie. It is warm and buttery with a little bit of spice and definitely counts as a green smoothie.
I know people don't normally think of drinking warm smoothies, yet I dare you to give this one a try this winter; it's so tasty and the perfect way to use seasonal ingredients in a palatable way during the coldest months of the year.
Blending a Butternut Squash Smoothie
This smoothie does take a bit of prep, as the butternut squash needs to be cooked before blending. I recommend cooking the squash ahead of time, then reheating before adding it to the blender, or just using the heat generated from your high powered blender to warm up the smoothie by blending it longer than normal.
Blend the spinach and cashew milk until smooth.
Add remaining ingredients and blend again until smooth. If you have a high powered blender and are using that to heat up the ingredients, then blend until warm.
To roast the butternut squash: Preheat oven to 425°F. Line a baking sheet with parchment paper. Cut the butternut squash in half lengthwise. Scoop out the seeds from each half. Lightly rub the halves with a little oil. Roast cut side down for 20 minutes, turn squash over and roast for 10-20 minutes longer, or until very tender when pierced with the tip of a knife in the thickest part. Let cool slightly before using for this butternut squash smoothie. Store leftovers, wrapped, in the refrigerator.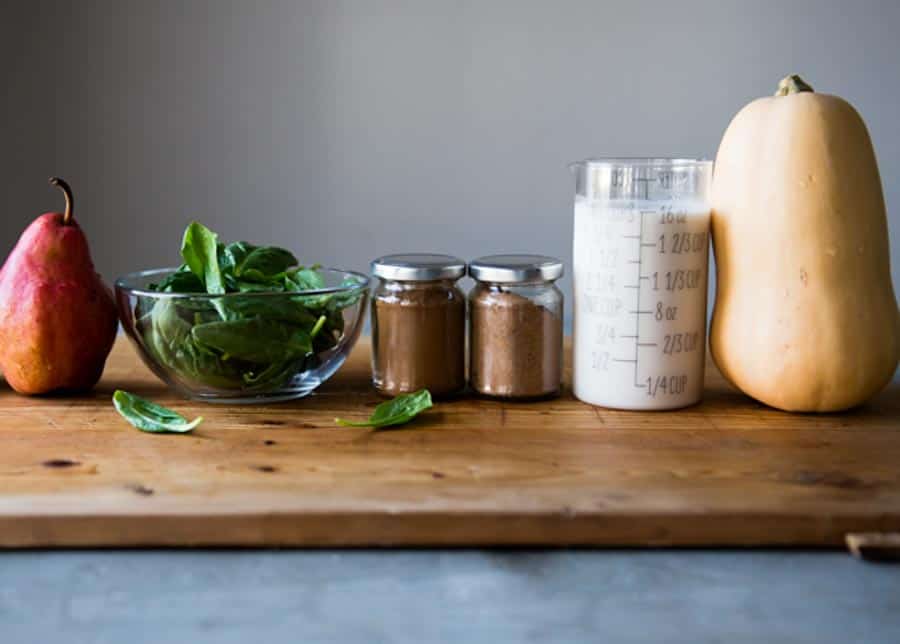 Easy Ingredient Swaps
Instead of butternut squash, use cooked sweet potato, kabocha squash, or acorn squash. A red apple works great instead of pear. Swap kale with spinach. Use the spices of your choice. Any milk can be used in place of the cashew milk. Make this butternut squash smoothie your own #idowhatiwant.
Squash Smoothie FAQs
What fruit goes well with butternut squash?
My butternut squash smoothie uses pear. Red apple or mango also go well with butternut squash.
Can you eat butternut squash raw?
Yes, you can. Yet if you want to blend it into a smoothie I recommend baking beforehand. Raw squash is pretty hard and would be difficult to blend up well. Baked squash is soft and easy to blend into a silky smooth beverage.
How do you make a warm smoothie?
You can either use warm ingredients, or use a high powered blender to blend the ingredients until heated. A blender like a Vitamix has a powerful motor that can heat up ingredients into the desired temp.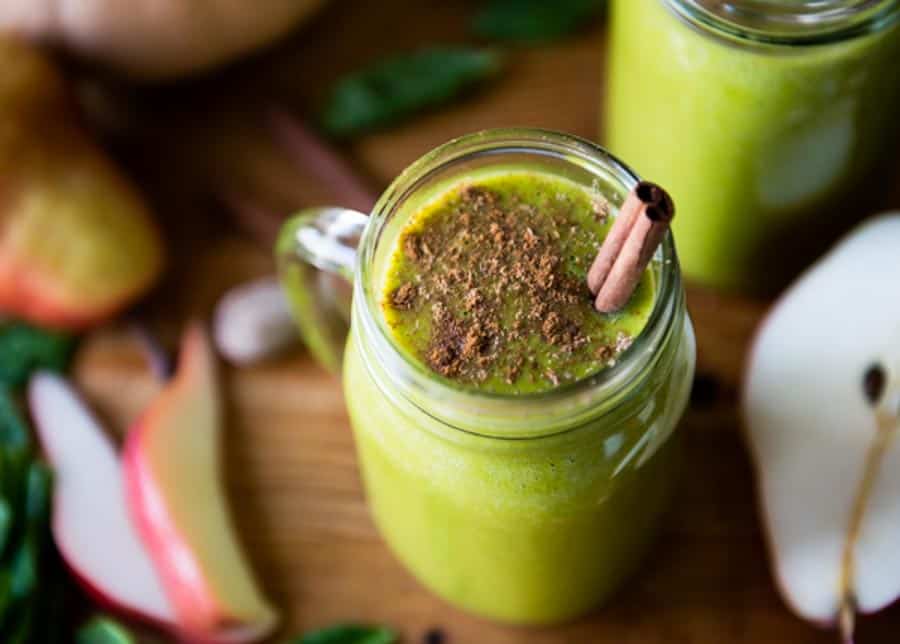 Butternut Squash Benefits
1 cup of this sweet vegetable contains only 4 grams of sugar, making it a great smoothie ingredient. It also contains 6.6 grams of fiber, over 100% the recommended daily value of vitamin A and a decent amount of magnesium, calcium, vitamin C, potassium and phosphorus.
Butternut squash can help lower blood pressure and cholesterol as well as help prevent asthma through its large amounts of beta carotene. It's wonderfully low in sugar (yet naturally sweet!) and is a great low sugar option for those with diabetes. So blend up this butternut squash smoothie and enjoy no sugar spike!
5 Warm Smoothie Recipes
A chilly green smoothie might not be your breakfast of choice right now; I totally get it! So I created a few warm smoothie recipes to get you through the winter months:
Honestly, you can take the chill out of most any smoothie by using room temp or fresh ingredients instead of frozen. If you're using a high powered blender then the motor will warm up the smoothie if blended long enough.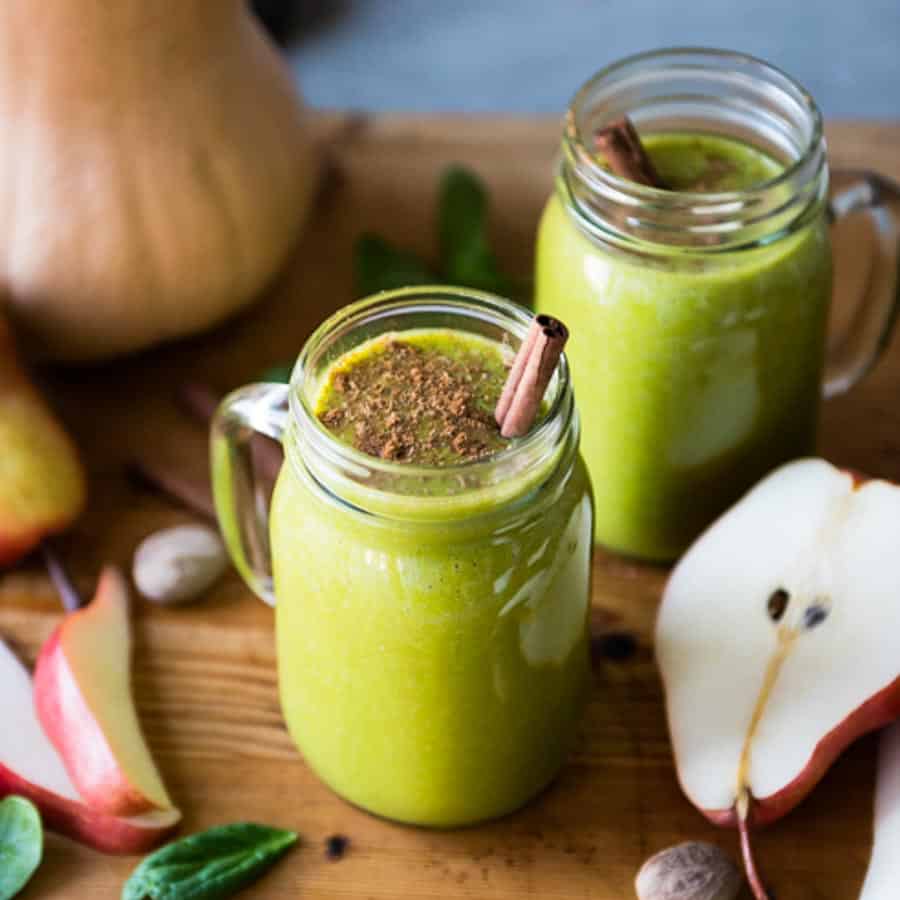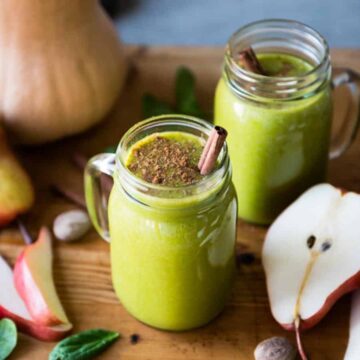 Warm Butternut Squash Smoothie
Sip on a warm smoothie when the weather turns chilly. This one features spinach, butternut squash, pear, a hint of spice, and creamy cashew milk.
Ingredients
¾

cups

fresh spinach

1

cup

cashew milk

(warmed)

¾

cup

butternut squash

(cooked (see notes))

½

pear

(peeled and cored)

¼

teaspoon

ground cinnamon

¼

teaspoon

ground nutmeg

1

serving

Protein Smoothie Boost

(optional)
Video
Notes
To roast the butternut squash: Preheat oven to 425°F. Line a baking sheet with parchment (baking) paper or foil. Cut a medium butternut squash in half lengthwise. Scoop out the seeds from each half. Lightly rub the halves with a little oil. Roast cut side down for 20 minutes, turn squash over and roast for 10-20 minutes longer, or until very tender when pierced with the tip of a knife in the thickest part. Let cool slightly before using for this recipe. Store leftovers, wrapped, in the refrigerator.
Swap in acorn squash, kabocha squash or sweet potato for the butternut squash
Add 1 date or a bit of maple syrup for a slightly sweeter smoothie
If you don't want a warm smoothie, keep ingredients at room temp for a room temp beverage, or freeze squash before adding to make a refreshingly cold smoothie
Nutrition (estimated)
Calories: 132kcal (7%) Carbohydrates: 28g (9%) Protein: 2g (4%) Fat: 3g (5%) Saturated Fat: 1g (6%) Polyunsaturated Fat: 1g Monounsaturated Fat: 1g Sodium: 183mg (8%) Potassium: 602mg (17%) Fiber: 6g (25%) Sugar: 11g (12%) Vitamin A: 13296IU (266%) Vitamin C: 32mg (39%) Calcium: 87mg (9%) Iron: 2mg (11%)