Blog
Plant Based Thai Lettuce Wraps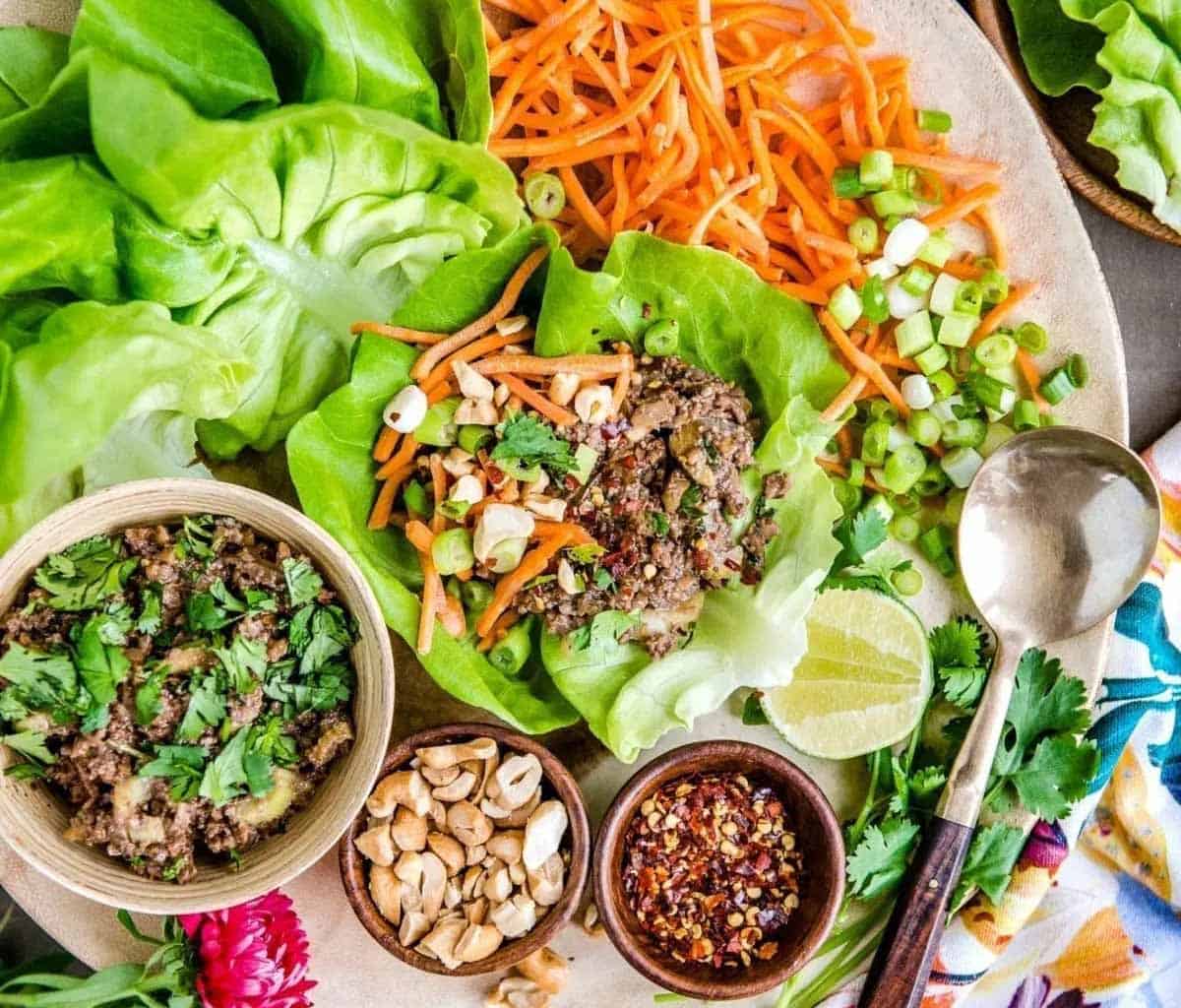 Step aside, take out. This Thai lettuce wraps recipe will have you enjoying the best that take out has to offer, yet in the comfort of your own home. And you'll know exactly what's in these delicious, plant powered wraps! Bursting with flavor, this may soon become a family fav recipe.
How to make Thai lettuce wraps
If you've already taken a peek at the recipe, don't balk at the number of ingredients. This recipe uses 100% fresh ingredients + spices, and the flavor combo is out of this world. They are super easy to cook + assemble, so stick with me and you'll be in foodie heaven.
I like to start with the 'meat' mixture. Using a mix of walnuts and mushrooms along with several delicious veggies, the base of the Thai lettuce wraps is slightly spicy and super filling. You can swap the walnuts with cashews, peanuts, or almonds. The mushrooms can be swapped with another veggie, or just swap with more walnuts.
Feel free to use as much or as little cilantro and mint as you want. These are great for flavor, yet aren't needed if you'd rather leave them out. This recipe is originally from my Simple Green Meals cookbook, and has been tested several times for perfection.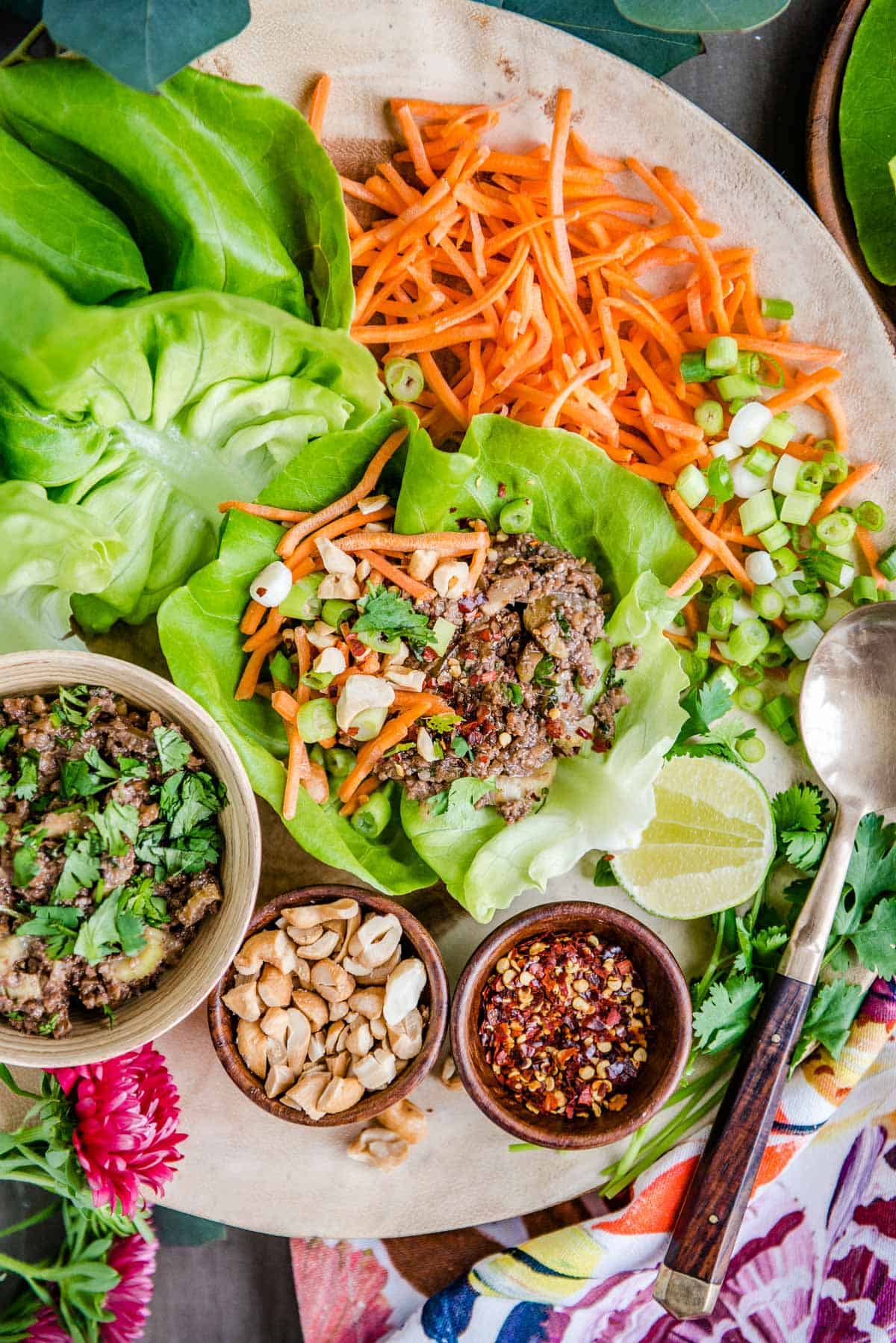 Freezing Thai lettuce mixture
You can easily make these Thai lettuce wraps ahead of time or make several servings at once, then freeze. Doubling the recipe takes very little extra work, and then you've got a super easy meal for next week.
To freeze, make the filling up to step 3. Once you remove from heat, don't add any other ingredients. Allow to cool completely, then store in a freezer-safe container.
When you're ready to eat, remove the mixture from the freezer. Thaw enough to break up, then heat in a skillet over low heat until warm. Once warmed, continue to follow the recipe instructions in step 3. You'll be on your way to enjoying the Thai lettuce wraps recipe in no time!
Vegan protein options
If you love chicken, then toss some grilled chicken in instead of the walnut + mushroom mix. Yet if you're ready to try something new (and delicious!), then give this plant powered recipe a try. Here are some more plant based protein options if you want to change up the walnut + mushroom filling:
Tofu
black beans
100% walnuts
Cashews
Almond + mushroom mix
Obviously changing the recipe will change the flavor, yet don't be afraid to turn this Thai lettuce wraps recipe into your own creation.
FAQs
What lettuce do you use for lettuce wraps?
Butter lettuce works best for this recipe, as this leafy green has sturdy big leaves that are easy to wrap. You can also use big romaine leaves, though they will turn your wraps into 'tacos.'
Are lettuce wraps good for weight loss?
Yes! This recipe has a great balance of healthy fat, carbs, and protein. It's both filling and full of plants, a win-win.
What if I can't do spicy food?
Not a problem! These Thai lettuce wraps carry a bite from the fresh ginger and red pepper flakes. You can use ground ginger for less of a kick as well as omit the pepper flakes if needed.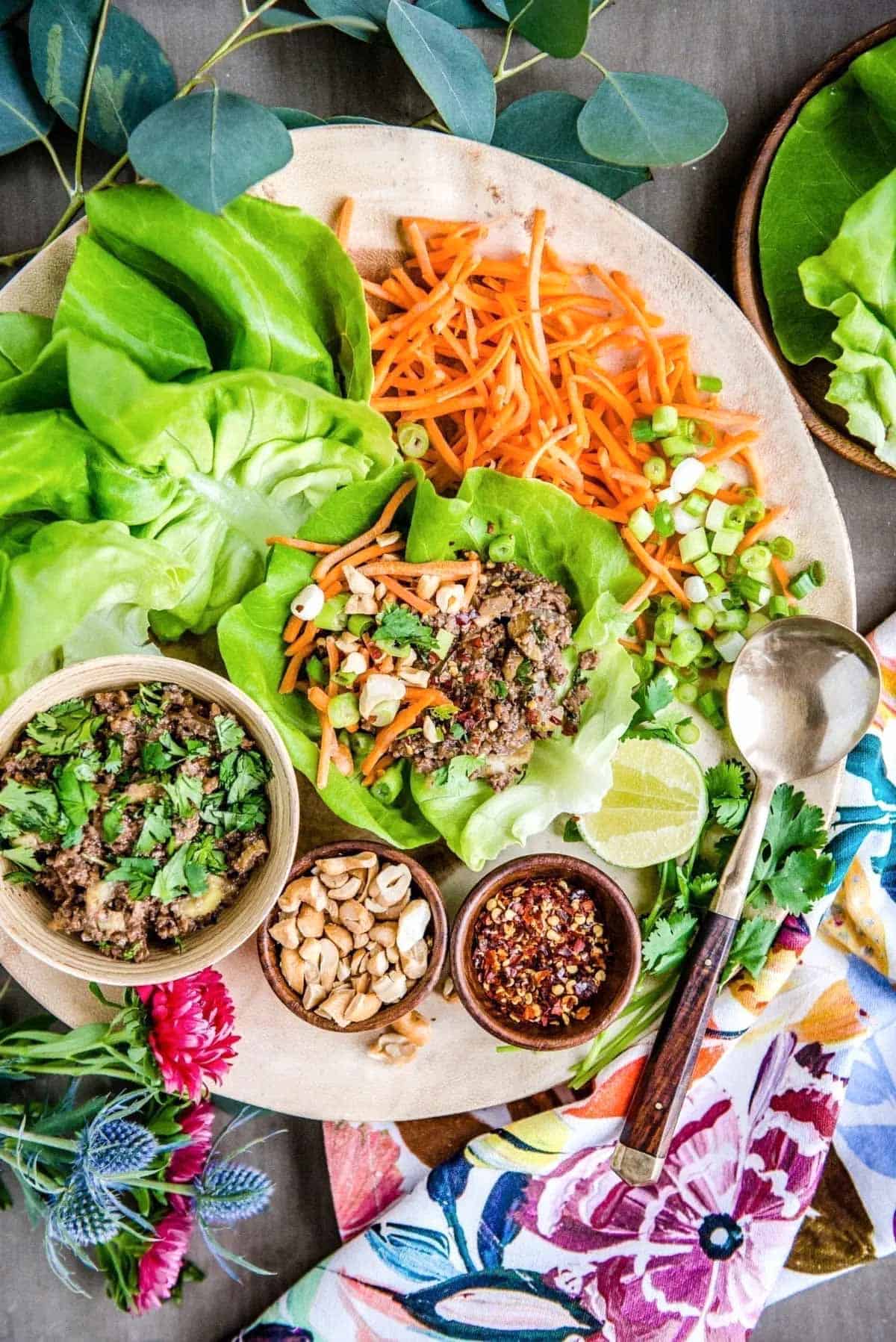 Description
When I became a vegetarian at 16 years old, one of the meals I missed the most was the chicken lettuce wraps from my fav Chinese restaurant. Then a vegetarian version came out on the market, and I was rejoicing—that is, until I learned that version contains gluten, which just seems strange. This recipe is inspired by those, yet this dish adds a lot more nourishment and flavors to make me one happy gluten-free vegetarian.
---
Filling:
2 tablespoons

organic virgin coconut oil

1

rib celery, thinly sliced

1⁄4 cup

minced shallots

1 tablespoon

minced fresh ginger

3

garlic cloves, minced

8 ounces

baby bella or white button mushrooms, finely chopped

2

heaping cups walnuts, chopped

2 tablespoons

fresh lime juice

2 tablespoons

tamari

2 tablespoons

coconut sugar

1 tablespoon

rice vinegar

2 tablespoons

fresh mint, chopped

2 tablespoons

fresh cilantro, chopped
Pinch of crushed red-pepper flakes
For serving:
12

leaves butter lettuce

1 cup

shredded carrots

1⁄2 cup

raw cashews, chopped

1⁄4 cup

fresh cilantro, chopped

1⁄4 cup

thinly sliced scallions
Lime wedges
---
Warm a large skillet over medium-high heat. Add the oil and heat until shimmering. Add the celery and shallots and cook for 5 minutes. Add the ginger and garlic and cook for 1 minute.
Stir in the mushrooms. Cook, stirring occasionally, until the mushrooms release their liquid and it evaporates, and the mushrooms start to brown nicely. Add the walnuts and cook for 1 to 2 minutes to toast them.
Stir in the lime juice, tamari, coconut sugar, and rice vinegar. Simmer for 15 minutes, or until the sauce thickens slightly. Remove from the heat and stir in the mint, cilantro, and red-pepper flakes. Taste and add more tamari, if desired, for more saltiness. Keep warm until ready to serve.
To serve, spoon some of the vegetables into the lettuce leaves. Top with a sprinkling of carrots, cashews, cilantro, and scallions and add a squeeze of lime. Serve warm.
Notes
GLUTEN FREE, NUT FREE (remove walnuts and double mushrooms, remove cashews), VEGAN, DAIRY FREE
Category:

Dinner

Method:

Sauteed

Cuisine:

Asian
Keywords: thai recipe, lettuce wraps, vegan asian
More plant based recipes
While I'm all about eating more plants, I also need to feel full + satisfied after a meal. Here are a few super filling and super fabulous plant based meals you can easily add to your next Meatless Monday or vegetarian night:
To help my family eat more plants, I even created my own meal planner, Rawk the Year. It has hundreds of plant forward recipes to help you incorporate more fruits and veggies into your diet. So the recipes are kid tested + kid approved too!