Blog
Plant Based Meal Plan – 7 Days of Whole Food Snacks and Meals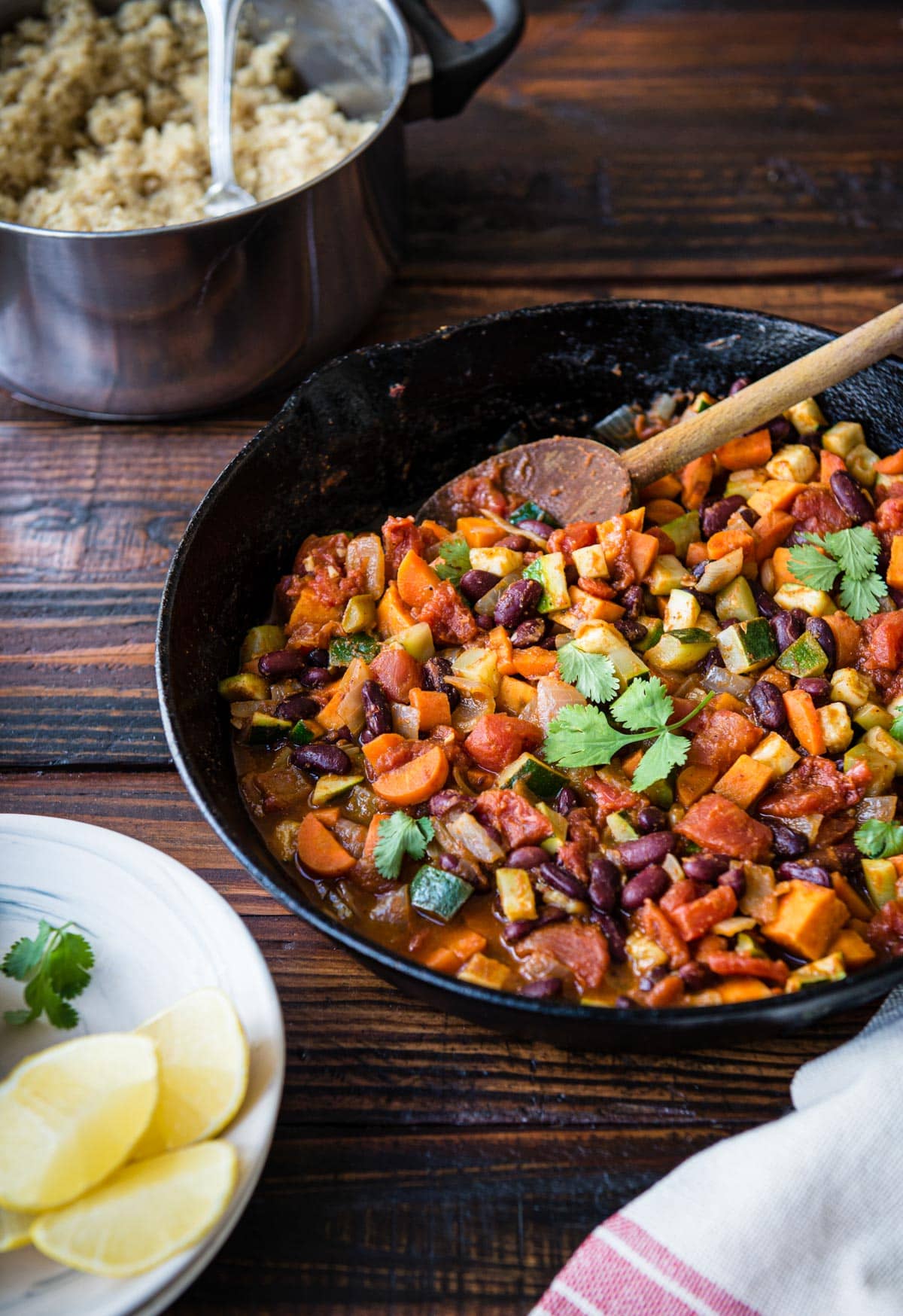 Interested in trying a plant-based diet, yet not sure where to start? This 7-day plant-based meal plan includes a shopping list and tasty recipes to get you started. I've included some of my favorite recipes from my best-selling cookbook, Simple Green Meals, and even calculated the shopping list (for two servings) to make it as easy as possible to give this a go for you and a buddy. I've cooked these whole food plant based meal plan recipes everywhere from my home kitchen to The Doctors to show you that eating more plants is totally doable and worth it.
I know what it's like getting started with plant-based eating. It can be SO overwhelming with all the recipes and rules. Then you give it a shot and make something, and it's gross— which totally sucks. I promise this is NOT that. If you follow my 7-day plant-based meal plan, you'll fall in love with the recipes!!! This was made for those of us who are foodies trying to get healthy. Bon appetit!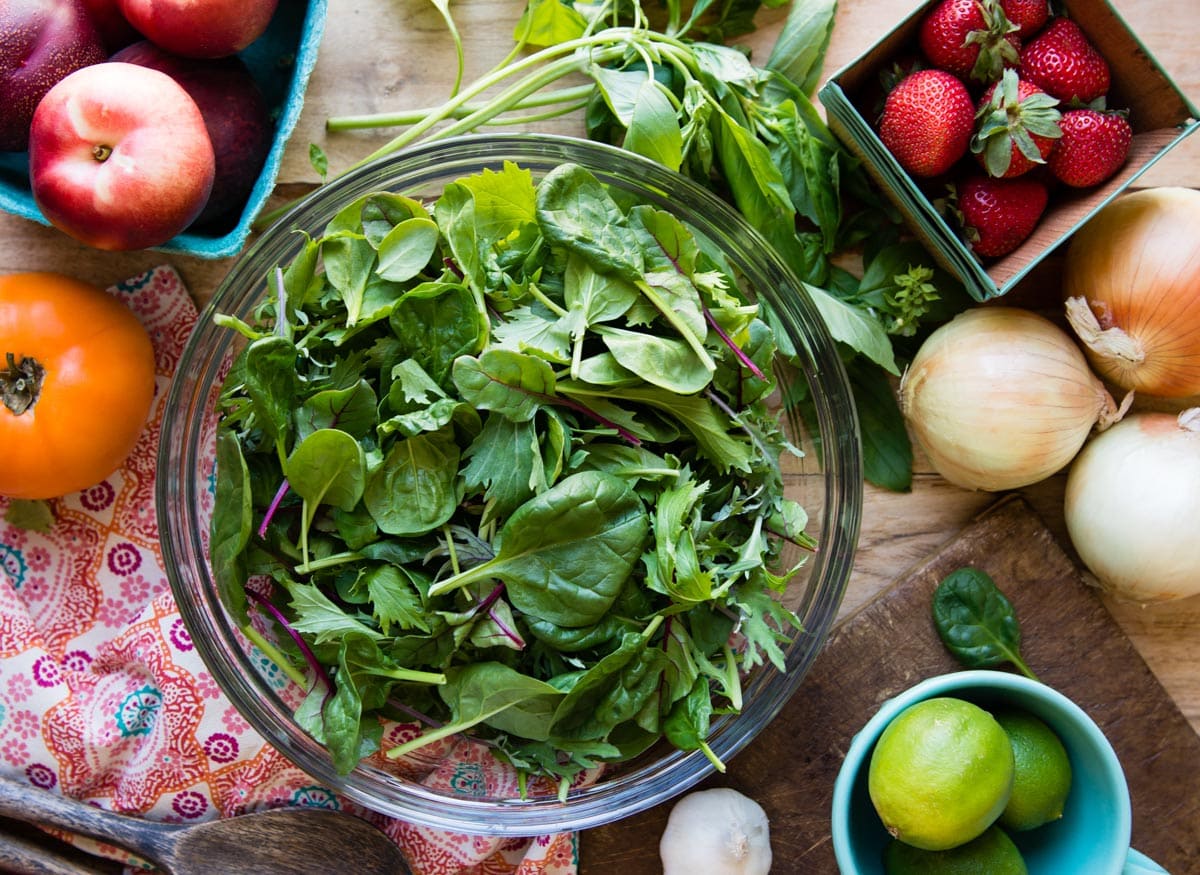 What is a Plant Based Diet?
A plant-based diet means loading up your day with plants that are nutrient dense and not process. This can vary from person to person, yet here's a few of the top things you'll eat when on a plant-based diet:
Fruits + Vegetables: squash, potatoes, kale, onions, green beans, apples, avocados, mixed berries, pineapple and more.
Nuts + Seeds: almonds, cashews, sesame seeds, pecans
Nut Butter + Natural Sweeteners: almond butter, maple syrup, honey
Whole Grains: brown rice, rolled oats, quinoa
Embracing these amazing food encourages you to limit (yet not totally exclude!) meat, dairy, eggs and heavily processed foods. Translation: You don't have to be vegan to be plant-based. The goal is to fill up your plate with an array of rainbow-filled plants, and also be okay eating cheese, meat and Taco Bell occasionally. Yep, that's me!
This plant-based diet meal plan pulls in an incredible variety of recipes to help you fall in love with this lifestyle. It really is incredible when you embrace plant-based smoothies, snacks, meals and even desserts. Yes, you can eat desserts on a plant-based diet! Woot!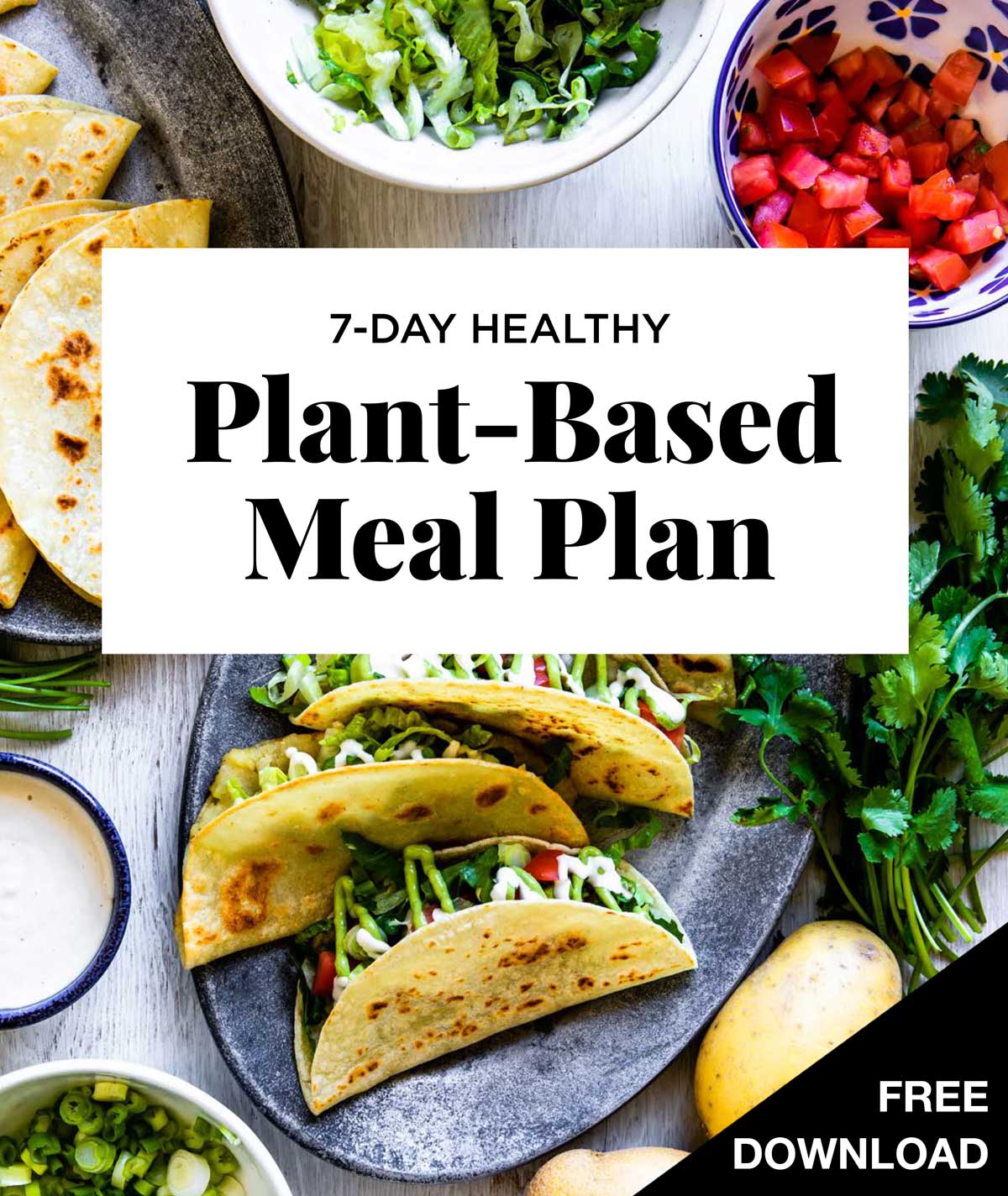 Download: Free Plant-Based Meal Plan
With this free plant-based diet meal plan, you get 3 breakfast recipes rotated throughout the week (one recipe can be made ahead then portioned out for the week), 3 snacks (2 which can be prepped ahead) as well as 7 satisfying dinners. All recipes are whole food plant based and will actually fuel your day.
This meal plan is based on 2 people, so get ready for easy lunches with dinner left overs or double the shopping list for a family of 4… you do you! If you're worried that rabbit food is on the menu for the week then take a breath now. If I want to eat healthy then I need to eat good food. So that's what I'm bringing to you!
Here's the Plant-Based Diet Meal Plan Download

Plant Powered Breakfasts
While smoothies are my breakfast go-to, I like having other easy options as well. That's where my Baked Oatmeal recipe comes in. You can make it once and portion it out for the week then just reheat and go when you're ready to fuel up.

Healthy Snacks
Snacks are my jam. I often eat smaller meals throughout the day, so snack time needs to keep me energized without the sugar crash. For this plant based meal plan I'm sharing my recipe for chocolate dibbed bananas with almond butter— they are amazing. These dessert-like energy balls are perfect for snacking on during the day.
You can easily customize them too! Swap out the peanut butter with nut/seed butter of your choice. Feel free to use your fav chocolate chips (be sure to read the label if you wanna keep these vegan!).

Filling Dinners
The dinners on my whole food plant based meal plan are definitely a highlight. From Stuffed Portobello Mushrooms to a savory Vegetarian Noodle Salad you won't feel like anything's missing from these plentiful meals:
While salad can be filling, I like a heartier option for dinner. The meals I picked for this free plan are ones my family actually eats (and enjoys!). Feel free to spice them up the way that suites you best and serve with the toppings you know your family will love.
Top Questions with a Plant Based Diet
What does plant based mean?
Plant based eating means celebrating and enjoying the foods that naturally fuel our bodies and are minimally processed. Choosing fruits and vegetables as your main source of fuel while limiting meat, dairy and heavily processed foods. This plant based meal plan will show you the power of plant based protein, healthy fat and whole foods can have on your mind + body.
How will I get enough protein without meat?
I know we hear protein and we think meat. Yet you'd be surprised just how much protein comes from plants. The best diet is a balanced one, so my recipes include a great balance of protein, carbs and healthy fats to get you full and keep you satisfied.
I don't like salad, can I still eat plant based?
Heck, yes!! I like a good salad yet I can't eat it all the time. On my 7-day plan you'll be eating real, nourishing meals, drinking filling smoothies and eating delicious snacks that won't give you a sugar crash.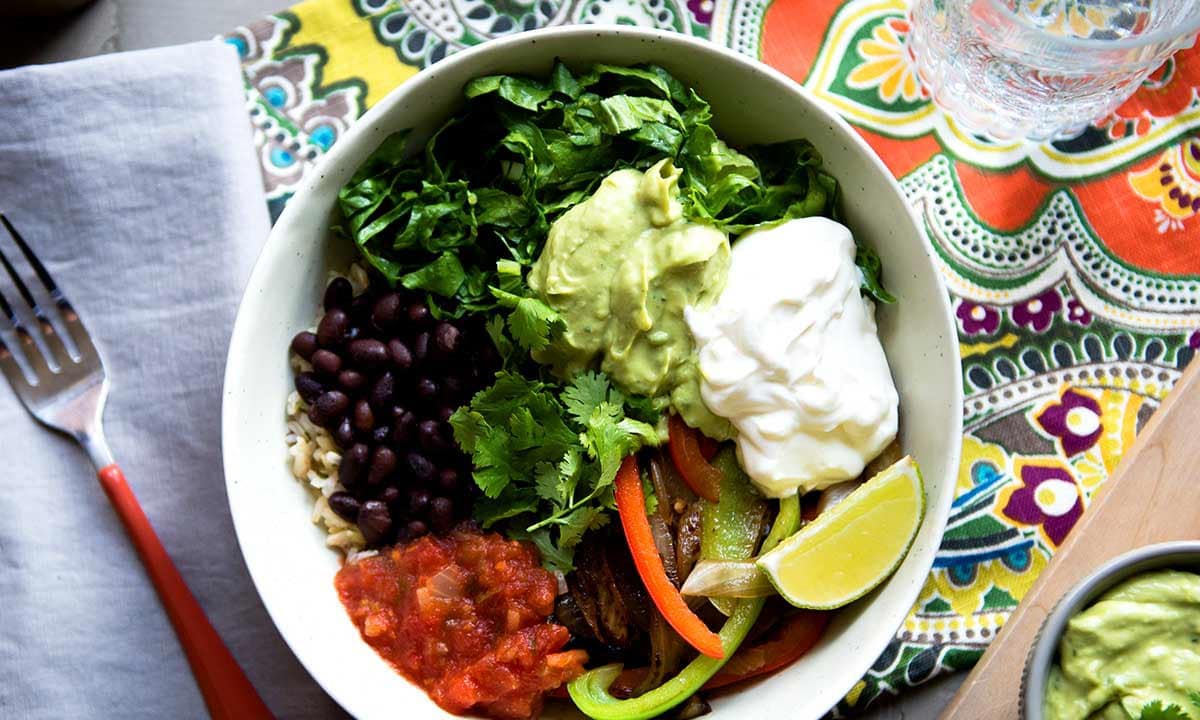 Whatcha think of my plant-based diet meal plan?
I can't wait to hear how your plant-based week goes! Will you share your favorite recipe in the comments below, as well as any that you're adding to the regular menu? You can no longer say a whole food plant based meal plan is bland, boring or unattainable; right?! If you loved this menu-shopping list-recipes already planned kind of eating, then you should definitely try Rawk the Year Meal Planner. I've included over 400 plant-based recipes that you can build your own meal plans with.
I created a meal planner because my family was in a food slump. I needed something that was easy to customize or grab as-is for the busy weeks. My family needed meals they would actually eat and give them a reason to come to the table on a weeknight.