Blog
Meal Replacement Smoothies | Perfect Recipes to Fuel your Busy Day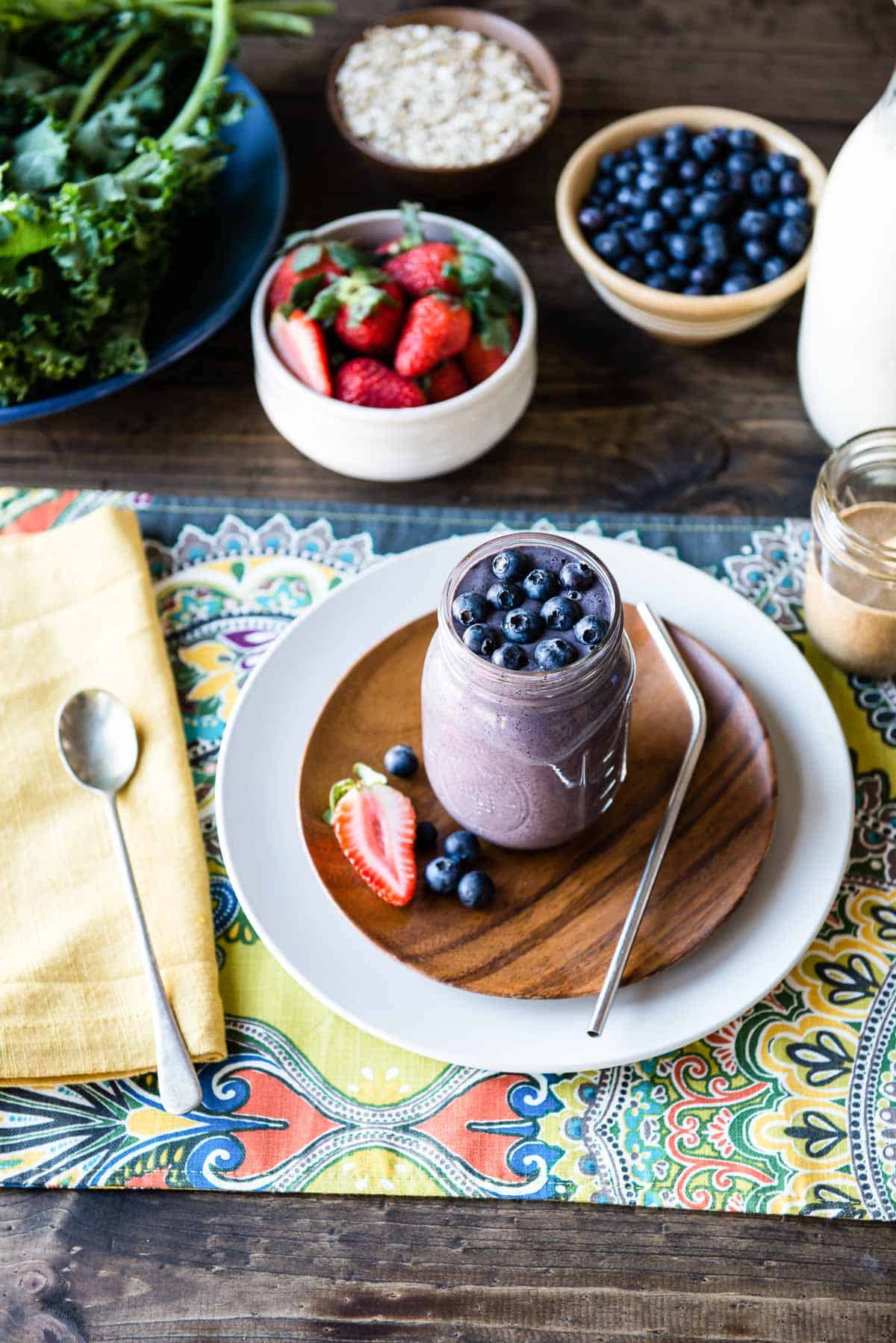 I believe that any time is a great time for a smoothie, especially when you're trying to turn it into a meal replacement. Breakfast, lunch, dinner, dessert, snack, post workout fuel, late night munchies, etc— you name it! Our bodies have some vicious cravings (and also need) vitamins and minerals all day long. Leafy greens and fresh fruit in a blended smoothie always makes for a great option. I use the meal replacement smoothie recipes below to power my day with whole foods and plant protein, and now you can too!
Yet at certain times of day, our body needs different things to thrive. Let's take actual meals, like breakfast, lunch and dinner. These meals are super important— and can be easily swapped for a green smoothie. You just have to know the right way to do it, which we talk about below.
15 Meal replacement smoothie recipes
All kinds of smoothies can easily be turned into a meal replacement with the right plant based protein powder, yet here are some that are already there based on their protein + fat + carb ratios.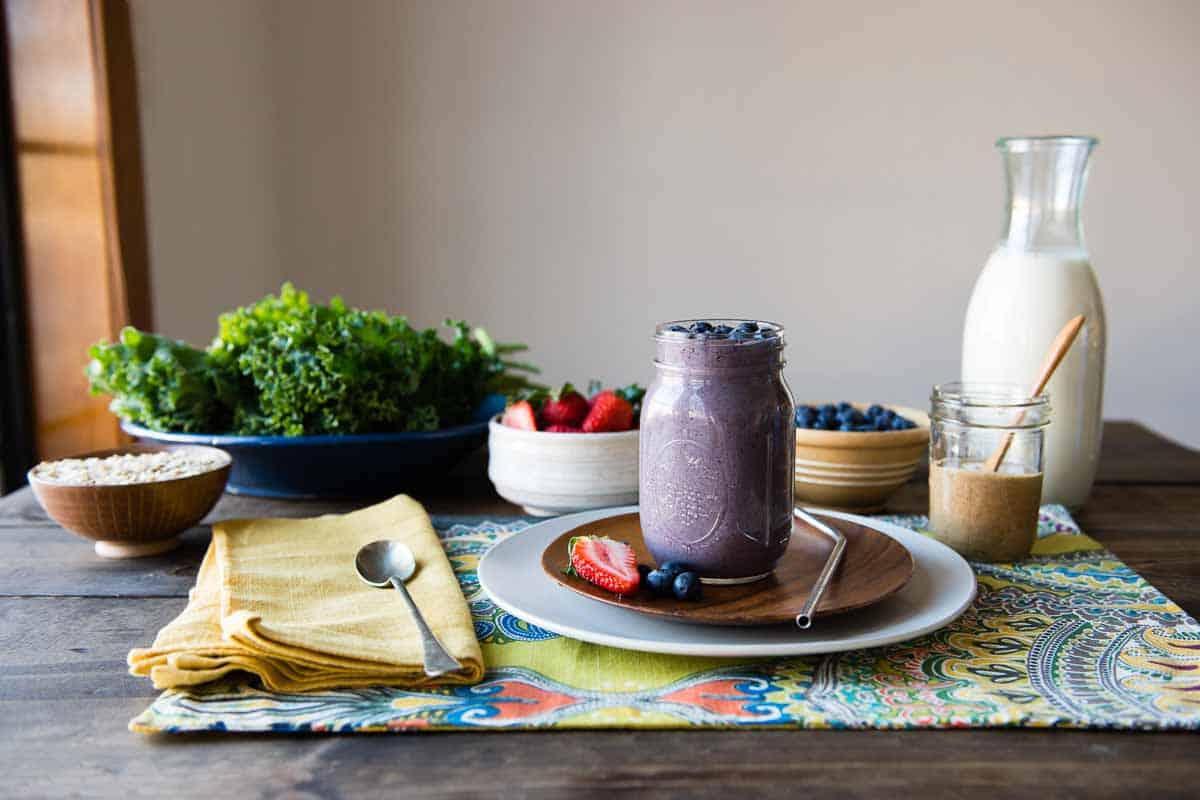 Morning Smoothies
Smoothies for Lunch
Smoothies for Dinner
Are smoothies a meal replacement?
Yep, we drink meal replacement smoothies all the time. Sometimes it's because we're in a hurry and just want to down something asap. Other times it's because we're trying to slim down (usually after the winter smorgasbord). Swapping a meal with a green smoothie can benefit you in these ways:
you'll be more energized thanks to all the fresh, raw ingredients
they're super quick to make and drink
less bloating than usual when eating a meal
it'll help with weight loss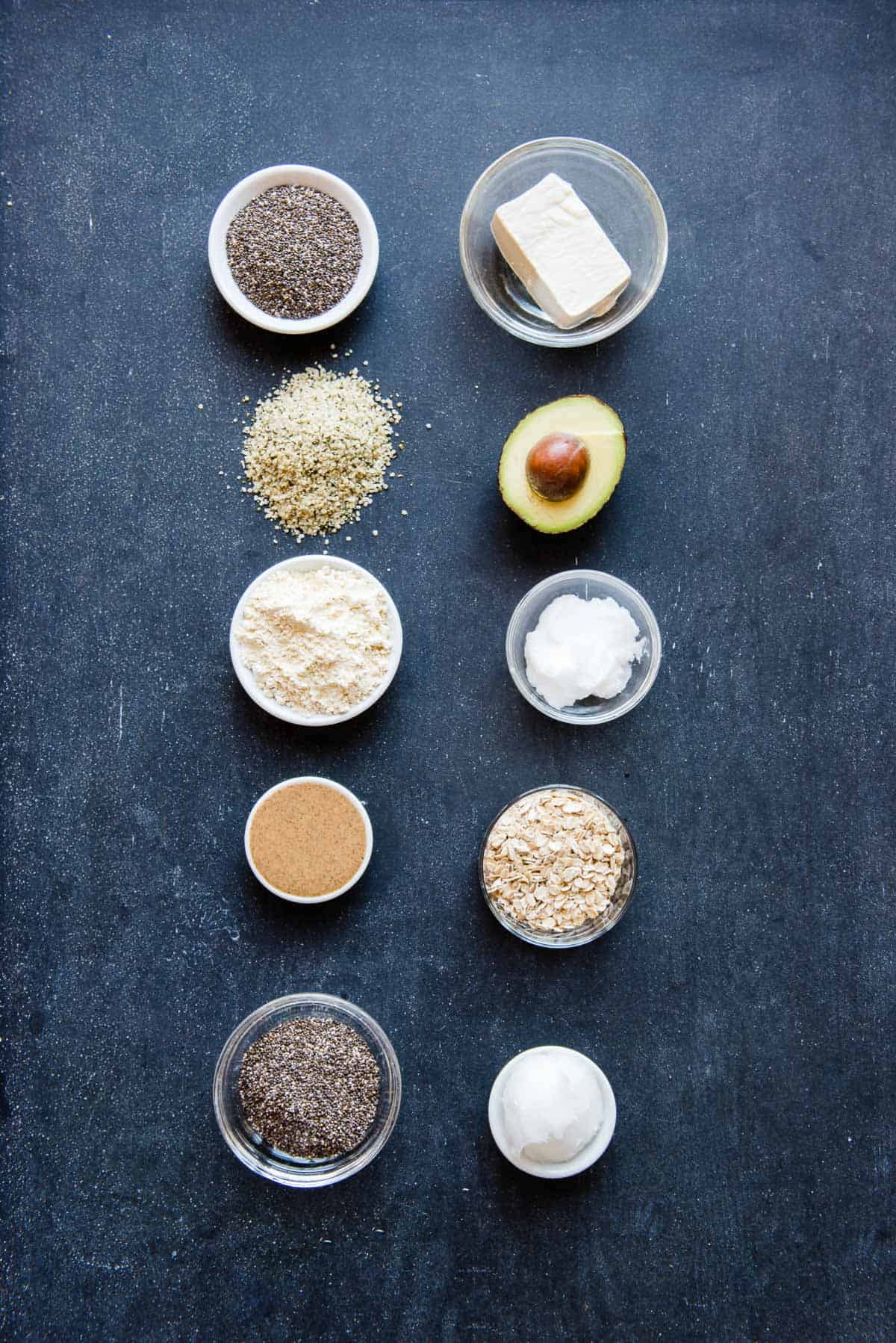 3 steps to turn a green smoothie into a meal
The key to replacing meals with green smoothies is including healthy fats AND proteins. Healthy fats and proteins are the way to go if you want to power up with a green smoothie meal replacement. This combo will keep you feeling full and give you the energy you need to cruise right through 'til your next snack or meal. Below are our favorite options for green smoothie meal replacement boosters:
Step 1 : Pick a Plant-Based Protein
---
Plant-based proteins keep your body full and give you tons of energy. They also help repair your muscles, which is perfect for that post-workout buzz. Oh, kale to the yeah!
Step 2 : Pick a Healthy Fat
---
Healthy fats protect your heart, keep your energy levels up, boost metabolism, and lower bad cholesterol levels. So please don't skip the fats. They're actually really, really good for you! And these ingredients below make your green smoothies extra creamy.
Avocado
Coconut oil (or mct oil)
Almond butter
Chia seeds (yep, here they are again! These babies are loaded with healthy fats and protein, making them a great everyday booster)
Part 3 : Put 'em together and this is what you get…
---
Healthy Fat + Plant-based Protein = Meal Replacement Boosters
Green smoothies are the perfect fast food and adding these boosters will save you tons of time in the kitchen and keep you away from any drive-thru food that will wreck havoc on your body. We want you to be healthy and strong!
Use one of these meal replacement booster combos in your next green smoothie. The boosts are measured to work with our plant-based green smoothie recipes you can find throughout the blog here.
#1: 2 tbs chia seeds + 2oz silken tofu
#2: 2 tbs hemp hearts + ¼ avocado
#3: 2 tbs plant-based protein powder + 1 tbs coconut oil
#4: 1 tbs almond butter + 2 tbs rolled oats
#5: 2 tbs chia seeds + 1 tbs coconut oil
You can find all of these ingredients at your local store, or even order a few online. Amazon is a perfect place to stock up on hemp hearts, plant-based protein powders, coconut oil, and chia seeds.
Ready to give our Protein Smoothie Boost a try? You'll find it in our Rawkstar Shop.
Is replacing a meal with a smoothie healthy?
The MOST important thing when blending any meal replacement smoothie recipe is to include healthy fats AND proteins.
This combo will keep you feeling full and give you the energy you need to cruise right through 'til your next meal or snack. You can learn more about meal replacement boosters (with measurements) in this article, or try one out yourself with this delicious recipe below.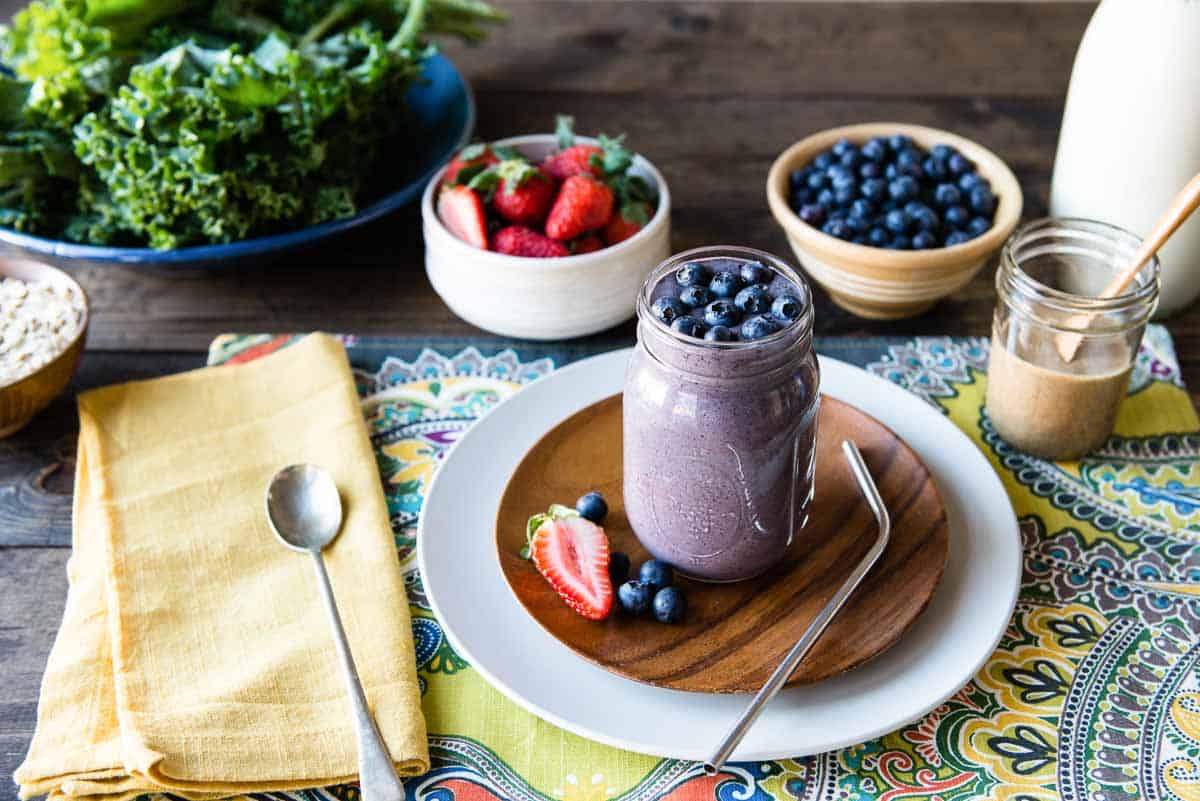 Do smoothies help you lose weight?
If you swap out a meal (or two) each day with a smoothie, there's a good chance you'll lose weight and also have more energy. This is due to the increased nutrition and decrease in overall calories. What's even better than a smoothie is a green smoothie. When you add in leafy greens you're adding fiber and phytonutrients… yet very few calories. Green smoothies are made with nutrient dense foods that curb cravings and keep you full longer.
I have a 7-Day Plant-Based Reset that includes 2 green smoothies a day, plus snacks and meals to help you lose weight, yet more importantly understand how to nourish your body so they weight falls of without ever feeling hungry.
Blend kale and almond milk until smooth in a high speed blender.

Add remaining ingredients, and blend until smooth. Enjoy!
Use a frozen fruit to make smoothie cold
Swap out almond milk for any non-dairy milk you prefer
You can use Protein Smoothie Boost instead of oats + almond butter.
Serving: 16oz | Calories: 343kcal | Carbohydrates: 50g | Protein: 10g | Fat: 14g | Saturated Fat: 1g | Polyunsaturated Fat: 5g | Monounsaturated Fat: 7g | Sodium: 354mg | Potassium: 787mg | Fiber: 9g | Sugar: 21g | Vitamin A: 6803IU | Vitamin C: 89mg | Calcium: 478mg | Iron: 2mg