Blog
How to Make Chia Pudding

I love chocolate chia pudding and I cannot lie… but for real. This easy snack can be whipped up in minutes, then refrigerated for a grab n go treat. I'm teaching you how to make chia pudding in 2 steps, seriously! Enjoy these protein + healthy fat overnight chia pudding cups as a light breakfast or great snack.
I love how versatile this recipe is too. You can top it any way you want, mix in granola or yogurt for a parfait or make a big batch in cute jars for your next brunch.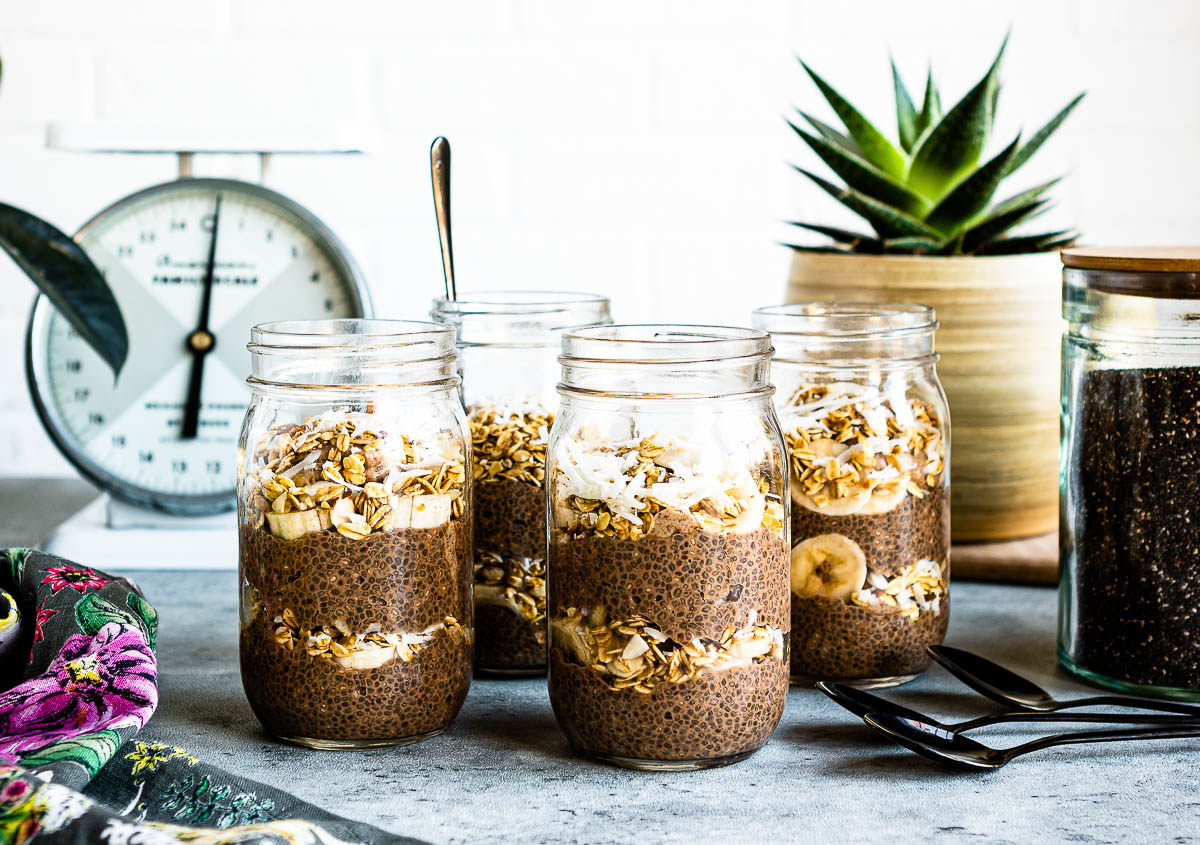 Chocolate Chia Pudding Ingredients
This recipe contains 6 simple ingredients along with whatever toppings you want to use.
Chia seeds: This awesome superfood is packed with both healthy fat and protein.
Carton coconut milk: This is another great source of healthy fat. I use carton as the canned version is a little too thick for this recipe. Use the unsweetened version.
Cacao powder: A natural energy booster + provides a great chocolate-y flavor.
Maple syrup: I love the nutty, warm flavor of this natural sweetener.
Vanilla extract: Make sure to use real vanilla extract, and know that a little goes a long way!
Sea salt: Provides a good balance to the sweetness of the maple syrup as well as helps bring out the cacao flavor.
Don't forget that you can make this an overnight chia pudding recipe and store in 4 containers. That's 4 snacks for the week made in 1 easy mix!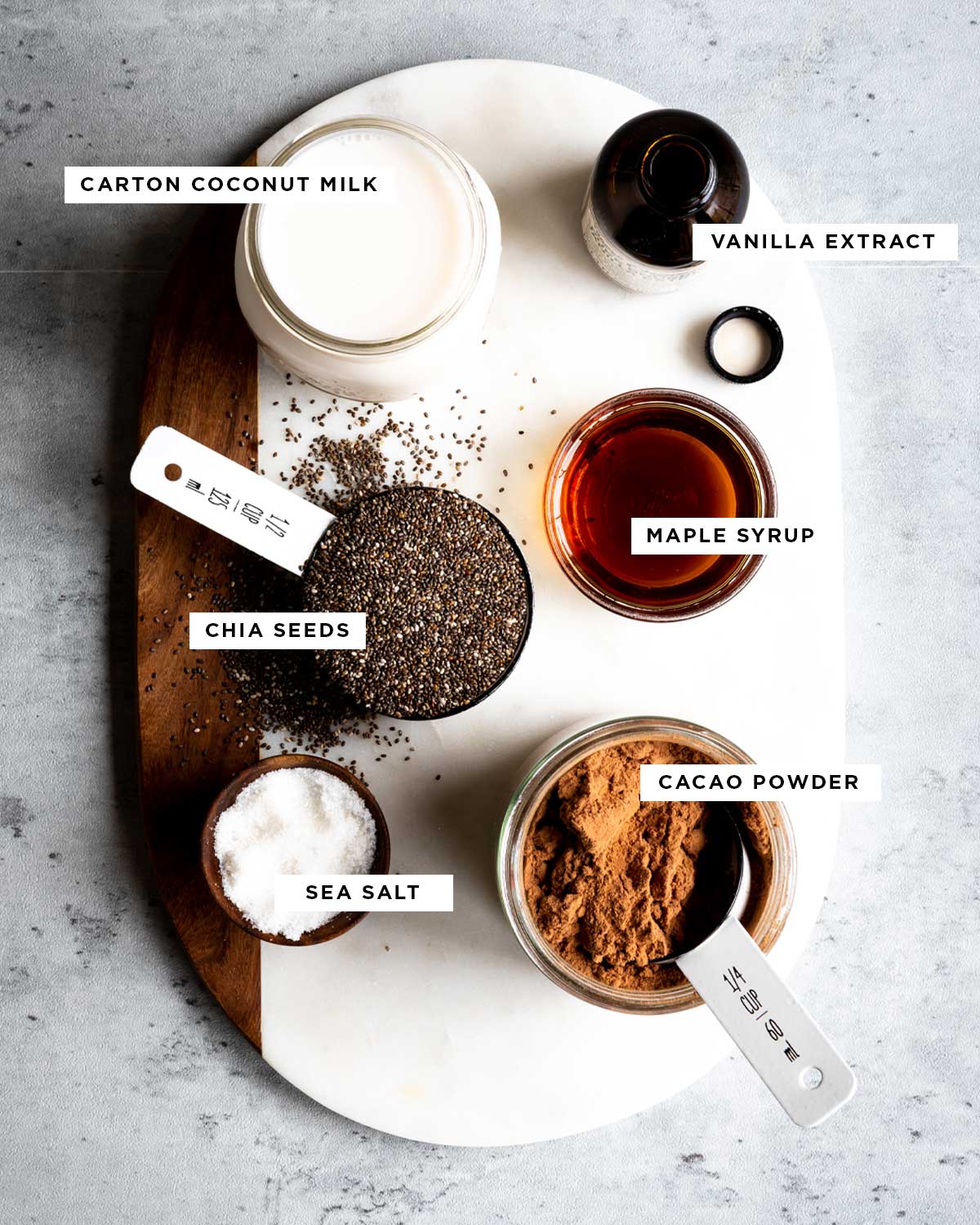 Easy Recipe Swaps
If coconut milk isn't your thing or you just don't have any on hand then swap it out for cashew milk, almond milk, oat milk or hemp milk.
Swap cacao powder with unsweetened, 100% cocoa powder. Maple syrup can be swapped with the natural sweetener of your choice. Use any of the toppings listed above or in the recipe, depending on your preference and what's available in your kitchen.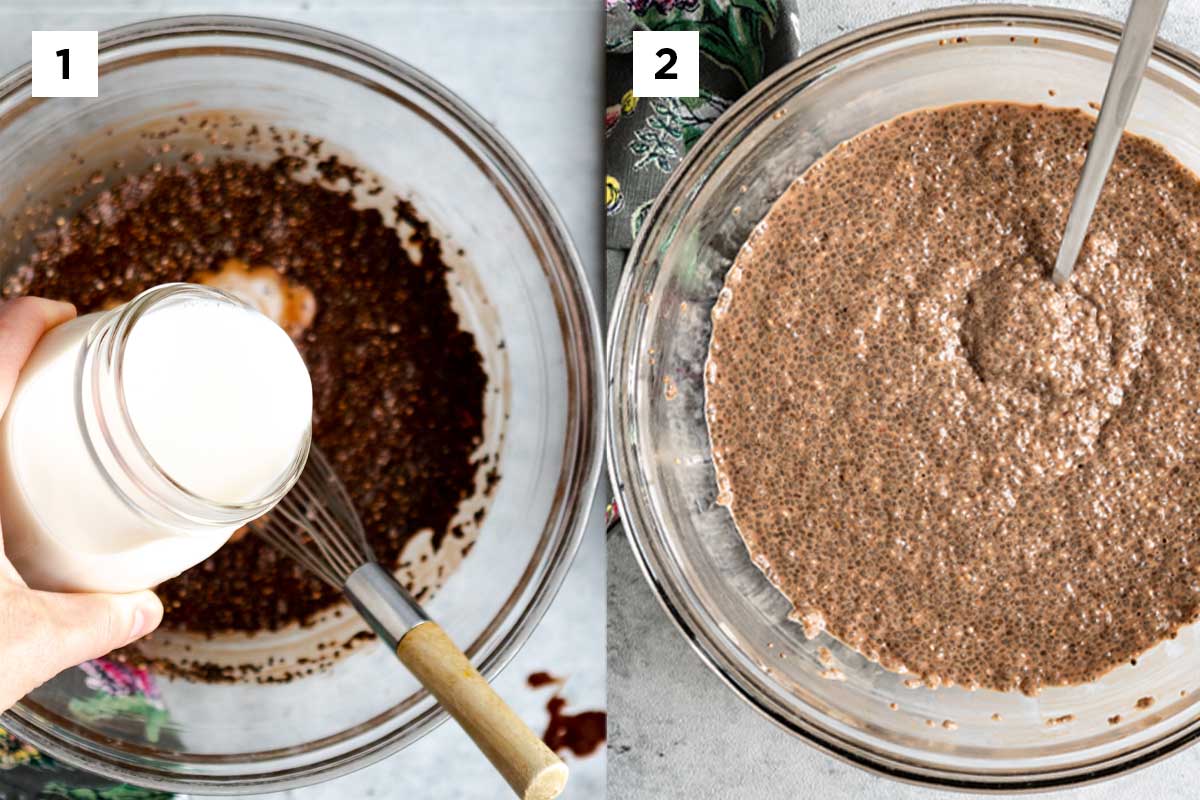 How to Make Chia Pudding
This recipe is pretty much a dump n' go recipe; it's so easy to make!
Place all ingredients in a large bowl and mix until combined. If you want to storage it in the fridge altogether then get a wide mouth jar or bowl with a lid so that you can scoop out the pudding as needed.
Let the mixture sit 15-20 minutes or overnight to set. The resting time allows the chia seeds to turn into a gel-like substance and turn into a pudding.
This recipe makes 4 servings, so after it sets, you can scoop it into 4 containers or keep it all in 1 big jar and just scoop out a serving when you want.
Pudding Toppings
Here are a few of my fav ways to top this recipe:
Granola: adds crunchy + filling addition
Fresh berries: provides natural sweetness and antioxidants
Roasted nuts: a great way to add crunch as well as healthy fats
Bananas: naturally sweeten
Hemp hearts: provide a slight crunch as well as healthy fats and protein
Cacao nibs: a healthy way to add in a chocolate-y topping and antioxidants
Nut/seed butter: a creamy way to add in healthy fats
Coconut flakes: a deliciously nutty flavoring
Which toppings have you craving a snack? Feel free to use what you have on hand. Is your preferred topping not on this list? Drop it in the comments section below! I love getting new ideas.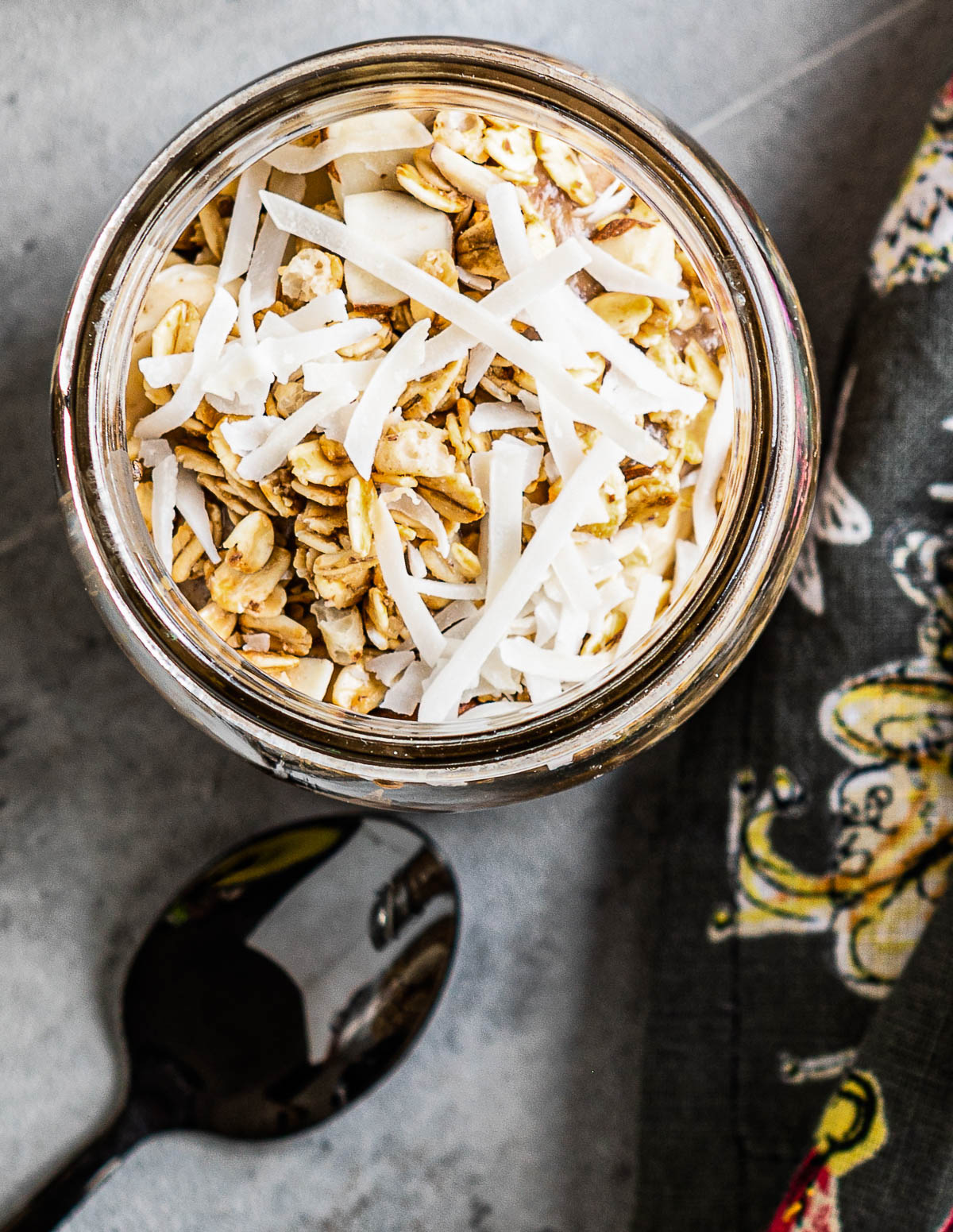 Chia Pudding FAQs
Is chia pudding actually good for you?
My chia pudding has 4 grams of protein, 9 grams of healthy fat as well asa 9 grams of fiber. This makes it a great, balanced healthy snack that isn't loaded with sugar and empty carbs.
Is chia pudding good for weight loss?
I first created this recipe for my Autumn Cleanse guide, as it uses all whole food, plant based ingredients and is a great source of plant-powered energy. While food isn't the only component to successful weight loss, this is a great healthy snack to incorporate into a balanced meal plan.
How long do you soak chia seeds for pudding?
I recommend giving the chia seeds 15-20 minutes to soak into the coconut milk before enjoying. You can also make and let sit overnight in the fridge to enjoy throughout the week.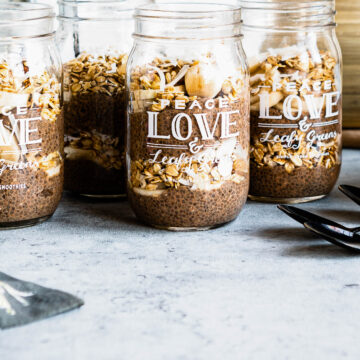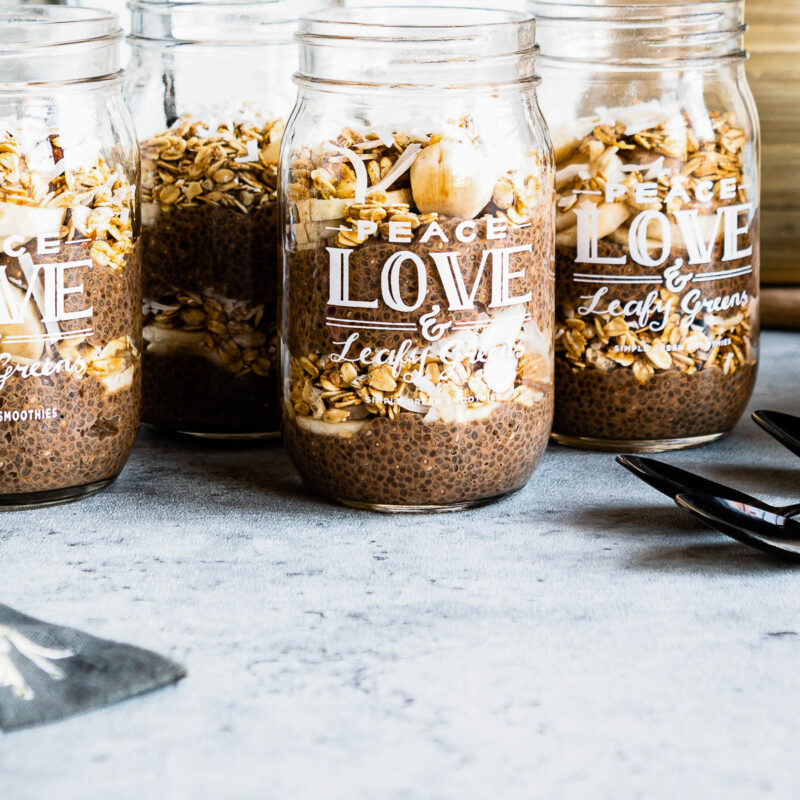 How to Make Chia Pudding
Chocolate chia pudding makes the perfect snack, quick breakfast, or unique brunch addition. Use it to top pancakes, inside a parfait or mixed with granola. Just beware… you may need more than 1 spoon as it is entirely delicious and shareable!
Ingredients
½

cup

chia seeds

2

tbsps

cacao powder

¼

cup

maple syrup

(to taste)

2

cups

coconut milk

(carton)

1

tablespoon

vanilla extract

¼

teaspoon

sea salt

(to taste)
For Serving:
1

banana

(sliced)

4

tbsps

almond butter

1

cup

granola

¼

cup

coconut flakes
Instructions
Place all ingredients into a mixing bowl and stir until combined. Allow to sit 15-20 minutes to allow chia seeds to absorb the coconut milk.

Separate mixture into 4 containers and top as desired.
Notes
Swap maple syrup for the natural sweetener of your choice.
Swap almond butter with the nut/seed butter of your choice.
To keep this gluten free, make sure to use gluten-free granola.
Swap coconut milk (carton) with the plant milk of your choice. Almond milk or oat milk are both great options as well.
You can make the parfaits up to 2 days in advance of serving. If preferred, omit the bananas until ready to serve to keep them from browning in the fridge.
Berries are also delicious toppings, as are nuts and seeds.
Nutrition (estimated)
Calories: 207kcal (10%) Carbohydrates: 28g (9%) Protein: 4g (8%) Fat: 9g (14%) Saturated Fat: 3g (19%) Polyunsaturated Fat: 5g Monounsaturated Fat: 1g Trans Fat: 0.03g Sodium: 151mg (7%) Potassium: 175mg (5%) Fiber: 9g (38%) Sugar: 16g (18%) Vitamin A: 11IU Vitamin C: 0.3mg Calcium: 209mg (21%) Iron: 2mg (11%)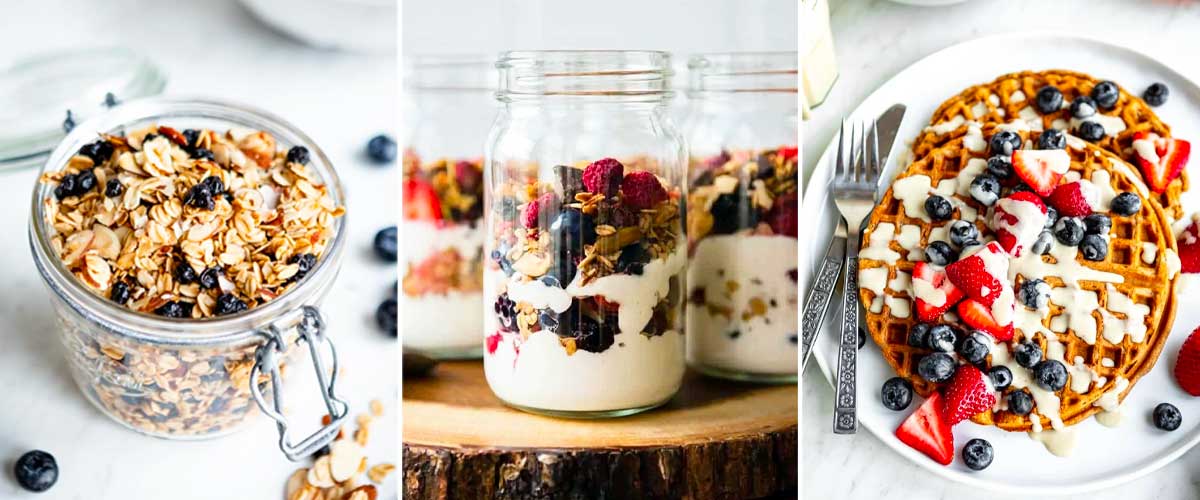 Serving Suggestions
Here are a few easy serving suggestions for chia pudding:
Or just enjoy as-is for an easy snack that contains both healthy fat and protein. Your body will thank you for this filling energy boost!