Blog
How to Make a Smoothie Thicker

Ever blend a smoothie and it's too watery? As frustrating as that may be, there are some quick fixes to thicken smoothies. I personally like a smoothie that's milkshake consistency. Any thicker, I consider it a smoothie bowl recipe and add berries, bananas and superfoods.
It's not necessary to thicken your smoothie to a milkshake consistency, but it does make it more enjoyable. I've compiled a list of ingredients that can quickly turn watery smoothies into thick, creamy perfection. These are all natural thickeners that work. You won't find any weird additives (hello xanthan gum) or fake ingredients… just real, whole foods to nourish your body and perk that smoothie up.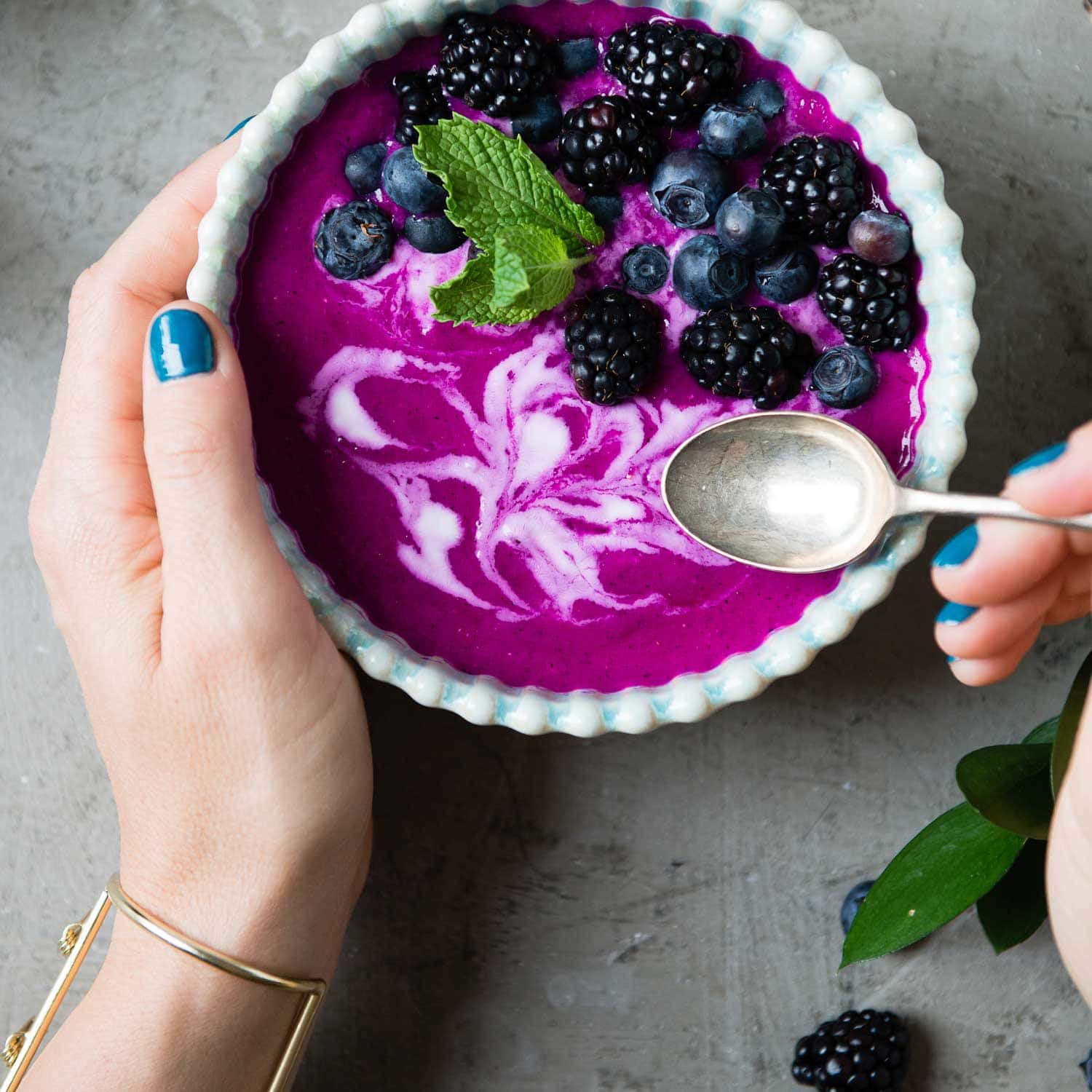 Blend fruits with soluble fiber
Many times, soluble fiber is praised for its ability to make your stomach feel full. It attracts water and forms a gel-like consistency, which helps to slow and regulate the digestive system. This can make you less hungry. The same thing happens when blending fruits with soluble fiber. They attract water in the blender and make the consistency more creamy and gel-like.
Here are some fruits that are high in soluble fiber and can thicken up a smoothie quick:
Frozen Bananas
Avocados
Frozen Mangos
Ripe pear
Peaches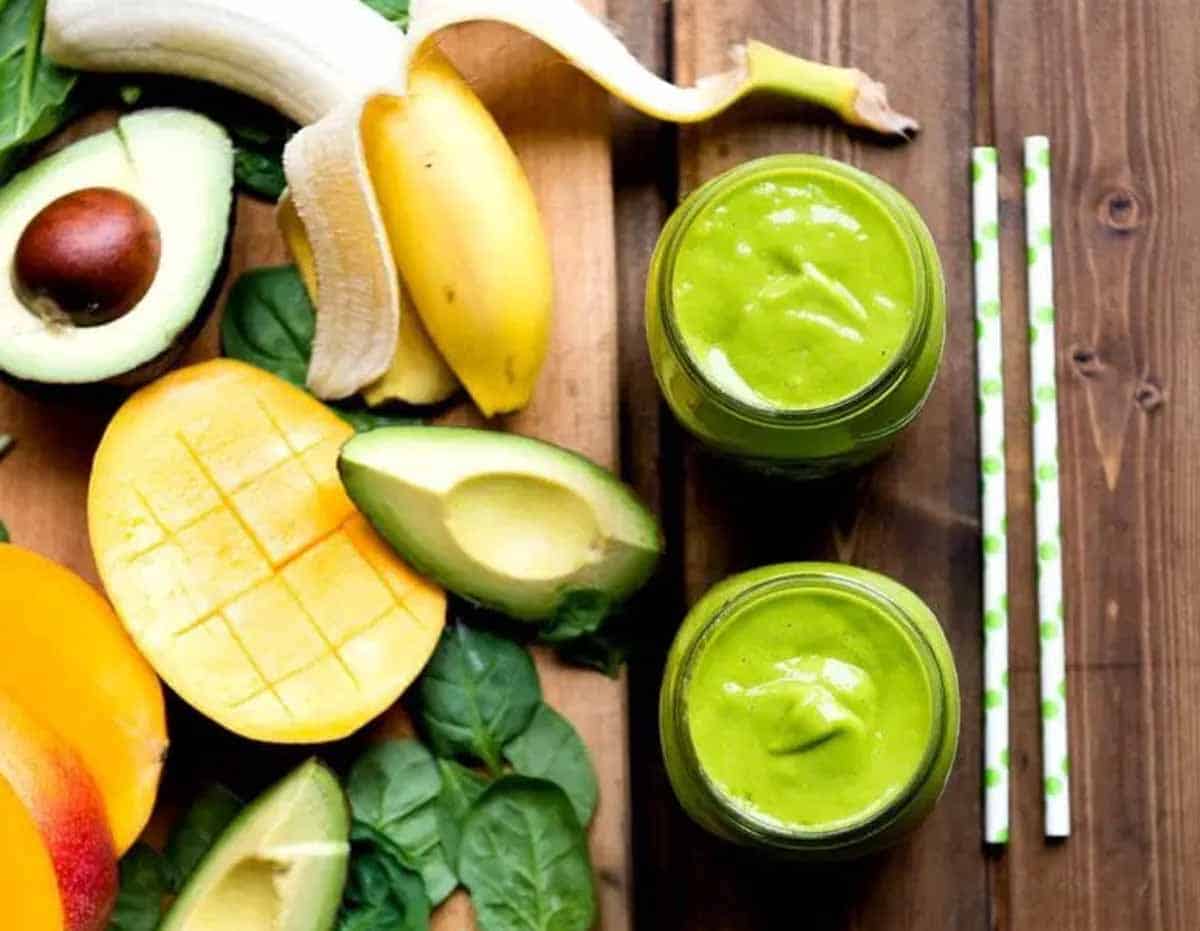 Choose frozen fruits
I always keep a variety of frozen fruits on hand at all times. They are my go-to natural smoothie sweetener AND help thicken it. Frozen fruit work like ice a smoothie, yet are much gentler on your blender blade.
Click here to learn how to freeze all kinds of fruits/veggies.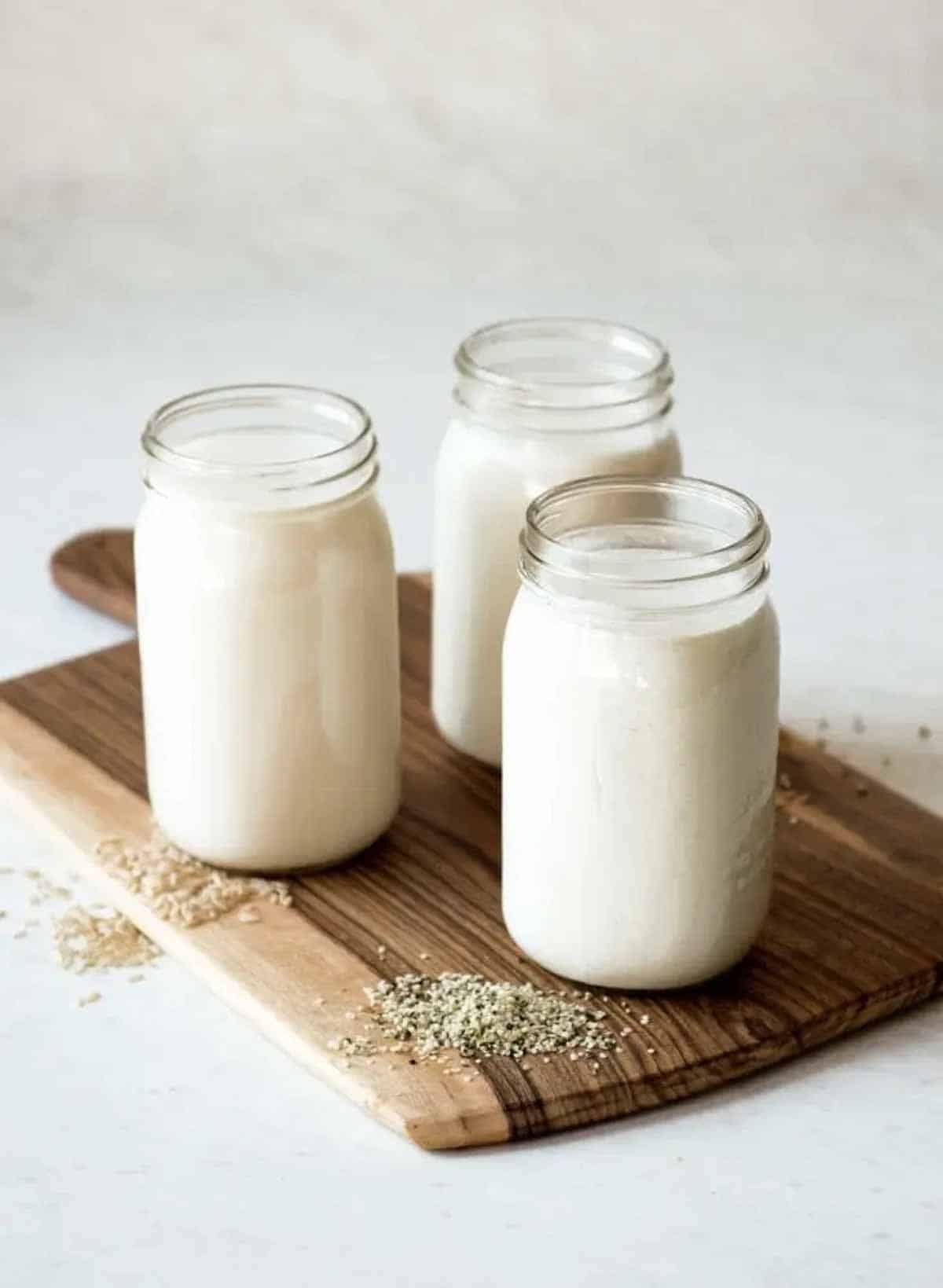 Use a creamy liquid base
Liquids like water, green tea and coconut water tend to blend thinner smoothies. If you want to make a thick smoothie bowl, you'll want to use less of these liquids than a recipe calls for. As you blend, add more liquid until you get the desired consistency. You can also swap them for thicker liquids like the options below:
Almond Milk: This is a super easy-to-find option to make thick and creamy smoothies. You can even make your own almond milk to get it crazy thick and creamy. Nothing beats homemade almond milk! If you prefer to buy it, here's this year's best almond milk brands to buy.
Coconut Milk: If you enjoy the taste of coconut, this option is for you. Full-fat canned coconut milk or even coconut cream will give you a crazy thick smoothie, yet is also more caloric. Lite Coconut Milk works well too. Check out the Best Coconut Milk Brands to help you decide which one to buy. There are so many options!
Oat Milk: This dairy-free milk has become a popular option thanks to it's environmental impact being less than almond milk. Gotta take care of this planet, right? Follow my Best Oat Milks to Buy Guide to help you get the good stuff.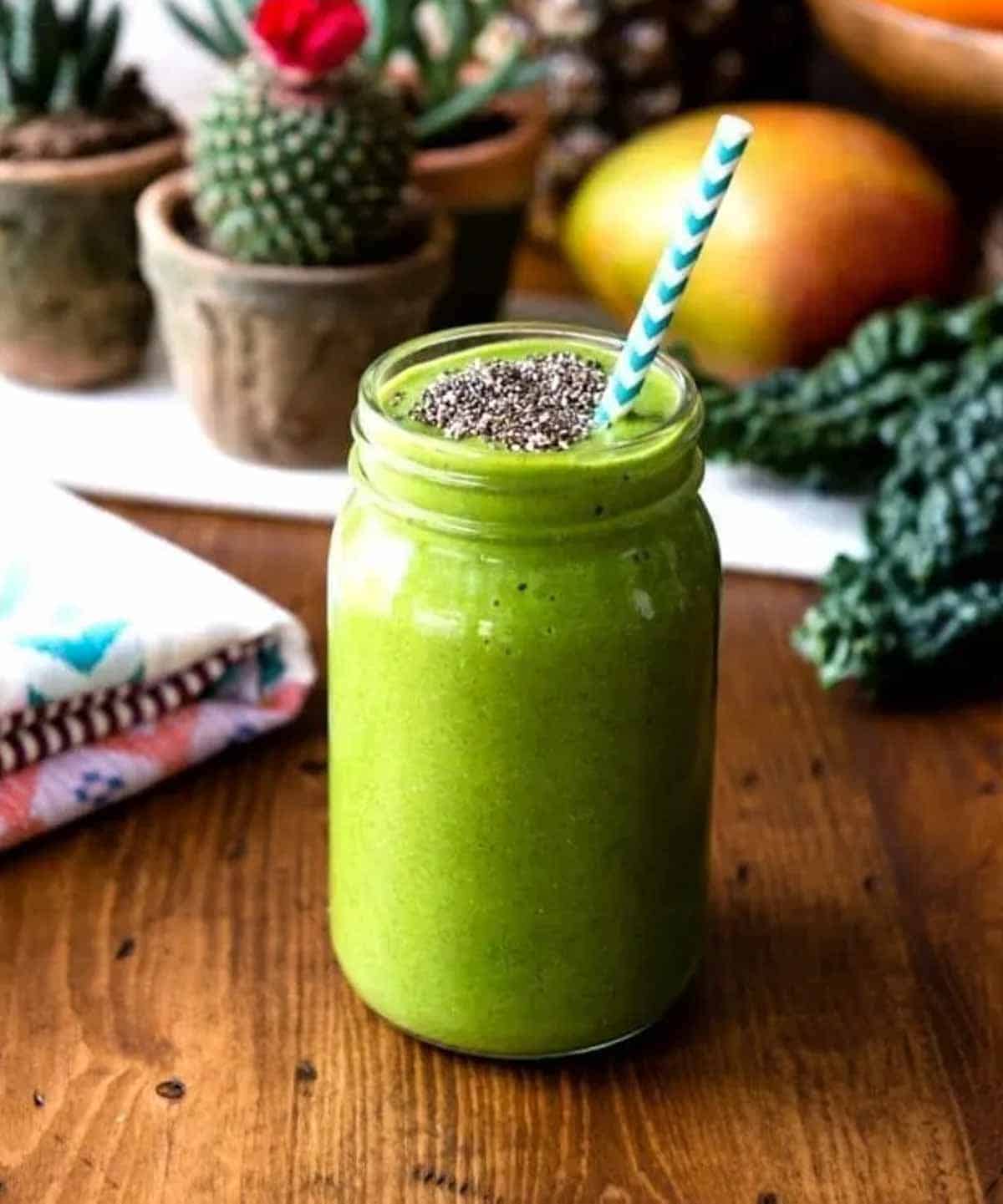 Boost with Superfoods to Thicken Smoothie
If you're still struggling with ideas on how to make a smoothie thicker, go for the superfoods. These shelf-staple ingredients are easy to toss in your blender and thicker up your drink.
Chia seeds have tons of nutritional value, but they also do a great job of boosting the cream factor in green smoothies (as well as protein!). Soaking chia seeds for 10 minutes before blending turns them into a gel. If you're using a non high-powered blender, do this right before blending. This will help your chia seeds blend and not just stick to the sides of the blender.
Nut butter, seed butter or peanut butter can also be added to the blender to thicken a smoothie and add a nutty taste. I love adding nut butter to banana smoothies or chocolate smoothies. If you're not sure what nut butter is, my top 2 favorites are almond butter and cashew butter.
Plant-based protein powder is a great way to thicken a smoothie and turn it into a meal. Check out my very own blend, Protein Smoothie Boost, to add to any smoothie imaginable and provide 10 grams of protein through organic hemp protein, organic chia seeds, and organic flaxseed. Making a smoothie thicker doesn't get much easier than scoop, blend and enjoy!
Yogurt: Add ½ cup yogurt to your smoothie to thicken it up and add some gut health benefits. Plain coconut yogurt or plain greek yogurt works well.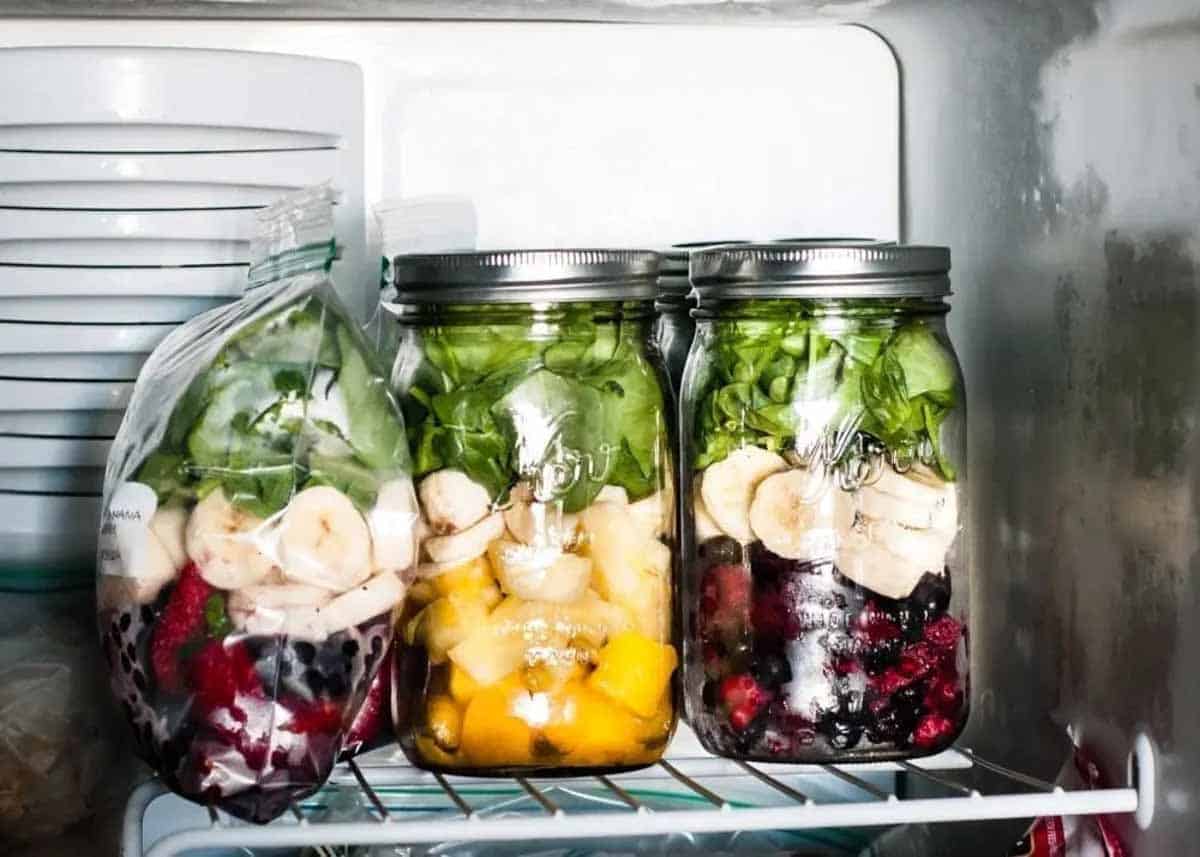 Thick Smoothies 101
Do ice cubes make thicker smoothies?
Ice can thicken a smoothie, yet it'll also dull your blender blade. I suggest using frozen ingredients, like frozen banana or frozen strawberries, as your "ice" or making your own smoothie cubes to boost it with additional goodness.
How do you thicken a fruit smoothie?
Use a creamy liquid base, like oat or cashew milk, to thicken a smoothie. Also using fruits with soluble fiber like peaches, bananas, and avocados create thick, creamy smoothies.
What can I add to make thicker smoothies?
If your smoothie is too thin, then try one of the following: adding a fruit with soluble fiber, use frozen fruit, use a creamy liquid base like nut milk or oat milk, use chia seeds, add a plant based protein powder.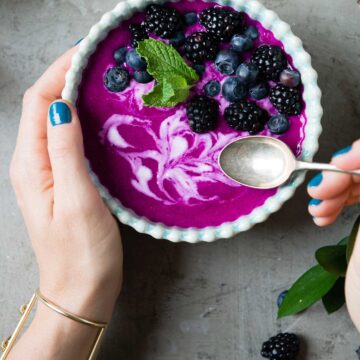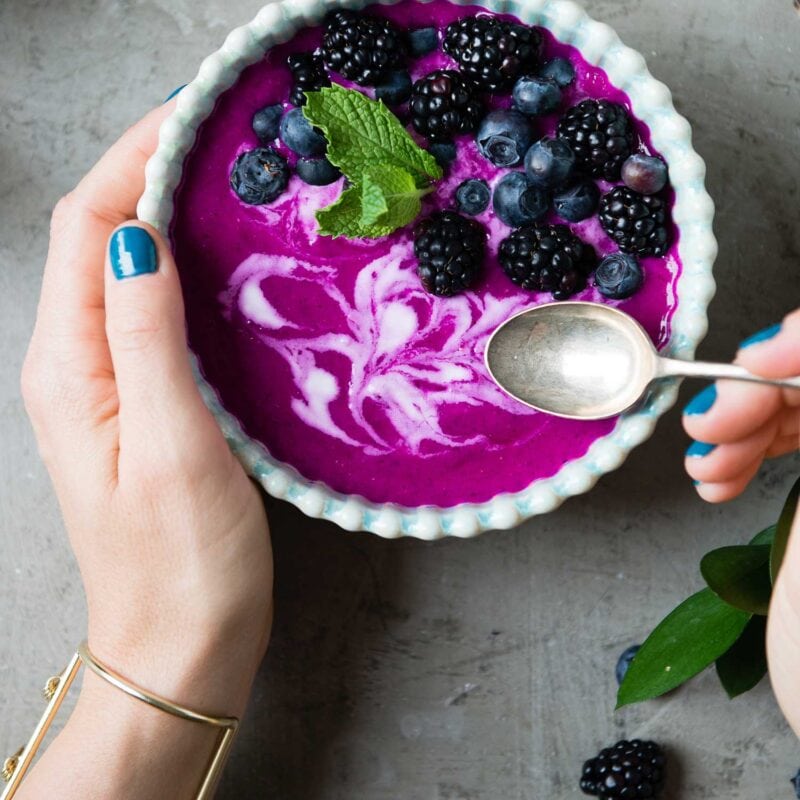 Super Thick Smoothie + Tips
Ever struggle with how to make your smoothie thicker? Pick any of these ingredients to make a creamy, thick smoothie every time.
Ingredients
1

frozen banana

½

cup

frozen peaches

1

cup

frozen dragon fruit

½

cup

almond milk

2

tablespoon

chia seeds

1

cup

blueberries

(fresh)
Instructions
Blend frozen fruit with almond milk. Use a tamper to push ingredients towards the blade.

Add chia seeds to thicken even more.

Top with fresh blueberries and more chia seeds, if desired.
Notes
You can combine any of these steps to make it even thicker, if you want. 
Remember, moderation is key. Don't go overboard with the toppings.
Enjoy smoothie bowl quickly since it'll melt quickly.
Nutrition (estimated)
Calories: 468kcal (23%) Carbohydrates: 90g (30%) Protein: 6g (12%) Fat: 10g (15%) Saturated Fat: 1g (6%) Polyunsaturated Fat: 4g Monounsaturated Fat: 1g Trans Fat: 0.02g Sodium: 319mg (14%) Potassium: 794mg (23%) Fiber: 15g (63%) Sugar: 59g (66%) Vitamin A: 433IU (9%) Vitamin C: 31mg (38%) Calcium: 245mg (25%) Iron: 5mg (28%)
Thick Smoothie Recipes to Try
Looking for a smoothie recipe that's already a cream machine? Check out these great options below to get you rawkin' in no time:
Smoothie Bowl Recipes
A thick smoothie bowl is a solid breakfast choice. They really can fill you up and keep your health goals on track. I often eat these while on a seasonal cleanse, where I'm trying to eat as clean, light and fresh as possible. Below are a few smoothie bowl recipes where you can pile on the toppings, like fresh fruit, granola or superfoods.
What is your fav thick smoothie? Leave a comment below and let me know!