Blog
How to Freeze Bananas – Have on Hand for Smoothies and More!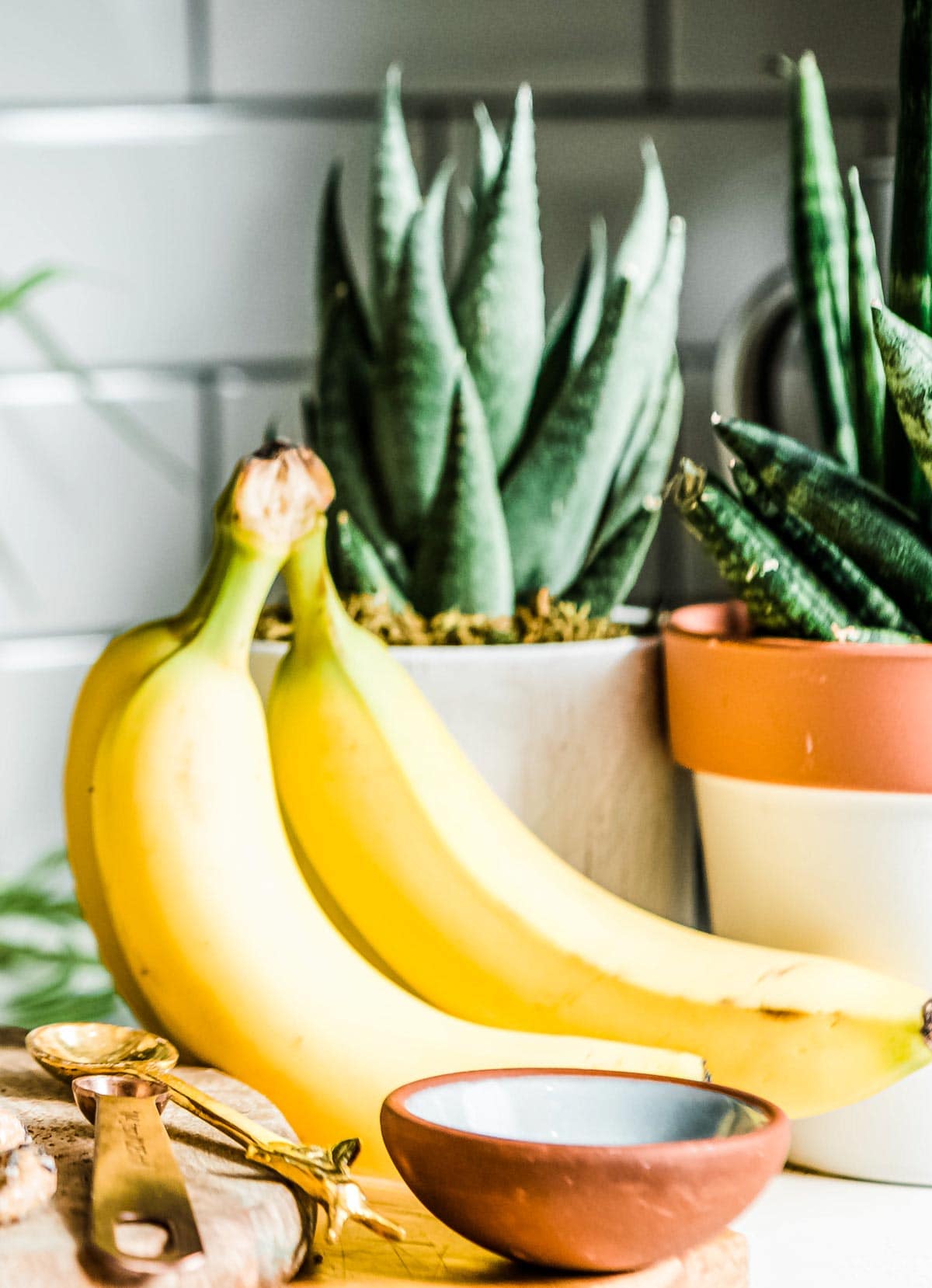 Bananas are for sure a staple in my house. The ones that don't get eaten immediately get tossed into smoothies, snacks, baking and more. Yet this Florida heat definitely makes them ripen at a fast pace, and I can't always enjoy them before they get too spotted for my liking. So I learned how to freeze bananas.
Freezing bananas allows you to use them when you need them and not worry about having a recipe ready for the moment they ripen. I love adding frozen pieces of banana to smoothies, and I love the banana peels in my compost!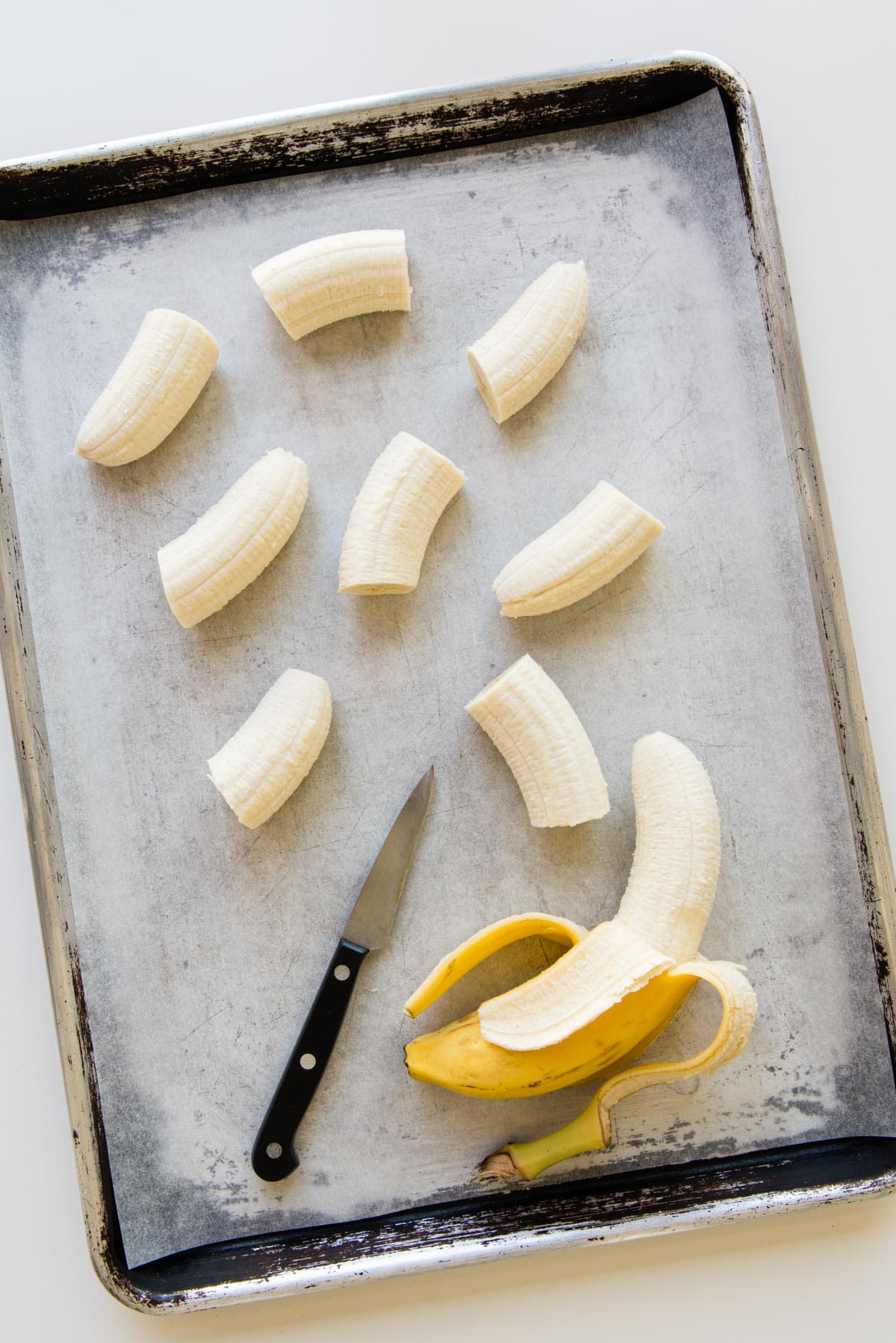 How to Freeze Bananas
This is such a simple trick to making sure you've always got perfectly ripe bananas on hand.
I like to chop up my peeled bananas before storing them in the freezer, so they are easier to store and easier to add to the blender.
I use a parchment lined baking tray with sides when freezing bananas since I don't want to find them in the bottom of the freezer the next time I clean it out. Make sure you let them freeze for at least 30 minutes before storing.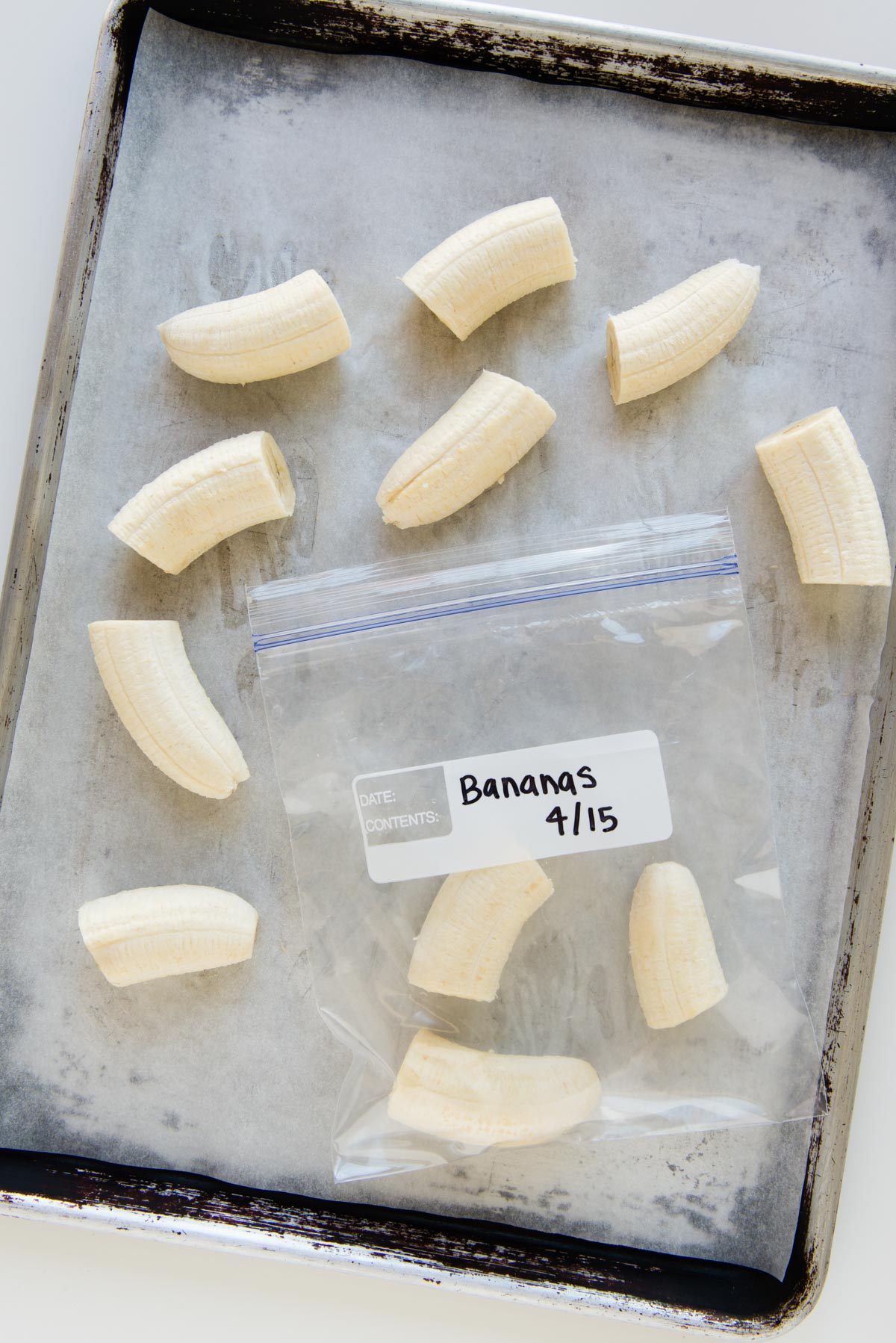 Store the pieces in a freezer safe bag or container until you're ready to use them. Then just take out what you want for smoothies or baking!
If you are prepping smoothies ahead of time, no need to freeze the bananas before you prep. They will do just fine in your jars fresh or frozen.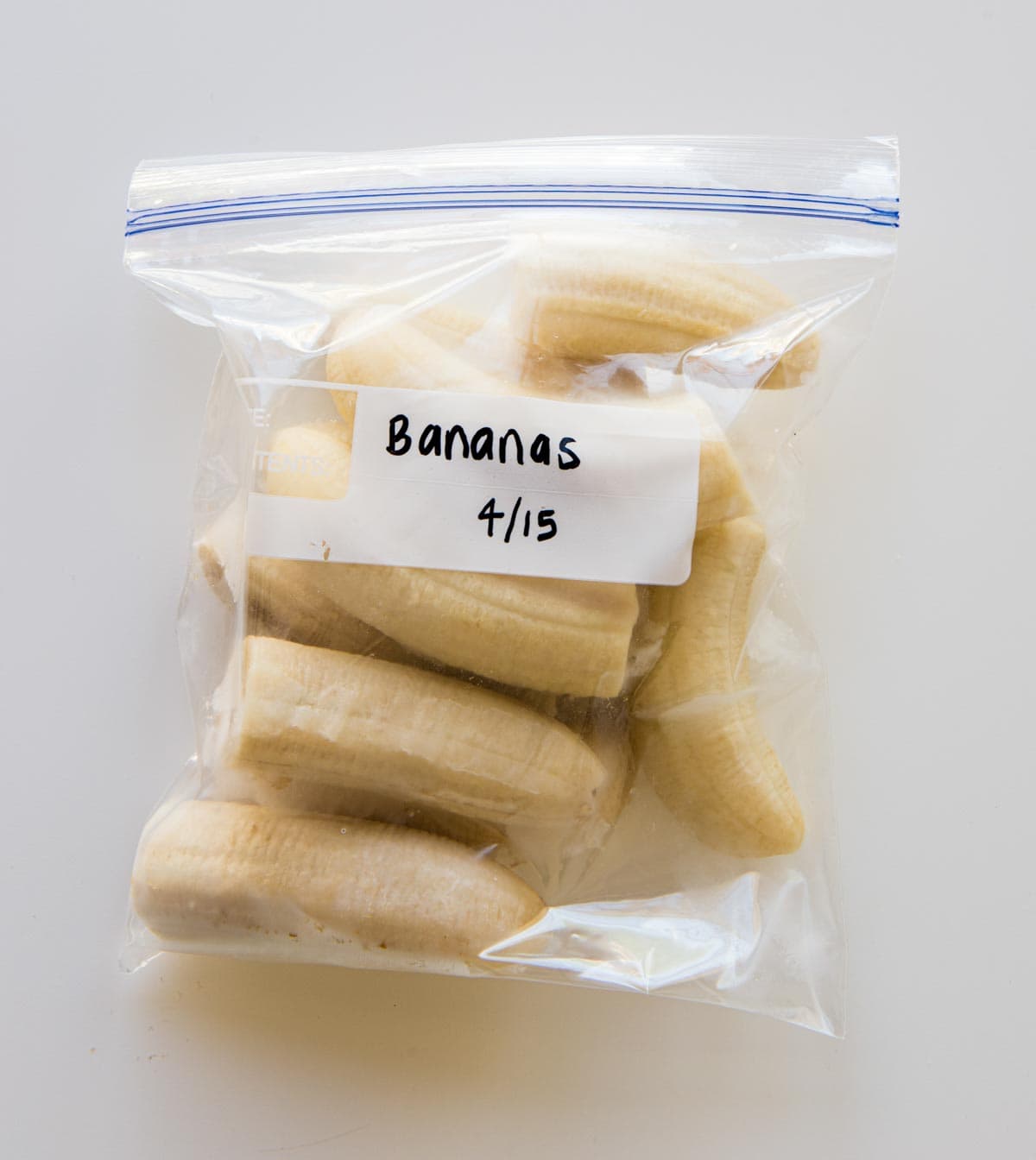 Freezing Whole Bananas
While sliced bananas are easier to store, you can also freeze them whole. Simply peel them then freeze them on a parchment lined baking sheet for at least 30 minutes. Make sure you have a freezer-safe storage bag big enough for whole bananas.
When you're ready to use them, take out the quantity you need and allow to thaw at least slightly before use.
How to Freeze Bananas FAQs
What is the best way to freeze fresh bananas?
I peel + roughly chop the bananas. Then place them on a parchment lined baking sheet and freeze for at least 30 minutes. Once frozen, place into freezer-safe bags until you're ready to use them.
Can you freeze whole bananas?
Definitely. I like to freeze whole bananas when I'm saving them for banana or zucchini bread. That way I grab the right quantity when I'm ready to use them.
Can you put fresh bananas in the freezer?
Yes! Just be sure to peel them beforehand, so you don't have to mess with a frozen peel.

Recipes with Bananas
Bananas are super versatile. Use them in virtually any smoothie you want as well as in baked goods and snacks. They can replace egg in some recipes, enhance flavors, fluff up cookies and make delicious bread.
Smoothies
Almond Butter & 'Jam' Smoothie
Snacks
Chocolate Covered Banana Bites
How do you like to use bananas? Leave a comment and let me know!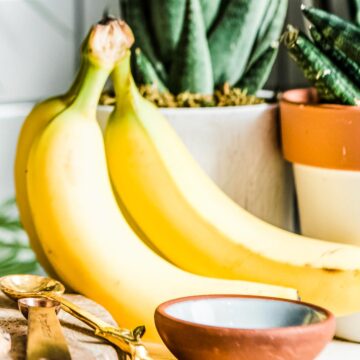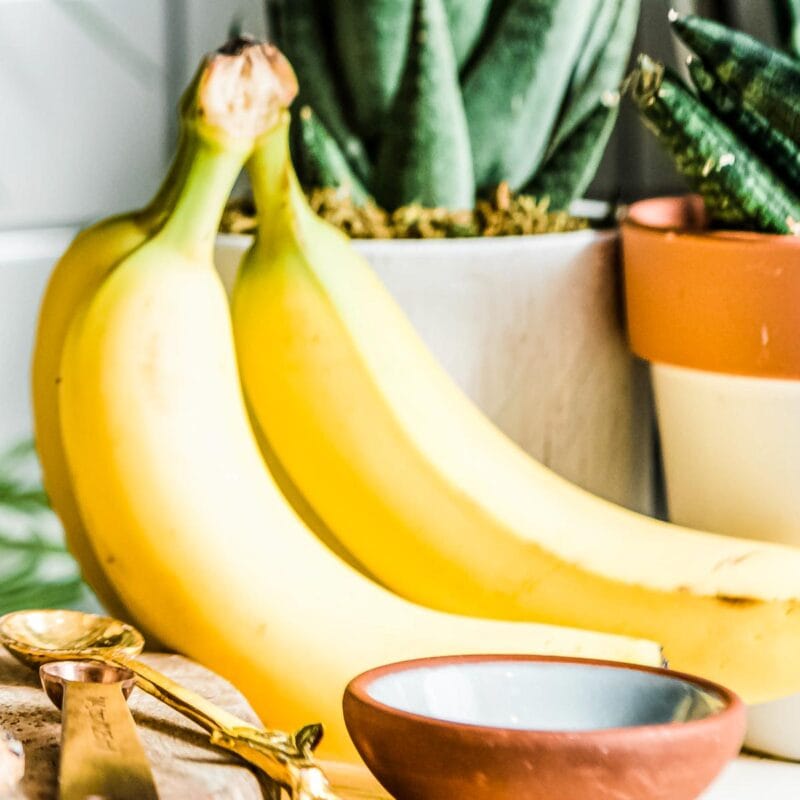 How to Freeze Bananas
This no-fail way to freeze bananas allows you to always have perfectly ripe bananas on hand for smoothies, baking and more.
Equipment
baking sheet

parchment paper
Instructions
Once your bananas have reached your preferred ripeness, peel each banana and slice in 1-2 inch pieces.

Line a baking sheet with parchment paper then place the sliced bananas on the sheet so that they aren't touching each other.

Freeze banana slices for 30 minutes or until completely frozen. Store in a freezer-safe container until you're ready to use.
Notes
Labeling the storage containers with how many whole bananas are in them, or how many pieces make up a whole banana can be useful when needing a certain measurement.
Freeze for up to 6 months.
You can freeze the peeled bananas whole, yet note you may need to wait for them to thaw to use.
Bananas may turn brown in the freezer and that is OKAY. They didn't go bad or get too ripe, that's just what happens. 
How-To Recipes
Love learning how to use more plants in your life? Then you'll want to learn how to…