Blog
Healthy Apple Donuts | Quick Snack Idea for Everyone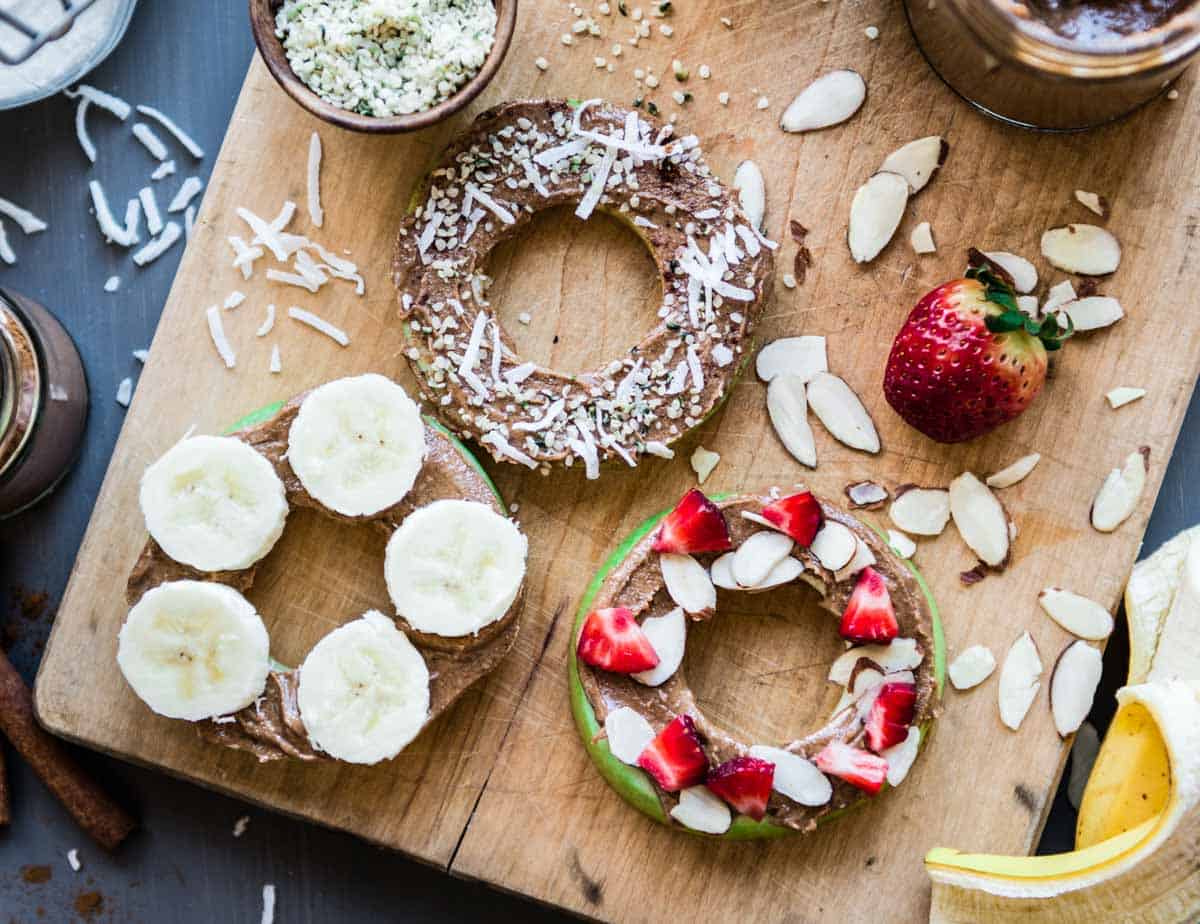 A quick healthy apple donut snack can be a game-changer around 2pm. When lunch wears off and dinner is still hours away, it's tempting to head to Starbucks, but I challenge you to reach for these and enjoy a large glass of fruit-infused water.
Now, donuts come in many forms and these def aren't something you'd find at Dunkin'. Yet if healthy habits are what you're going for, I hope you try this tasty 5-minute snack.
They are crunchy, crispy, and slightly sweet little guys. The flavor varies depending on what toppings you use, which means you can easily customize based on your cravings. I've taken these to work, made them in hotel rooms and also make them with the kids for an after school snack.
I first created these apple donuts for our 7-day cleanse program as a plant-based snack (but don't let that fool you into thinking they are nasty– they are addictively good!).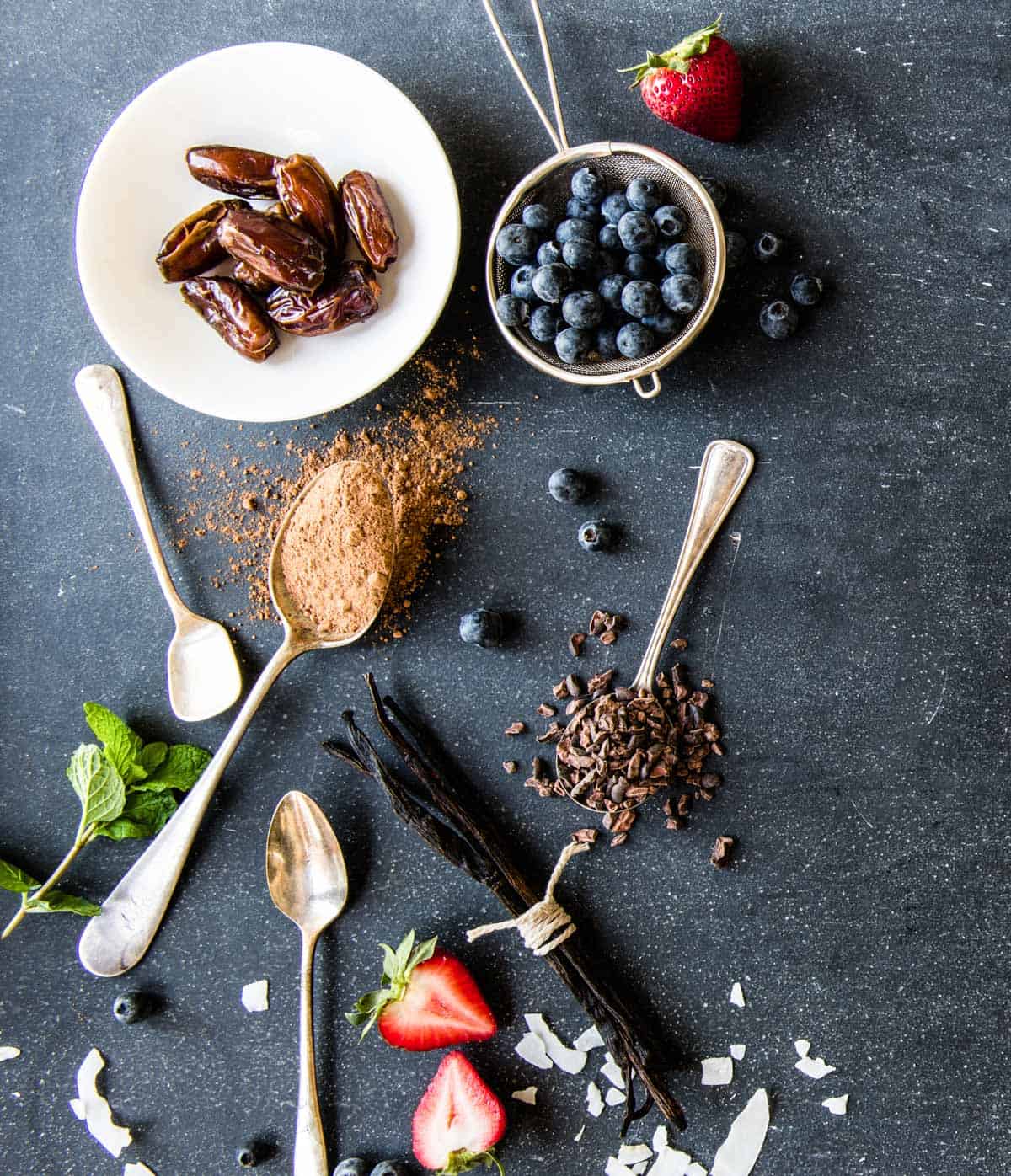 The Simple Ingredient List
The ingredient list is small, but the flavor is mighty with this recipe. You can do a variety of ingredients to create some really fun flavor combinations. All you really for this quick snack are things you probably already have on hand:
apple
spread— nut butter, coconut mana, Nutella, caramel, etc
topping— something crunchy with either a sweet or salty edge is my fav 
Top FAQs for Apple Donuts
Are these vegan apple donuts?
Depends what you use as a "topping." If you stick with plant-based ingredients that we recommend, then yes— these are vegan! If you're not vegan, feel free to try cream cheese as a fun spread.
What other types of apple donuts could I do?
Honestly, the possibilities are endless. Cream cheese with honey. Avocado with cacao powder. Coconut mana with blueberries. Now, I'm getting hungry.
Could I bake the apples first?
You could bake the apple slices first, yet they will get soft and not hold their form. You would have to serve this with a fork and plate in that case. Tasty regardless!
What can I swap for apples?
Pears and peaches that are ripe, but still firm can work as a donut base, too.
Quick Snack Recipe You Must Try
These donut-shaped apple slices are slathered in a protein-packed spread to help curb your appetite and get them ready for some tasty toppings like strawberries, bananas, shredded coconut, hemp hearts… you name it! One of the main reasons I love this apple donut recipe is because of how quick and easy it is to make, with almost no clean up.
They store well in tupperware containers in the fridge until ready to eat.
What kind of apple to use?
If you have a raging sweet tooth, I'd go with a red or golden apple. I like green apples because of their lower sugar content and that tart bite that wakes up my tastebuds. Combine that with a sweet and salty topping combo (think: cashew butter with cacao nibs) and I feel like I'm in heaven.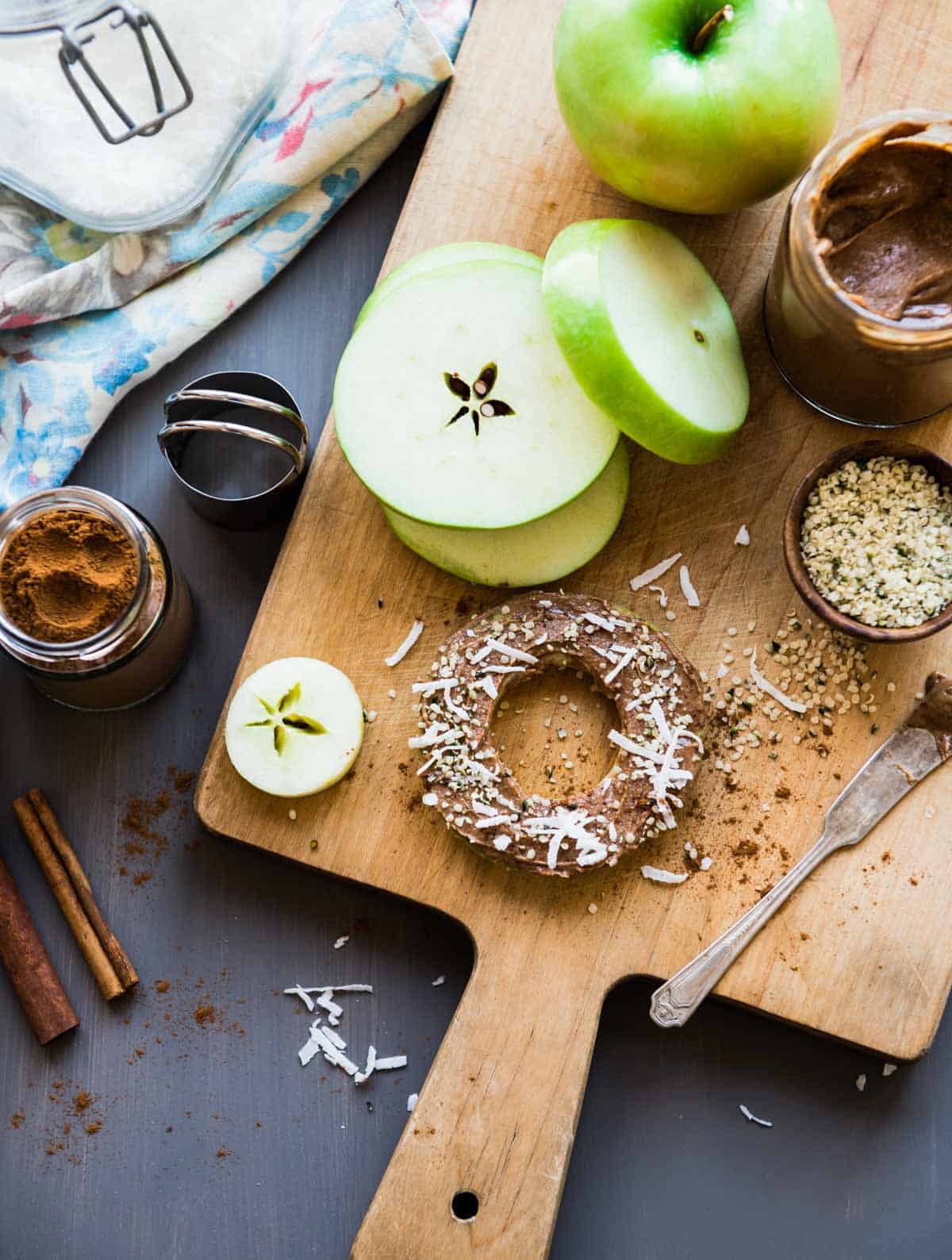 Description
These Apple Donuts have become a go-to snack thanks to how quick and easy they are to make. Get creative and have fun topping the apple rings with your favorite toppings.
---
1

apple (cored and cut into

1/4

-inch rings)
TOPPING IDEAS
almond butter, nutella, cashew butter
ground cinnamon
shredded coconut or mana
hemp hearts, chia seeds or sunflower seeds
raisins, dried cherries or dried blueberries
sliced strawberries, blueberries, peaches or bananas
---
Core the apple
Slice into 1/4 inch rings
Top with your favorite toppings as suggested above
See, I told you these were quick!
Notes
You can also use slightly firm pears or peaches as your donut base
Green apples have less sugar than red apples for those doing our 7-Day Cleanse
Category:

Snack

Method:

Chopping

Cuisine:

American
More Healthy Apple Recipes