Blog
Creamy Dreamy Almond Butter Sauce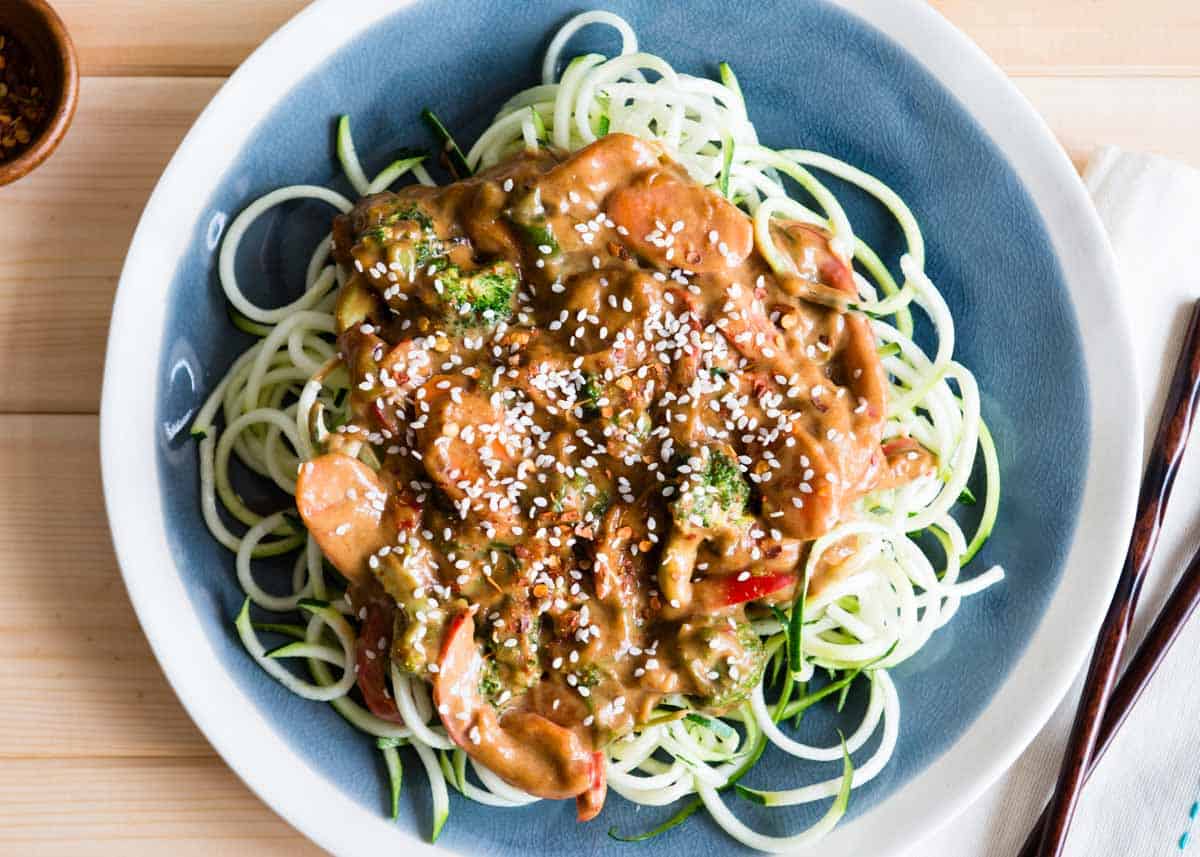 Almond butter is such a deliciously creamy + healthy alternative to peanut butter, and totally works in this sauce. I really fell in love with almond butter while recipe testing for my Thrive Summer cleanse, and hope that this sauce can become a staple in your house too. Let's talk about almond butter benefits, and what makes this sauce a win.
Almond butter sauce recipe
I love sauce with complex flavors and a slight kick, and this one really ticks off all the boxes.
Full-fat coconut milk is recommended, to give it the creaminess + healthy fat. Tamari is a gluten-free soy sauce. If soy isn't your thing, then swap with coconut aminos for a similar flavor. While you can swap in ground ginger for fresh, the fresh ginger has more health benefits… and just tastes better (so don't swap if you can find fresh!).
Pro tip: Don't feel like you have to buy the giant ginger claw from the produce section. The grocery store should let you break off a smaller piece. That cuts down on the price and on the amount of ginger you have find recipes for.
I usually add in a healthy amount of chili paste and fresh ginger because, like I said, I like the kick. Yet if you don't do spice, then omit the chili sauce altogether and add in a little extra almond butter.
Sunbutter is a good swap for those that can't have almond butter. Make sure to really mix up whatever nut or seed butter you use before adding so that all the oil gets mixed in properly. You can even use an immersion blender right in that nut butter to fluff it up and ensure every bit is mixed together.
Almond butter benefits
Why do I love almond butter? I'm SO glad you asked! First, as someone who likes to eat a lot of plants, I'm always looking for good sources of healthy fat. Our bodies need fat in order to properly break down the food we consume, but not all fat is created equal. This lovely nut butter contains 9.5 grams of fat per 1 tablespoon. Almond butter helps keep cholesterol down (hello healthy heart), and helps control blood sugar.
Since almonds are a nut, when turned into butter they hold onto that great fiber content as well. Fiber is our friend, and something many Americans don't consume enough of on the daily. I strategically add plants to recipes, just like I did with this almond butter sauce, to easily boost the health benefits I get. And bonus, it tastes great!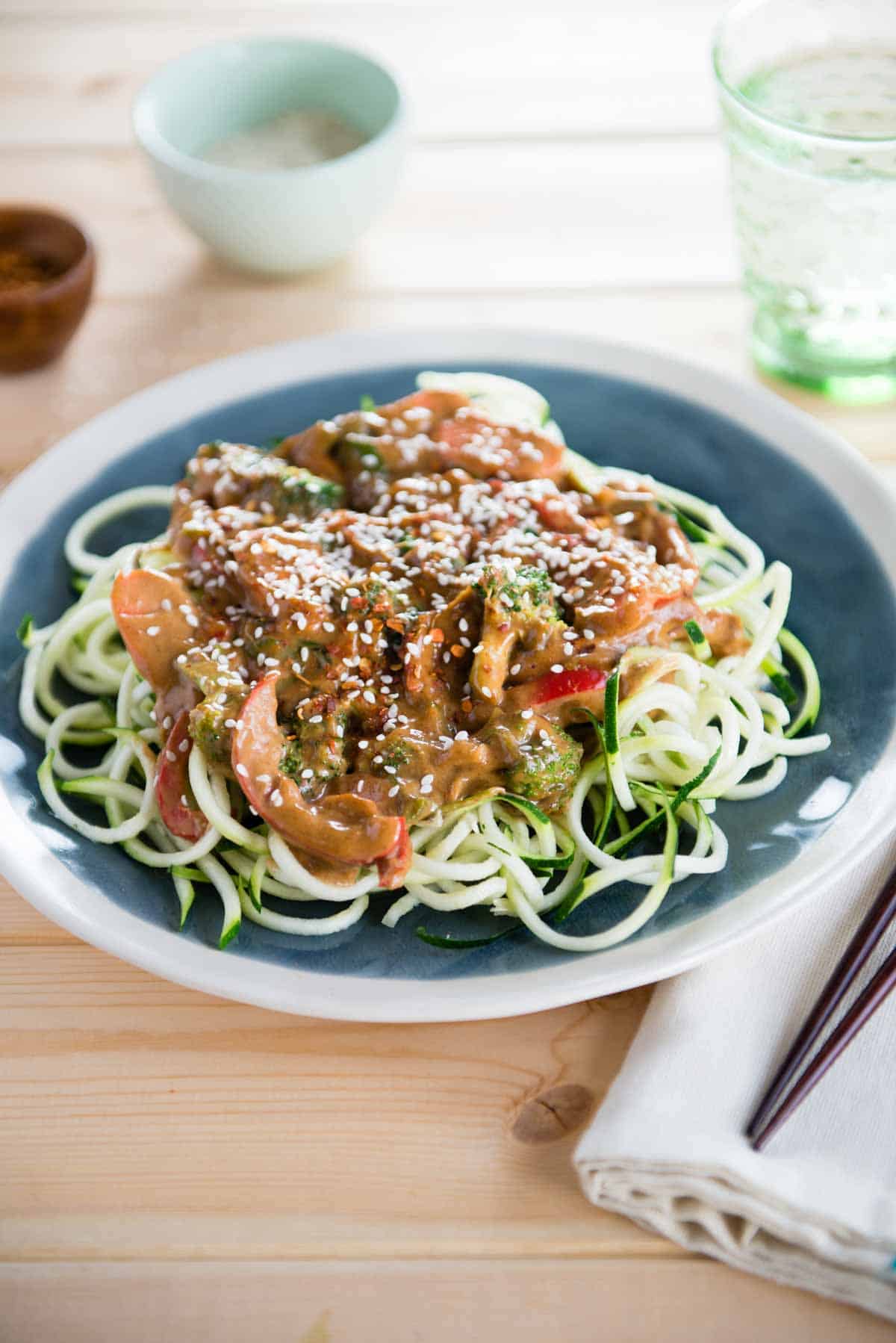 How to choose the right brand
As with many packaged condiments, read the ingredients before you buy that fancy new almond butter. I like Barney's Bare Smooth because it's just almonds and palm oil. Costco also has a great option that's solely roasted almonds (and is a great price!). Both work great in this almond butter sauce since they are super creamy.
Thankfully there are dozens of brands and flavors of almond butter on the market today, so find the one that fits your needs. Do you have a current fav? Let me know in the comments. I love trying new kinds!
Easy recipes with nut butter
Almond butter smoothie– Adding healthy fat to smoothies is a great way to help your body break down the natural fruit sugar. This recipe really does taste like a PB&J!
Chocolate covered banana bites– The perfect snack for a nutty + sweet treat! Super easy to make, and so good you won't stop at eating just one.
Peanut butter chocolate smoothie– Breakfast or dessert? I'll let you decide, yet which ever you choose, know that this is a great choice!
Apple 'donuts'– A fun yet healthy snack that the whole family will love. Turn into a great playdate snack with a fun toppings bar and a few nut/seed butter choices.
Chocolate protein shake– This smoothie is a great pre-workout shake that will fuel you up right.
Overnight oats– level up breakfast with these super simple oat recipes. Nut butter adds an extra dose of healthy fat + protein.
FAQs
Is almond butter a condiment?
Yes! Any place you would use a peanut butter spread, you can swap with almond butter. Use it on toast, in a sandwich, sauce, dressing, or as a dip for fruits + veggies.
Can you use almond butter in place of regular butter?
Yes! The high fat content in almond butter makes it a good swap with butter in many recipes.
Is almond butter healthier than peanut butter?
Honestly, they are both good options depending on what brand you buy. Always read the ingredient list to ensure your nut butter uses real food. Almond butter is slightly more nutritious, yet has similar amounts of fat and calories. Peanut butter is a bit higher in protein.
Don't forget to try this quick and easy zoodle recipe with almond butter sauce, then leave a rating + review on how it turned out! It's a meal straight from my Thrive Summer cleanse, and can fit any vegetarian night in, or be used as a side dish for anyone wanting to eat more plants.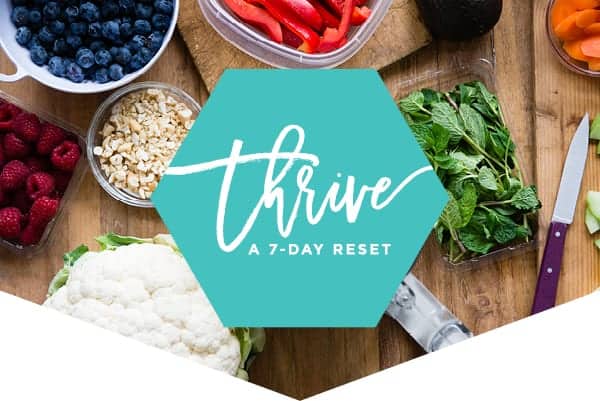 Description
This is a quick and delicious meal for a busy weeknight. The almond butter sauce is AMAZING and takes this dish to the next level.
---
1 tablespoon

avocado oil or melted coconut oil

2 tablespoons

green onions (sliced diagonally into ½" pieces)

½ cup

broccoli (cut into small florets)

¼ cup

red bell pepper (sliced)

½ cup

carrots (thinly sliced)

1

medium zucchini (spiralized)
Red pepper flakes (for sprinkling)
OPTIONAL: Sesame seeds (for sprinkling)
FOR SAUCE:
2 tablespoons

canned full-fat coconut milk

2 tablespoons

almond butter

1 tablespoon

tamari

1 teaspoon

maple syrup

1 teaspoon

fresh ginger (finely grated)

1 teaspoon

chili paste (such as sambal oelek (or pinch red pepper flakes))

1

clove garlic (finely minced)
---
Whisk sauce ingredients together in a medium bowl and set aside.
Heat oil in large pan. Add the green onions and sauté for 1-2 minutes, then add broccoli, carrots, and red bell pepper. Lower heat, if needed. Cook until vegetables are bright in color, and just barely tender.
Toss gently to coat the veggies with the sauce. Let simmer to thicken the sauce.
Remove from heat and serve immediately on top of the zoodles. Garnish with red pepper flakes and sesame seeds, if desired.
Notes
Note: The sauce and veggies can be made ahead, and the zucchini can be spiralized ahead. But don't combine with the "zoodles" until right before serving.
Otherwise, the liquid from the zucchini will seep out and make the sauce watery.
Category:

Dinner

Method:

Cooking

Cuisine:

American
Keywords: almond butter zoodles