Blog
Creamy Coconut Whipped Cream – The Ultimate No Dairy Topping

I'm showing you how to make coconut whipped cream so you can top all the things in all the ways with a fluffy, dairy free whipped topping.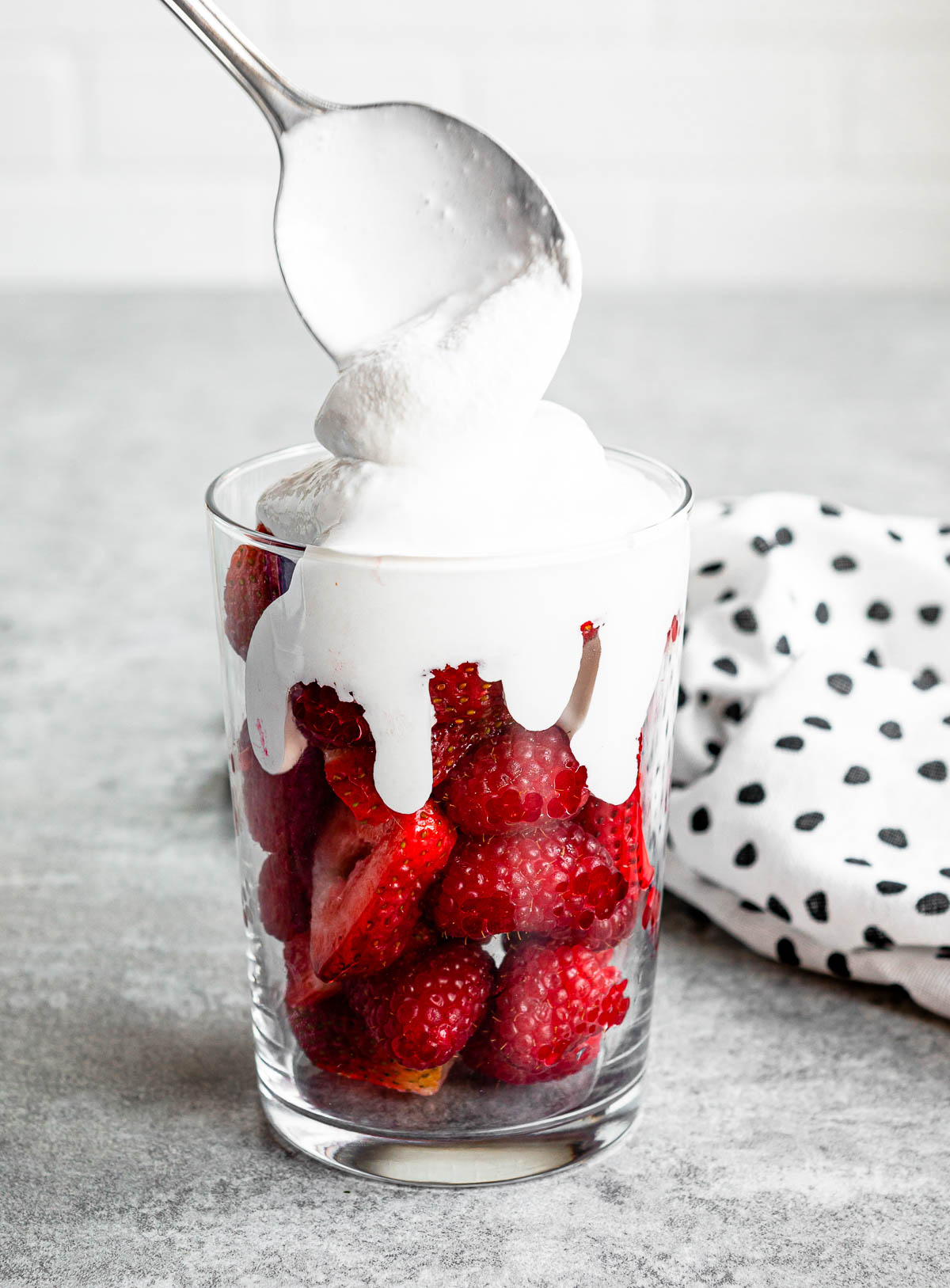 As I started to cut back on dairy, I still craved certain foods like whipped cream. It's just the perfect topping for so many dishes. When I first about a dairy free cream using coconut, I was immediately hooked! Since many store-bought vegan whipped cream brands are full of unnecessary ingredients, I learned how to make coconut whipped cream so I could make it just the way I wanted it.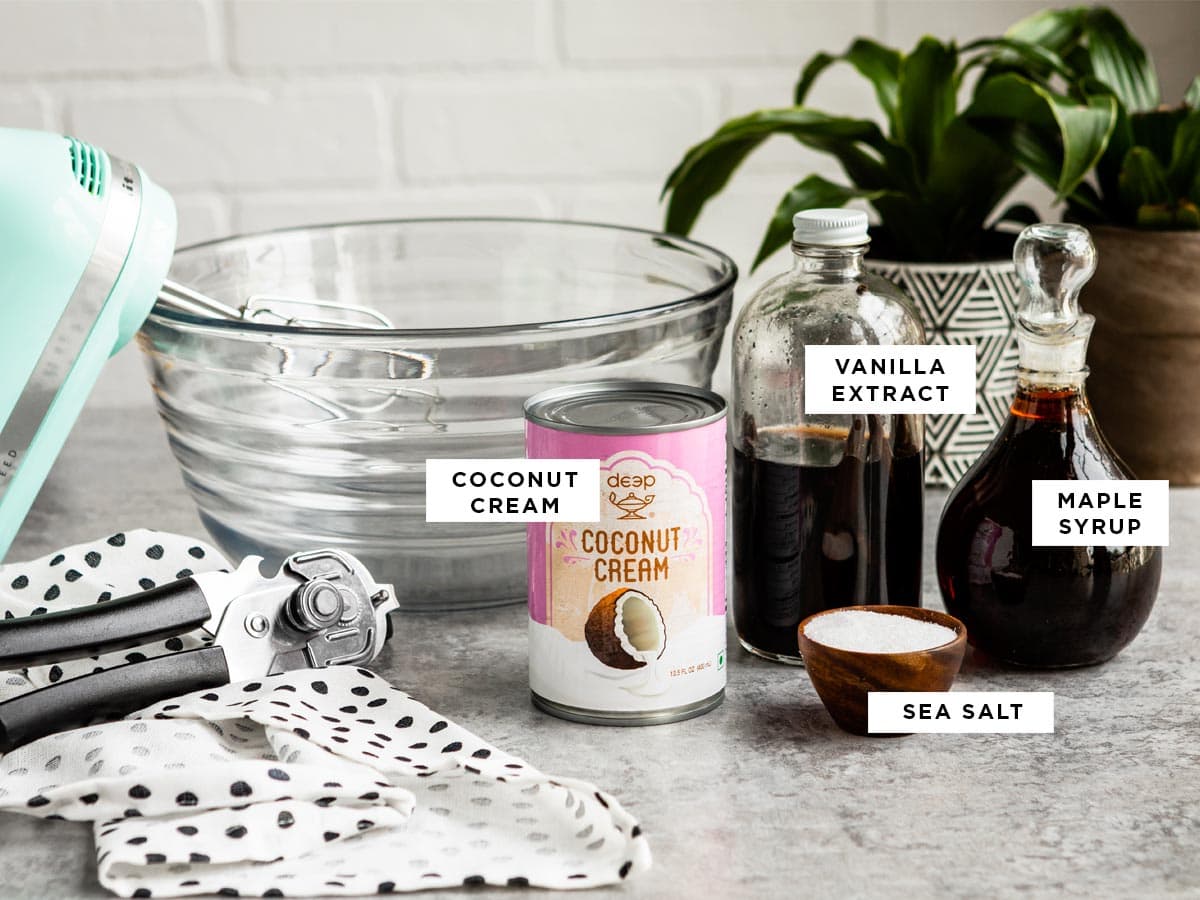 Coconut Whipped Cream Ingredients
While this simple recipe takes some planning ahead, it's only 4 ingredients! They all play an important role in making the whipped topping of your dreams
Coconut Cream: Found near canned coconut milk, coconut cream is thicker and has less liquid in it.
Maple Syrup: This provides natural sweetness to the whipped topping as well as a slightly nutty flavor.
Vanilla Extract: Most whipped cream has a hint of vanilla, so mine does too!
Sea Salt: Helps to cut back on the natural sweetness of the maple syrup.
Where to Buy Canned Cream
I usually purchase coconut cream from Trader Joe's. I've found it in other grocery stores as well, though not all of them have coconut cream, specifically. If you have a hard time finding this ingredient, simply buy 2 cans of full fat coconut milk and drain the extra liquid before combining.
Ingredient Swaps
As I stated above, you can swap coconut cream for 2 cans of drained coconut milk (make sure it's full fat!). If you want to keep your whipped cream white, then use a clear vanilla extract and swap the maple syrup with raw cane sugar.
You can also swap out maple syrup for honey (though this recipe won't be vegan) or the natural sweetener of your choice.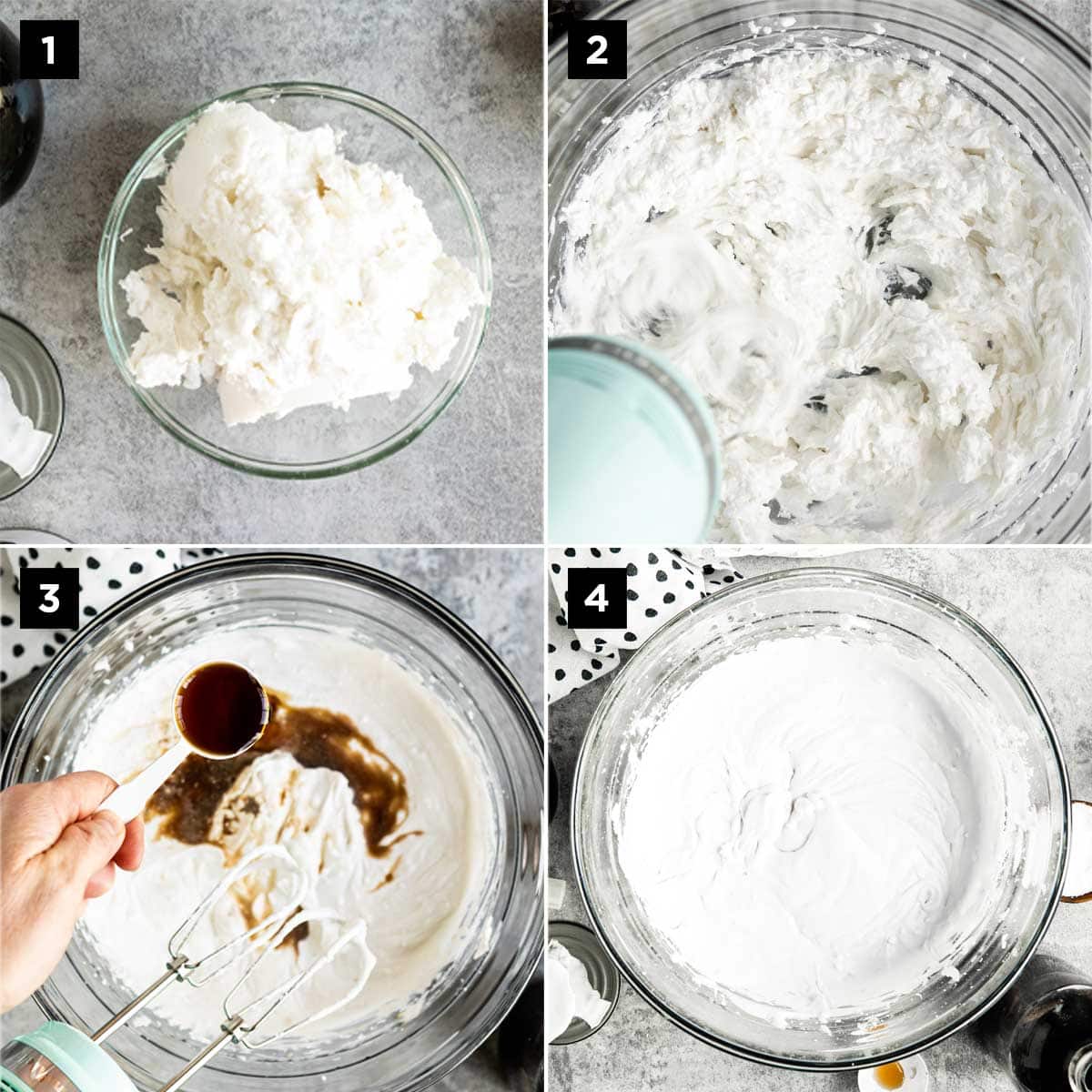 How to Make Coconut Whipped Cream
The key to the perfect whipped cream takes place a day or 2 before you make it. This recipe only contains 4 ingredients, yet it does take a bit of planning to come out just right.
Chill the can of coconut cream until cold. This can take anywhere from 1-2 days. Once chilled, drain any excess liquid from the can before emptying the fatty cream into a mixing bowl.
Whip the cream until it is completely smooth. Depending on the brand of coconut cream, this can take anywhere from 2-5 minutes. You want the lumps to be gone.
Add the remaining ingredients and whip again until light and fluffy. If you are using coconut sugar or raw cane sugar instead of a liquid sweetener like maple syrup, there will still be some granules even after the whipped cream is light and fluffy. It doesn't change the flavor or consistency, but the texture will be slightly different.
The coconut whipped cream should be served immediately, to keep the air in it. If you want to make this ahead of time then go for it! Just make sure you rewhip it before serving to put the air back into it.
Vegan Whipped Cream FAQs
Is coconut whipped cream good for you?
Coconut whipped cream is used as a topping for a variety of foods. While my recipe is not laden with preservatives and artificial sweeteners, it is to be used lightly and not as a main ingredient.
What does coconut whipped cream taste like?
Depending on the type of coconut cream you use, this could be more nutty flavored or sweeter. Pure vanilla extract gives it a distinct vanilla flavor as well.
What ingredients are in coconut whipped cream?
My recipe uses only 4 ingredients: chilled coconut cream, maple syrup, vanilla extract and sea salt. That's it!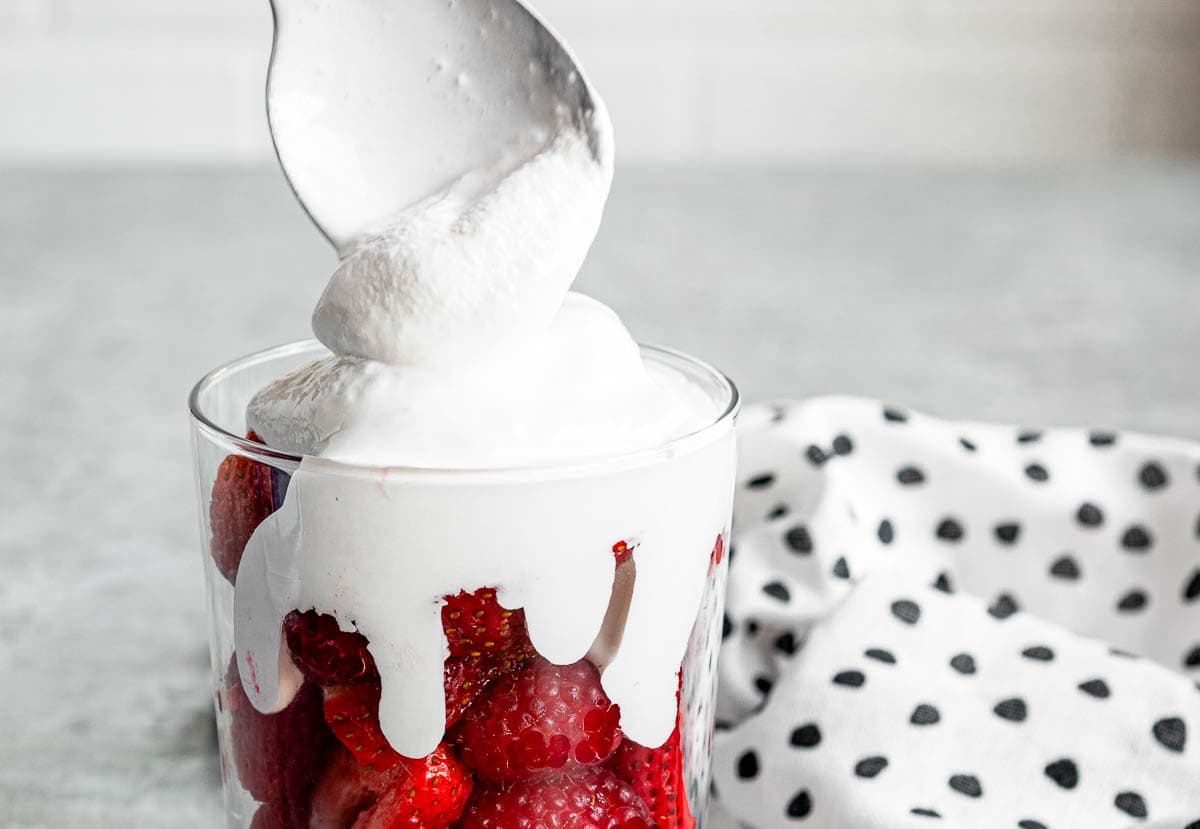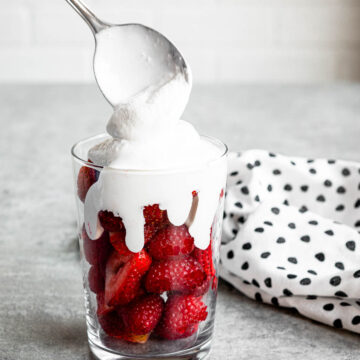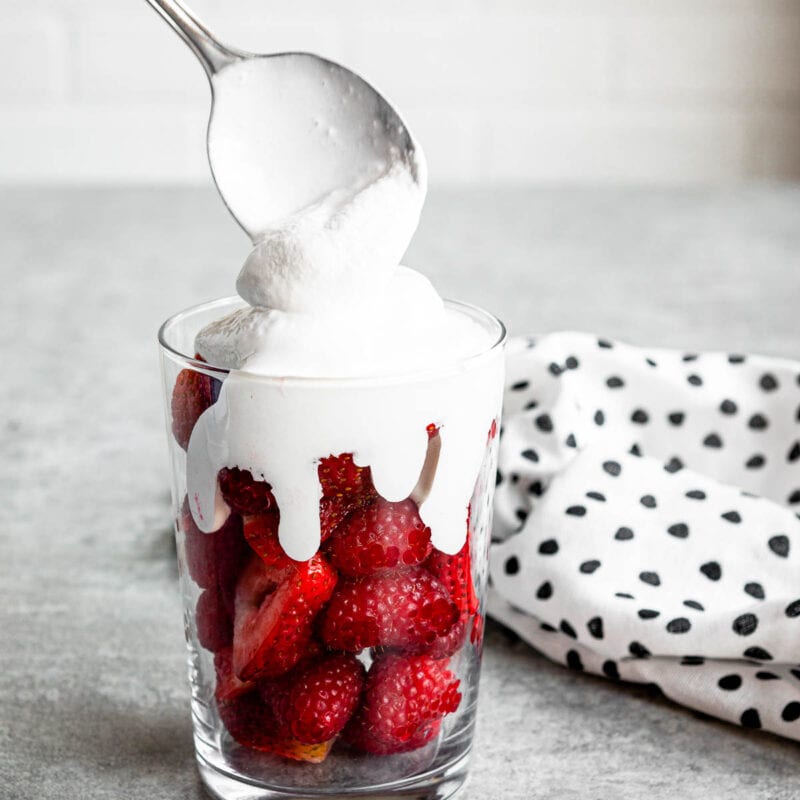 Coconut Whipped Cream
Finally, the dairy free whipped topping we've all been waiting for! I use coconut whipped cream on all manner of breakfast foods, desserts, and even as a fruit dip. It's fluffy, creamy and oh so delicious.
Ingredients
13.5

oz

coconut cream

(canned)

2

tablespoon

maple syrup

2

teaspoon

vanilla extract

⅛

teaspoon

sea salt
Instructions
Chill can of coconut cream until cold, up to 1 day. If there is any liquid left in the can after chilling, remove.

Transfer chilled coconut cream to a mixing bowl and whip the cream until smooth. This will take a few minutes.

Add maple syrup, vanilla and sea salt to mixing bowl. Whip until light and fluffy. Use immediately.

Store the whipped cream in an air tight container and rewhip before serving again.
Notes
If you are unable to find canned coconut cream, use 2 cans of full fat coconut milk and drain all excess liquid after chilling.
Swap the maple syrup with your fav natural sweetener.
The coconut cream must be thoroughly chilled before whipping, as it won't aerate enough otherwise.  
Nutrition (estimated)
Calories: 349kcal (17%) Carbohydrates: 13g (4%) Protein: 3g (6%) Fat: 33g (51%) Saturated Fat: 29g (181%) Polyunsaturated Fat: 0.4g Monounsaturated Fat: 1g Sodium: 78mg (3%) Potassium: 336mg (10%) Fiber: 2g (8%) Sugar: 6g (7%) Vitamin C: 3mg (4%) Calcium: 22mg (2%) Iron: 2mg (11%)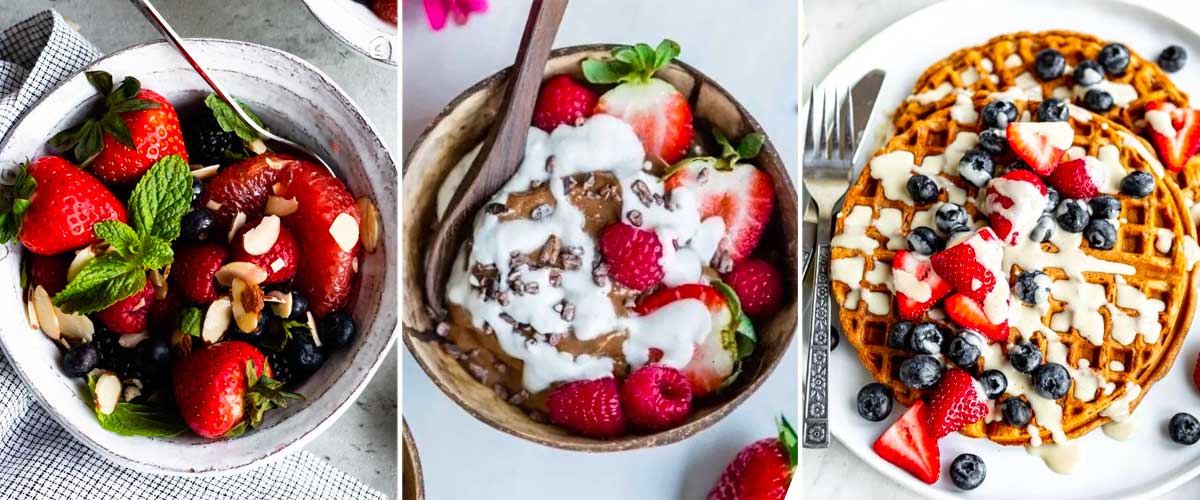 How to Use Coconut Whipped Cream
Any food you would normally top with regular whipped cream you can top with this deliciously dairy free coconut whipped topping. Here are a few of my fav foods to top: