Blog
Cleansing Citrus Smoothie – An Energy-Boosting Green Smoothie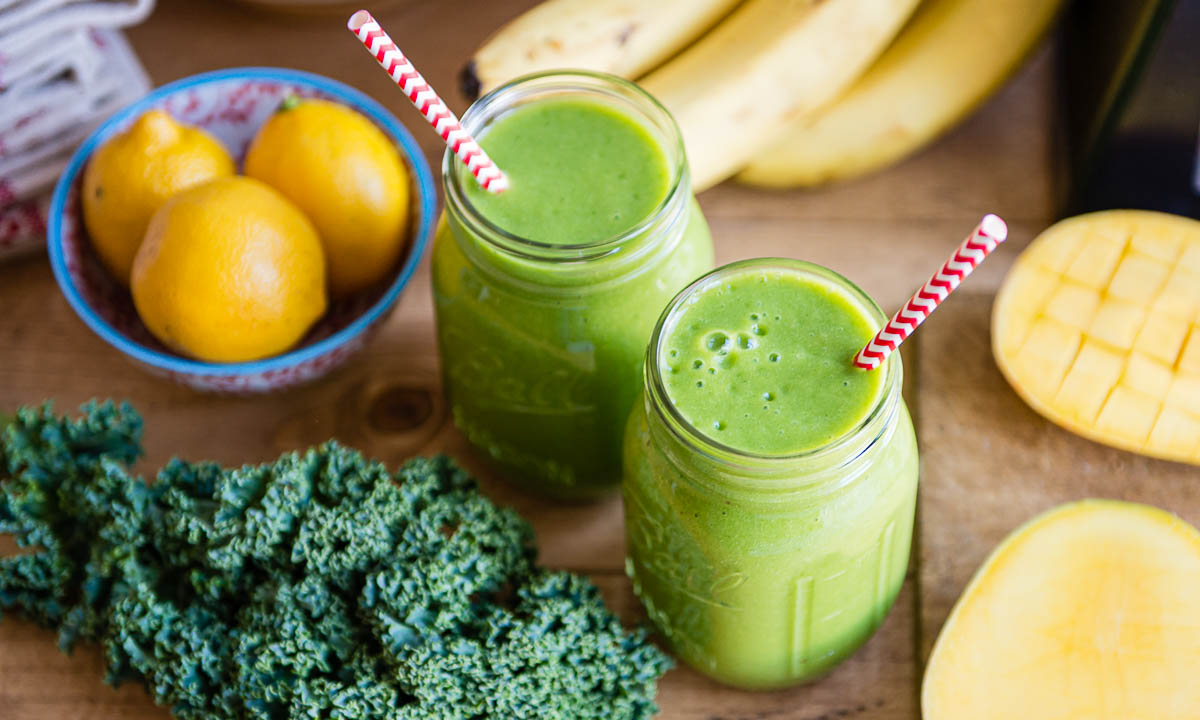 I'm all for making the food I eat work for me and my body. I want my fuel to be as nutrient-rich as possible, which is why I drink a daily green smoothie. It's like a multivitamin in a cup! This bright citrus smoothie delivers vitamin A and vitamin C in a sippable package, with a lemon kick.
I could honestly eat lemons every day. I planted a Meyer lemon tree right after moving into my Florida home! Yet a little lemon does go a long way in a smoothie, so for this one, I paired it with kale, mango and banana for the ultimate green treat.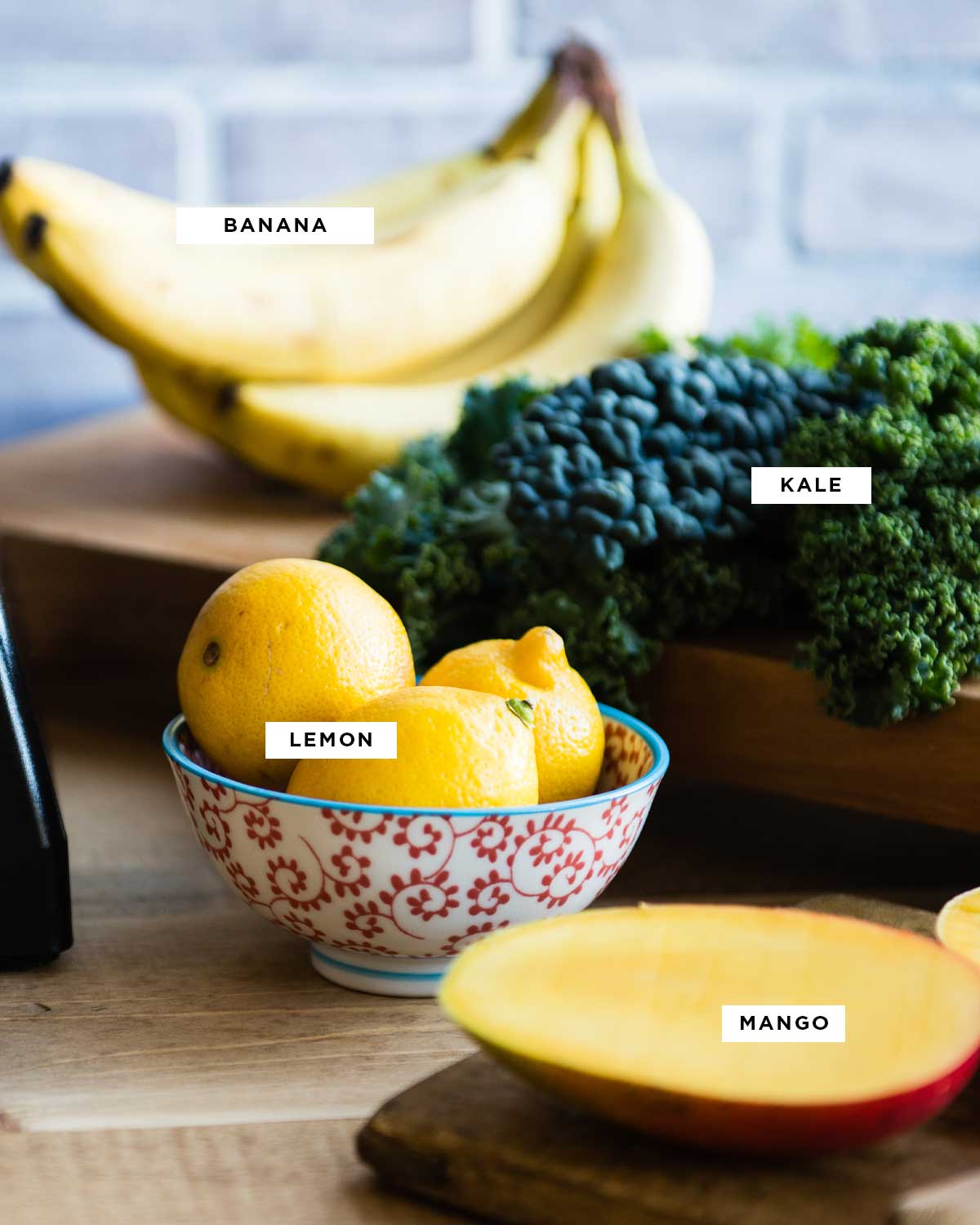 Citrus Smoothie Ingredients
Lemon: If foods can be a love language then lemon is mine. This bright fruit not only provides great flavor but also vitamin C, potassium, and vitamin B6.
Kale: Earning its superfood status easily, kale is a powerhouse smoothie ingredient. It provides fiber, protein, vitamins and more! Gently massage the leaves and discard the stems before adding it to your blender for a less-bitter experience.
Mango: The ultimate natural sweetener, mango is mild in flavor. If cutting up a mango isn't in your wheelhouse yet then buy frozen! It's already peeled and diced as well as flash frozen at peak ripeness.
Banana: Smoothies should be creamy and banana is the secret ingredient that achieves this silky texture. Bananas contain more sugar the more they ripen, so use a greener banana for less sweetness and a spotted banana for a sweeter treat.
As-is, this smoothie works great as an energizing snack. If you want to turn this into a meal replacement smoothie, add a plant-based protein powder. This gives you the protein, fiber and healthy fat boost to fuel up and stay full until lunchtime.
Ingredient Swaps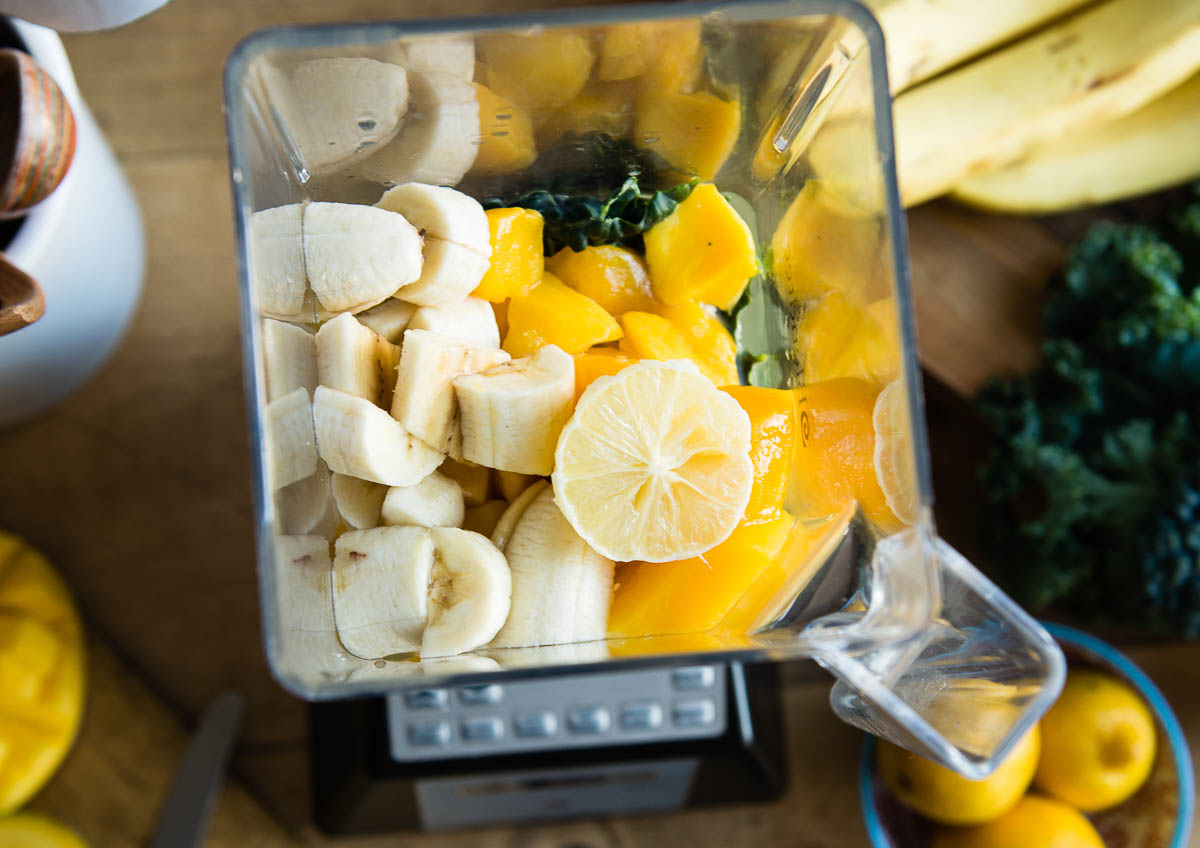 If you want even more goddess-level energy, swap water with unsweetened coconut water (aka, nature's Gatorade). If even a drop of lemon has you wincing then swap in a Meyer lemon. It's a sweeter, less tart cousin to the regular lemons you find in the grocery.
If you want to keep the citrus train rolling with this smoothie then take out the mango and water and add in one whole orange. Oranges are so juicy that they act as both a liquid and a fruit in smoothies.
Kale may not be your first leafy green choice, so if you're new to blending kale, start small! add a quarter or half cup and work your way up to that oversized handful. Or just swap with spinach or swiss chard.
The Power of Citrus Fruit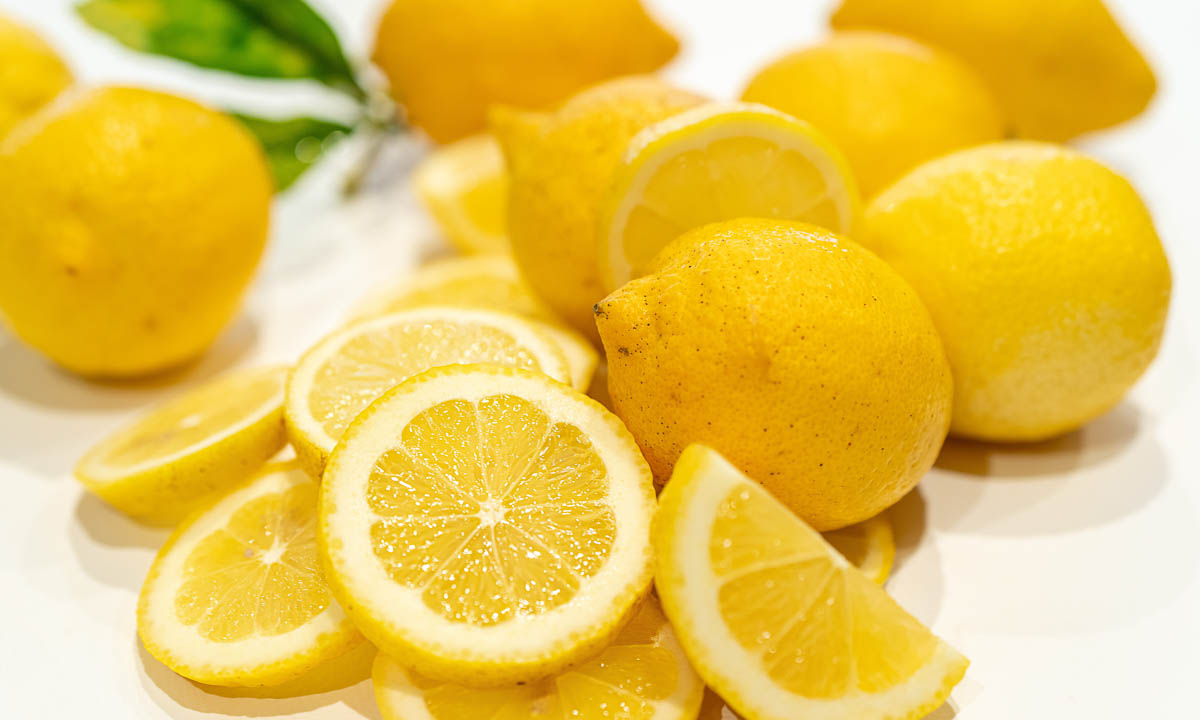 We all know that if you need a vitamin C boost, grab the nearest orange and chow down. Yet did you know vitamin C is found in all citrus fruit? I love oranges, but they certainly don't own the market for immune-boosting vitamins. Just like with any food, eating a variety of citrus will give you even more rounded nutrition and you may just find a new favorite fruit!
These are my 12 go-to fruits to look for at markets and grocery stores when I'm on the hunt for citrus fruit:
| | | | |
| --- | --- | --- | --- |
| Lemon | Blood Orange | Clementine | Citron |
| Grapefruit | Key Lime | Kumquat | Mandarine |
| Finger Lime | Meyer Lemon | Pomelo | Persian Lime |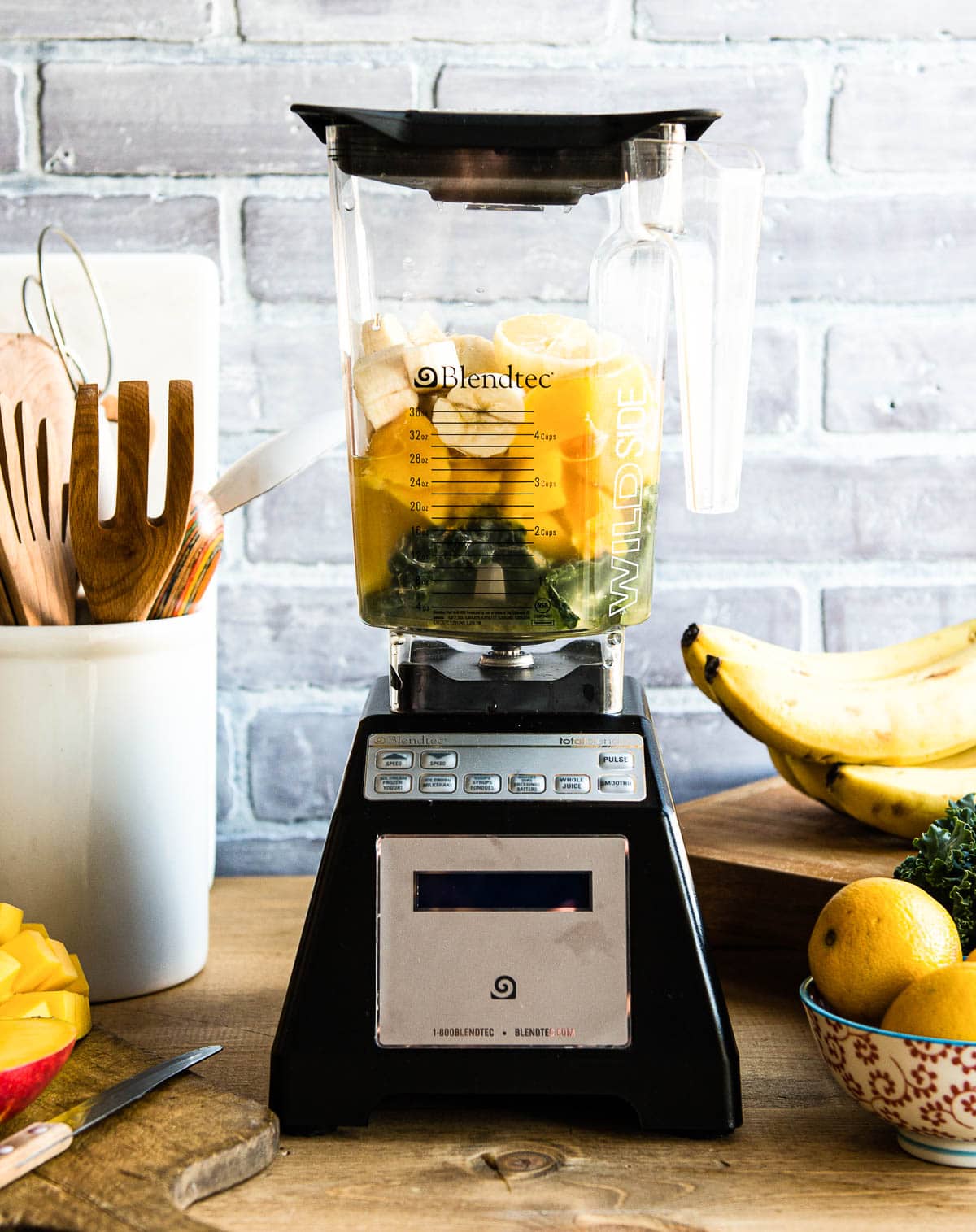 Citrus Smoothie FAQs
What are the best fruits to put into a smoothie?
The possibilities are endless when it comes to which fruits you can blend. You can blend almost any fruit! The more important thing to keep in mind is making sure your smoothie is balanced (hello fiber-rich leafy greens!) to avoid a sugar spike from that natural glucose in fruit. My citrus smoothie combines lemon, kale, mango and banana for a sweet energy drink.
Can I use citrus juice in a smoothie?
While you can use fruit juice like orange juice in a smoothie, I recommend using the whole fruit instead. That way you get the fiber and vitamins found in the pith of citrus fruit instead of just the glucose.
What blends well with citrus fruit?
I pair the citrus lemon with mango and banana in this smoothie recipe. I also use kale to balance out the sweetness from the fruit as well as provide even more fiber to help the body break down the fruit.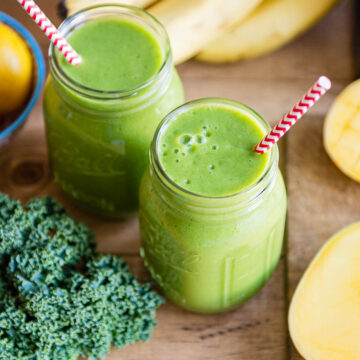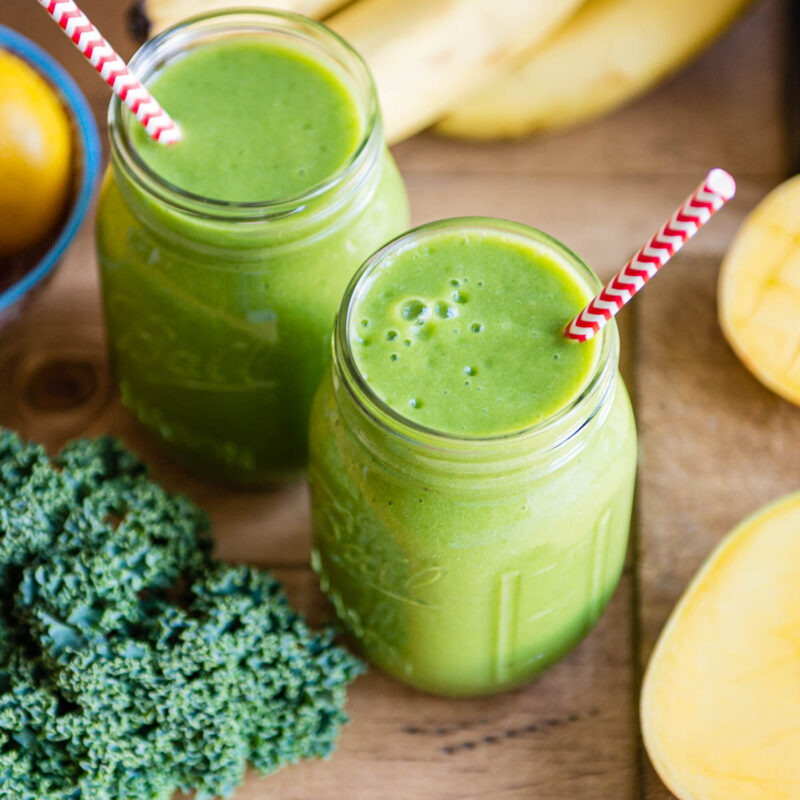 Citrus Smoothie
This perfect citrus smoothie keeps major organs free from toxins, reducing the risk of sickness slowing you down and helping you feel alive and thriving.
Ingredients
1

cup

kale

1

cup

water

1

cup

mango

(frozen)

¼

lemon

(peeled)

½

banana

1

serving

Protein Smoothie Boost

(optional)
Notes
Use at least one frozen fruit to make this smoothie cold.
To cut back on the natural sugar in this recipe, swap ½ banana with ¼ avocado or ¼ cup cauliflower.
Swap kale with leafy greens of your choice.
This recipe uses the lemon fruit, not just the juice, for extra fiber and nutrients. If you're in a pinch, lemon juice works great too!
Nutrition (estimated)
Calories: 183kcal (9%) Carbohydrates: 44g (15%) Protein: 4g (8%) Fat: 2g (3%) Saturated Fat: 0.4g (3%) Polyunsaturated Fat: 1g Monounsaturated Fat: 0.3g Sodium: 50mg (2%) Potassium: 759mg (22%) Fiber: 8g (33%) Sugar: 31g (34%) Vitamin A: 8522IU (170%) Vitamin C: 142mg (172%) Calcium: 205mg (21%) Iron: 2mg (11%)
More Smoothies Using Citrus
No matter where you live, you can probably find some kind of citrus fruit at the grocery store. And no matter the citrus smoothie, swap with the ingredients you have available and blend away! Here are a few of my favorite citrus smoothies to get you started:
What are you going to blend first? Drop a comment and let me know. I'll blend it with you!