Blog
8 Healthy Sweet Potato Recipes

Don't let that bag of sweet potatoes go to waste. Instead, grab a few recipes from this post and get creative with this veggie! My quick and easy sweet potato recipes use this fun root vegetable in all new ways.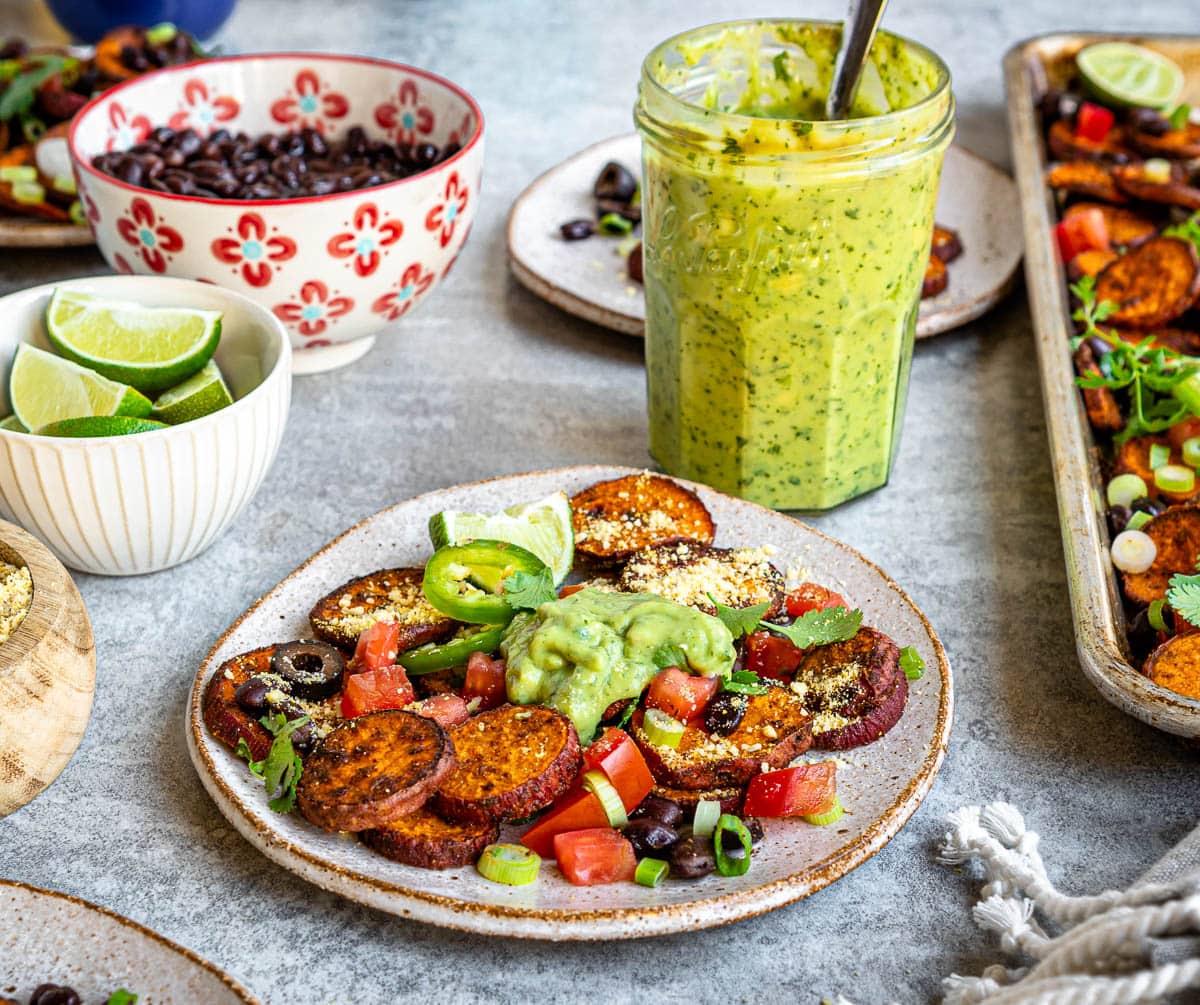 It's so much easier to buy a bag of sweet potatoes, even if a recipe only calls for one or two. But then you forget about them in the back of the cabinet. These incredibly tasty and healthy sweet potato recipes are here to help! Jump out of that potato rut and dive into a dish that uniquely uses sweet potatoes.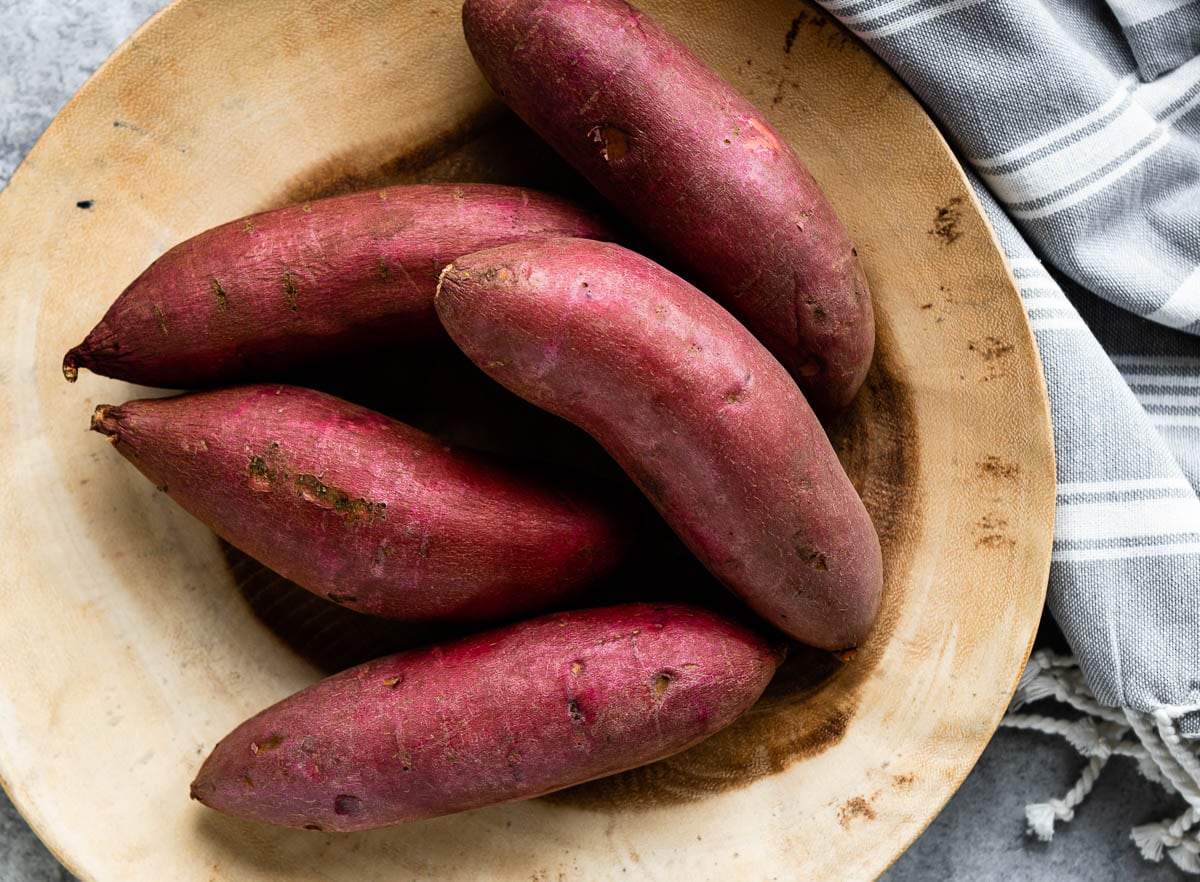 Eight Healthy Sweet Potato Recipes
As a kid, my knowledge of adding sweet potatoes to a meal included baking them and topping them with butter, brown sugar and cinnamon. While this was a delicious combo, it's not the most exciting (or nutritious) way to enjoy them.
As I learn more about fruits, vegetables and flavor combos, I get more and more creative in how I consume these bright root vegetables. Let me share with you my favorite quick and easy sweet potato recipes so you can fall in love with a new way to eat them, too!
Loaded Sweet Potato with Kale Slaw
Enjoy this Loaded Sweet Potato recipe that is filling and helps balance your blood sugar. It's also packed with vitamin A, B vitamins, potassium and fiber. They provide the perfect base for this delicious kale slaw, which is teeming with nutrients that help stimulate digestion and absorption.
Spiralized Vegan Taco Salad
Sweet potatoes are one of the healthiest foods you can add to your diet. We're always looking for ways to serve them in an exciting way and this vegan taco salad is perfection. Each healthy bite is full of mouthwatering flavor. It definitely hits the spot when you're craving Mexican flavors.
Coconut Sriracha Veggie Bowl
This veggie bowl recipe is simple, delicious, and has the perfect sauce. Great for those left over veggies in the fridge that need to be used.
Sweet Potato Nachos
Kick back and dig into this sweet n' savory plant based sweet potato nachos. Gorgeous fresh chips baked to perfection and topped with a rainbow of toppings, you'll never order nachos again! These are really pretty easy to make and so worth it for the warm flavors.
Austinite Vegan Tacos
When I created this vegan taco recipe, it just felt like it had an Austin flair going on, so I named it after that city. Austin, Texas, is one of my favorite cities, thanks to the great music, the variety of healthy foods available, its natural landscape, and the fact that my awesome aunt and uncle live there. 
Sweet Potato Smoothie
This sweet potato smoothie is the next best thing to a pumpkin spiced latte… and WAY healthier. Serve with a dash of nutmeg on top (mine was more like a spoonful of nutmeg…and it was so gooooood). Happy Fall to you!
Sweet Potato Noodles
I remember the moment I took my first bite of this sweet potato swoodles dish. My tastebuds rejoiced! It was everything I wanted, and then some. It's plant-based Asian fusion at its finest. I'm so excited to share this savory sweet potato noodles dish with you.
Hemp Hearts Veggie Bowl
The hemp sauce makes this dish and brings the roasted veggies to a whole other level! Feel free to swap in other veggies to match your preferences, but this combo of onions, bell peppers, sweet potatoes, and kale is a real winner.
How to Eat Seasonally
In most of the United States, sweet potatoes are at peak freshness and natural ripeness in Autumn. While you can find them in grocery stores year-round, they are at their most nutrient-dense and have the best flavor when harvested in their natural season.
The same is true for all fruits and vegetables. When I move to a new place the first thing I do is find out when produce is seasonally fresh. That way I can save money (produce is cheaper when purchased in season), get the most nutrients in my food, and enjoy the best flavor.
Quick and Easy Sweet Potato Recipes FAQs
What is the healthiest way to eat sweet potatoes?
Honestly, adding sweet potatoes to your weekly menu is a healthy way to eat them! You can pair them with a variety of other veggies and a plant-based sauce for a more nutritious meal as opposed to frying them, but I'm not one to judge.
Are sweet potatoes good for weight loss?
They can be. My rule of thumb is to eat as wide a variety of fruits and vegetables as possible. If I include meat in a meal, I include it as a side, not the main event. Instead, a giant loaded sweet potato is a great main dish. Sweet potatoes are a bit more nutrient dense than white potatoes, so I include them more often than white potatoes.
Is eating sweet potatoes daily healthy?
If you eat them in the context of a diverse and vegetable-heavy diet, then you can eat them often! Just make sure you include a variety of vegetables, not just potatoes, in your meals.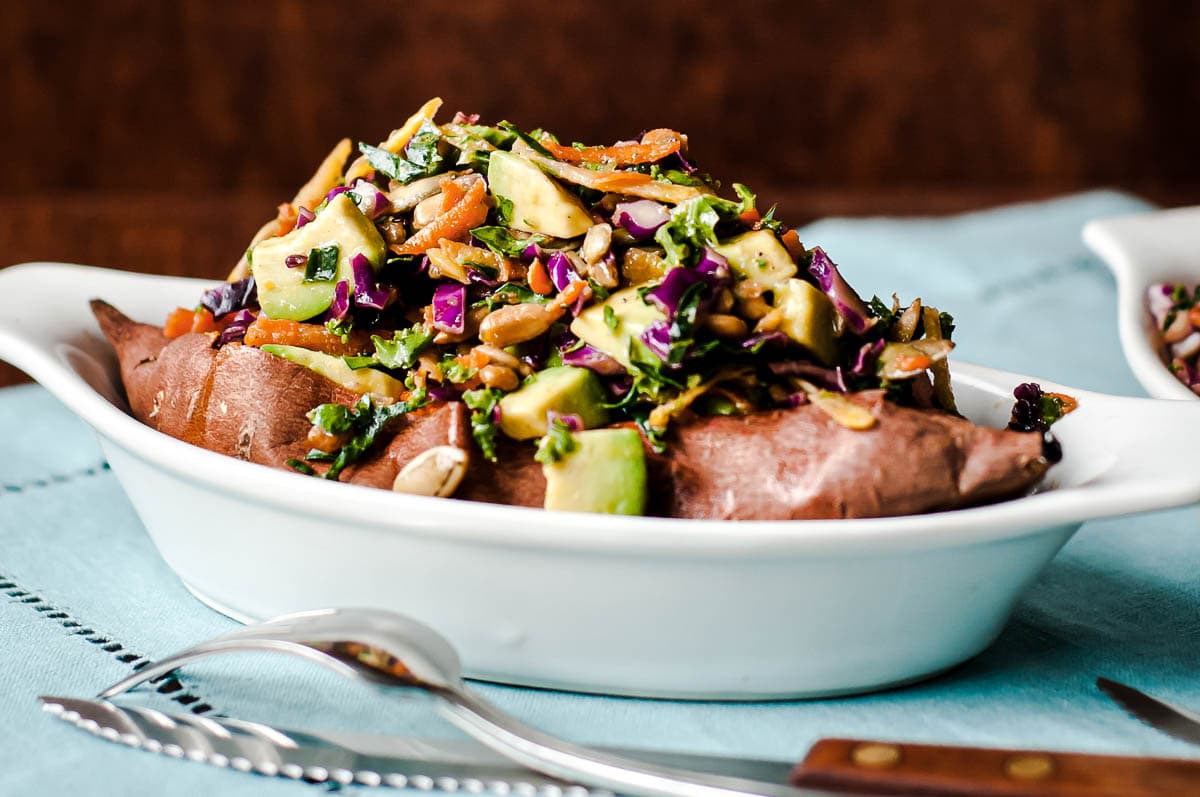 Sweet Potato Benefits
People often view potatoes as simply starches. They are, but they're also great sources of fiber, vitamins A and C and manganese. You'll get different nutrients depending on the variety of sweet potato (did you know some are purple?).
While I usually show recipes with traditional, orange-fleshed sweet potatoes as they are the most widely available, don't be afraid to try a new variety when you find one. You may find a new favorite veggie!
Quick Potato Swaps
Now that you've got some incredible recipes in your sweet potato belt, you can better swap sweet potatoes into whatever recipe you want! While different potatoes have different tastes, you can pretty much swap out white for sweet potatoes whenever you want.
You can also easily use sweet potatoes for recipes that call for butternut or acorn squash! They are less expensive and sometimes easier to find, depending on the season and your location.