Blog
5 Delicious Dragon Fruit Recipes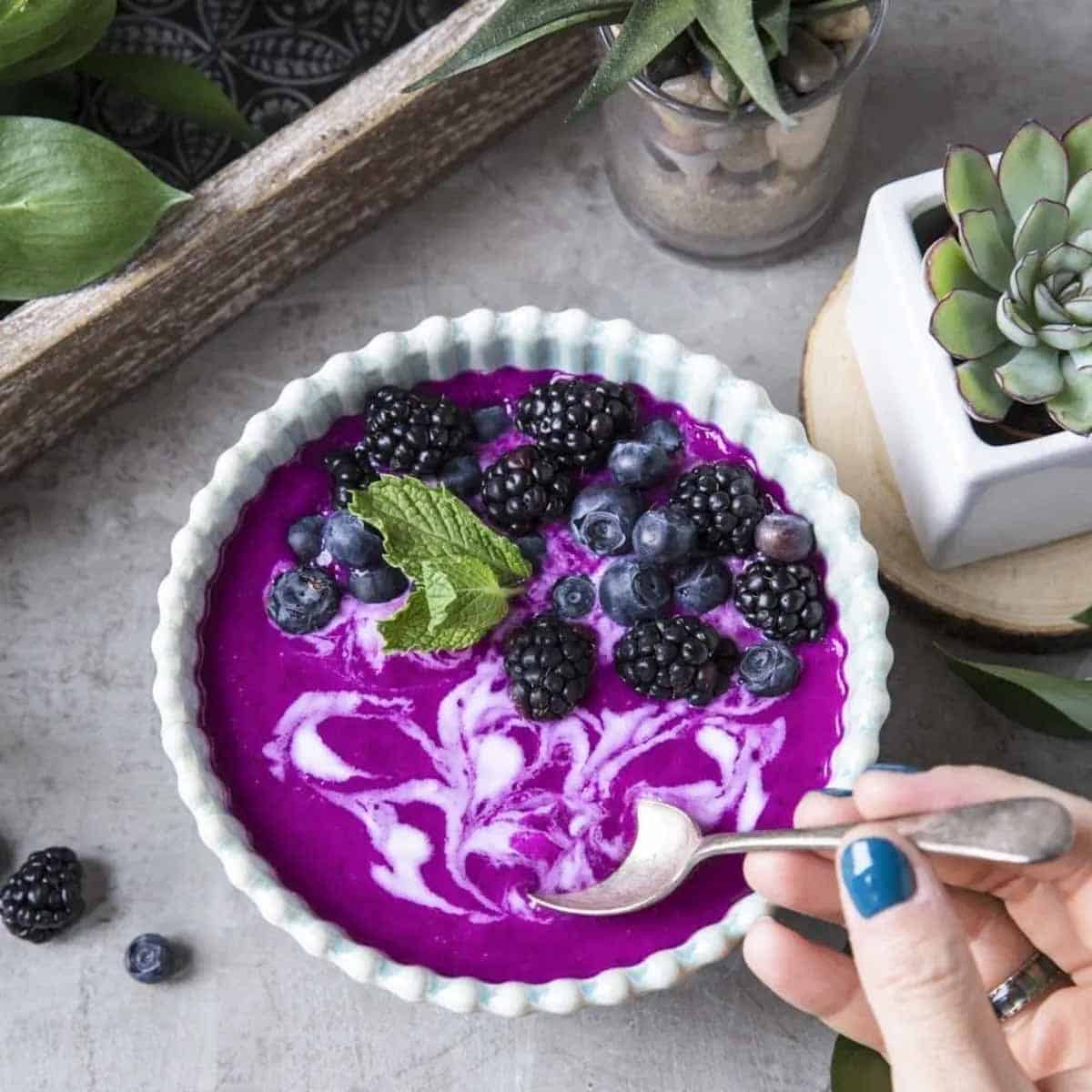 I created this bright and peppy dragon fruit smoothie bowl to spice up a home spa date with my daughter Clare. We had so much fun blending up this hot pink fruit, we started looking for other creative ways to use this unique ingredient. I can't wait to share these impressive dragon fruit recipes with you!
5 Dragon fruit recipes
This spiky fruit originated in Central America, and has recently gained worldwide fame. Toss frozen fruit cubes into your next glass of water for a fruit-infused drink, or get even more adventurous with one of the 5 recipes below.
While I started with the dragon fruit smoothie bowl below, I quickly fell in love with eating this fruit, whether plain or in a fun dish.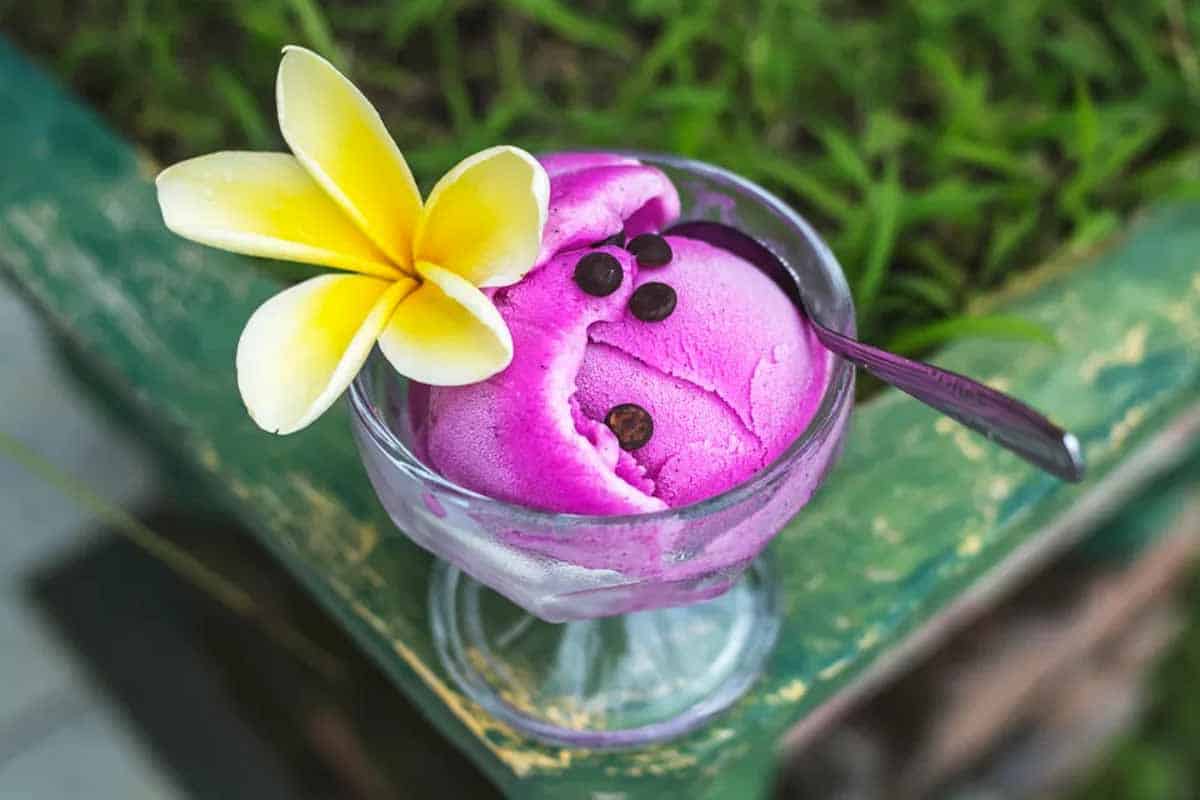 Dragon fruit sorbet
Sorbet is a beautifully refreshing way to enjoy fruit on a hot summer day. This dragon fruit sorbet by The Spruce Eats is no exception; its gorgeous color will make it a standout dessert.
Pro tip: sorbet needs sugar to bond correctly. If you are looking for a more natural sugar to add, then swap out the white sugar in this recipe for maple syrup or honey. These dragon fruit recipes are all full of flavor and flare!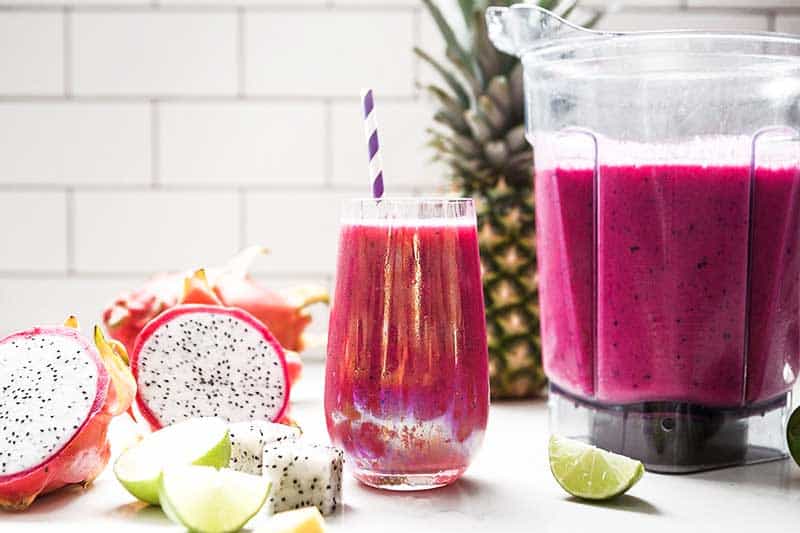 White dragon fruit smoothie
This tropical smoothie can be made with either white or pink fruit, and is a lovely afternoon pick-me-up. Use coconut milk to keep things tropical, or swap up the liquid with oat milk or almond milk for an equally delicious smoothie.
This unique fruit contains iron, fiber, and magnesium. If cutting up a fresh one is a little intimidating, then look for it in the frozen section. Also known as Pitaya, it's a cactus fruit that's loaded with antioxidants. Pick one of these dragon fruit recipes for a flavor and nutritional win.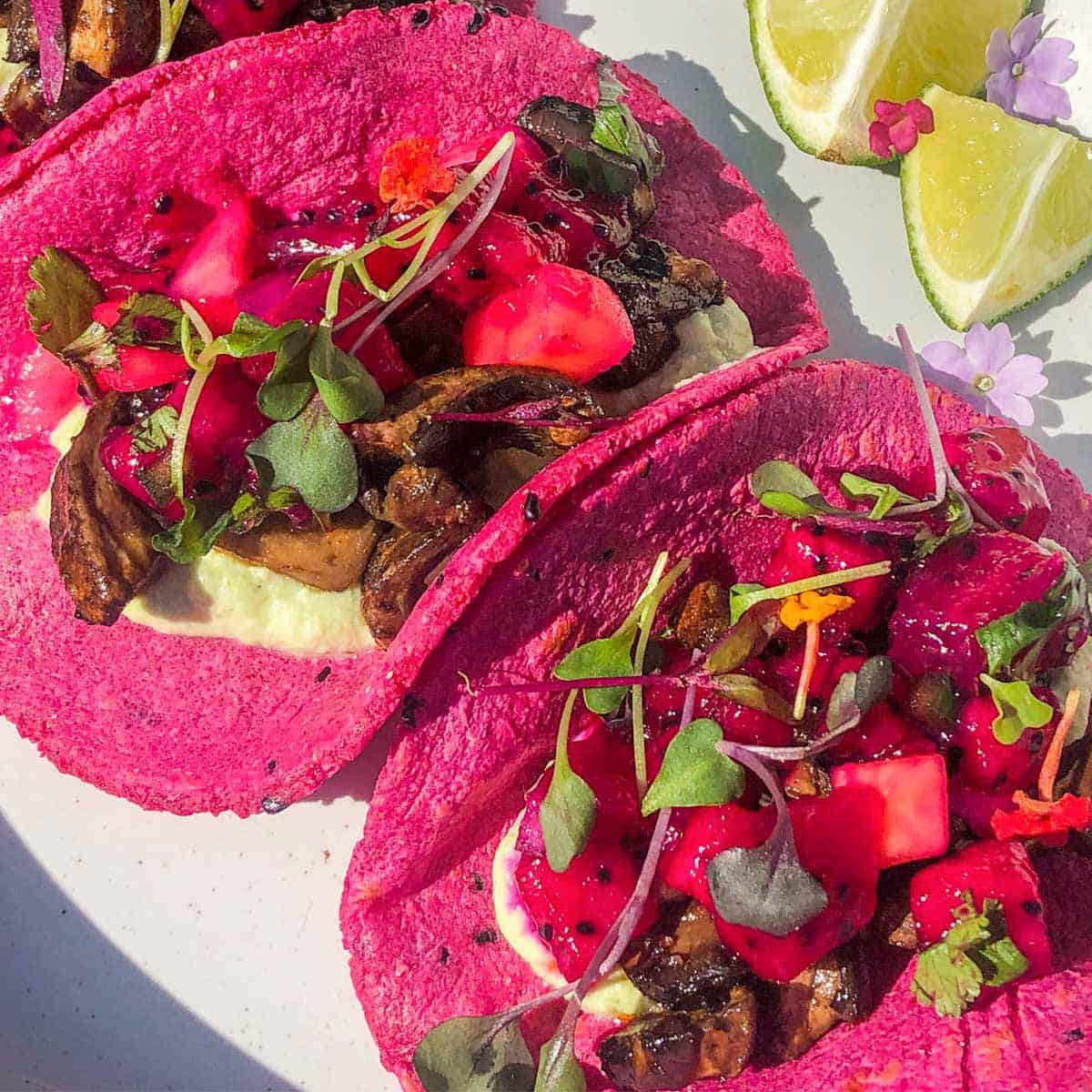 Dragon fruit tacos
I did a double take when I first saw this hot pink recipe. It's right up my alley (and my love for tacos!). Pitaya Foods is a great brand for frozen dragon fruit, as well as a fun website to check out for tantalizing dragon fruit recipes.
These tacos are corn tortillas with dragon fruit in them, and will make your next Taco Tuesday one to remember.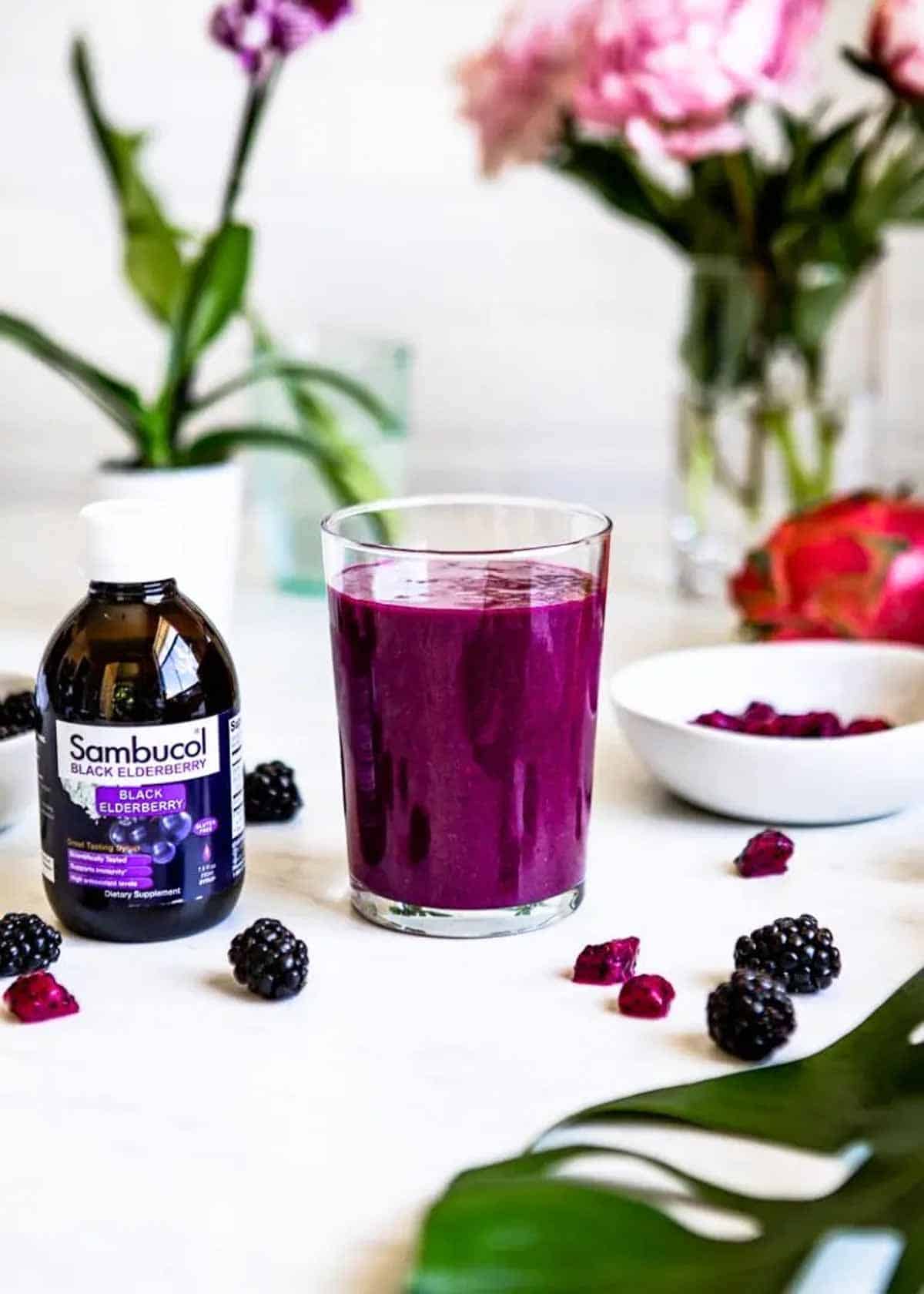 Immunity smoothie with dragon fruit
I'm trying to be as proactive about my health as possible, and this smoothie gives me a great boost at the first sign of unwelcome germs. The elderberry syrup mixed with pink dragon fruit gives it a vibrant purple color.
If you feel a sore throat coming on, whip this recipe up in the blender, then pour into popsicle molds. It works great as a soothing popsicle recipe that helps with symptoms as well as gives your whole immune system a bump. This dragon fruit recipe can be made in or out of flu season to keep you energized.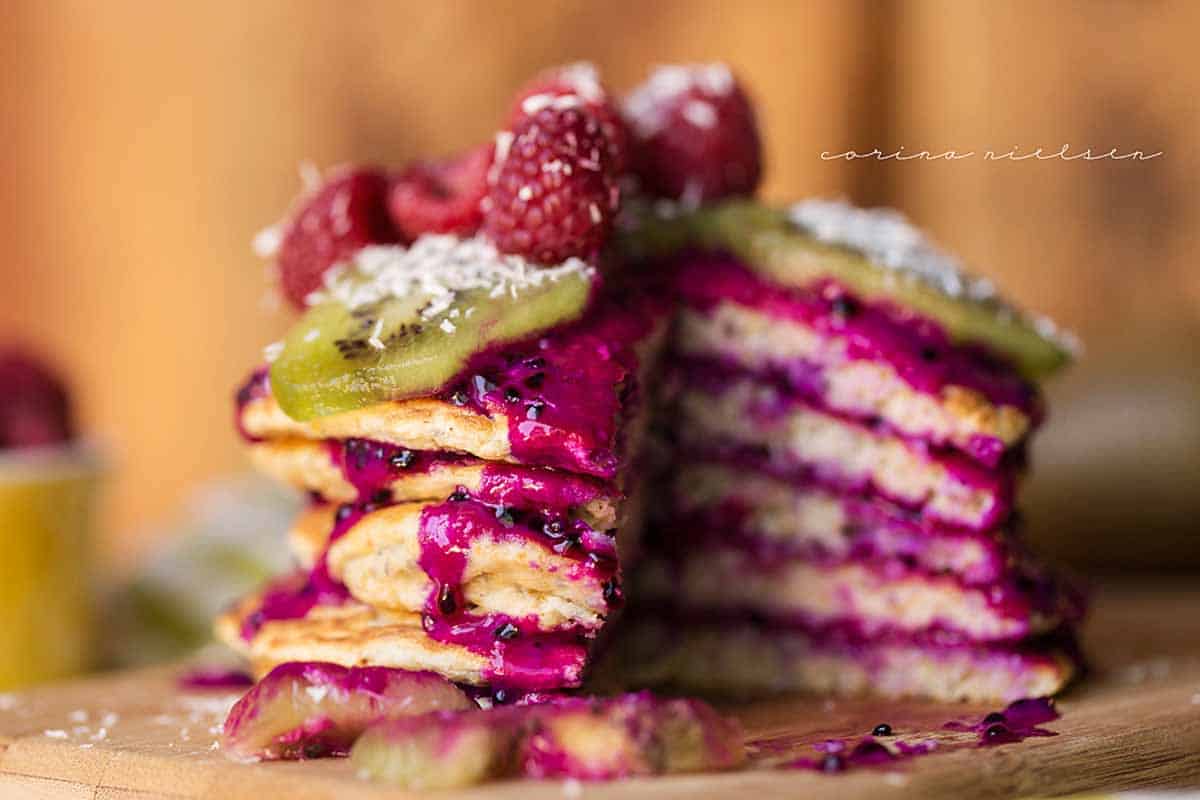 Tropical fruit compote
Who doesn't love a good pancake or waffle brunch? Enter this tropical pancake recipe and you've got an upscale meal to share with family and friends. Corina turns regular pancakes into a gourmet breakfast in this dragon fruit recipe.
I love the idea of turning ingredients for a fruit salad into a pink compote, and the taste is 10/10. If you're looking for a swap for stevia, just add in a bit of maple syrup or honey. This syrup can also be used on crepes as well as oatmeal.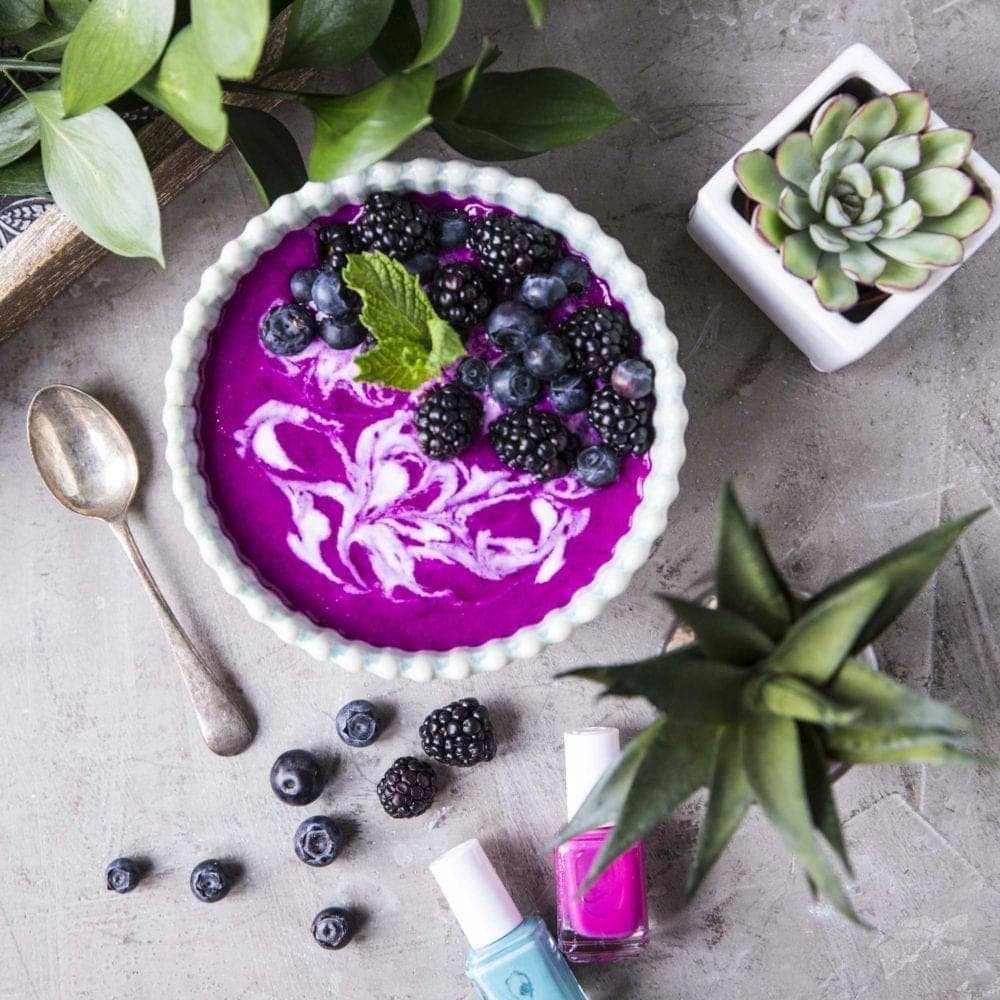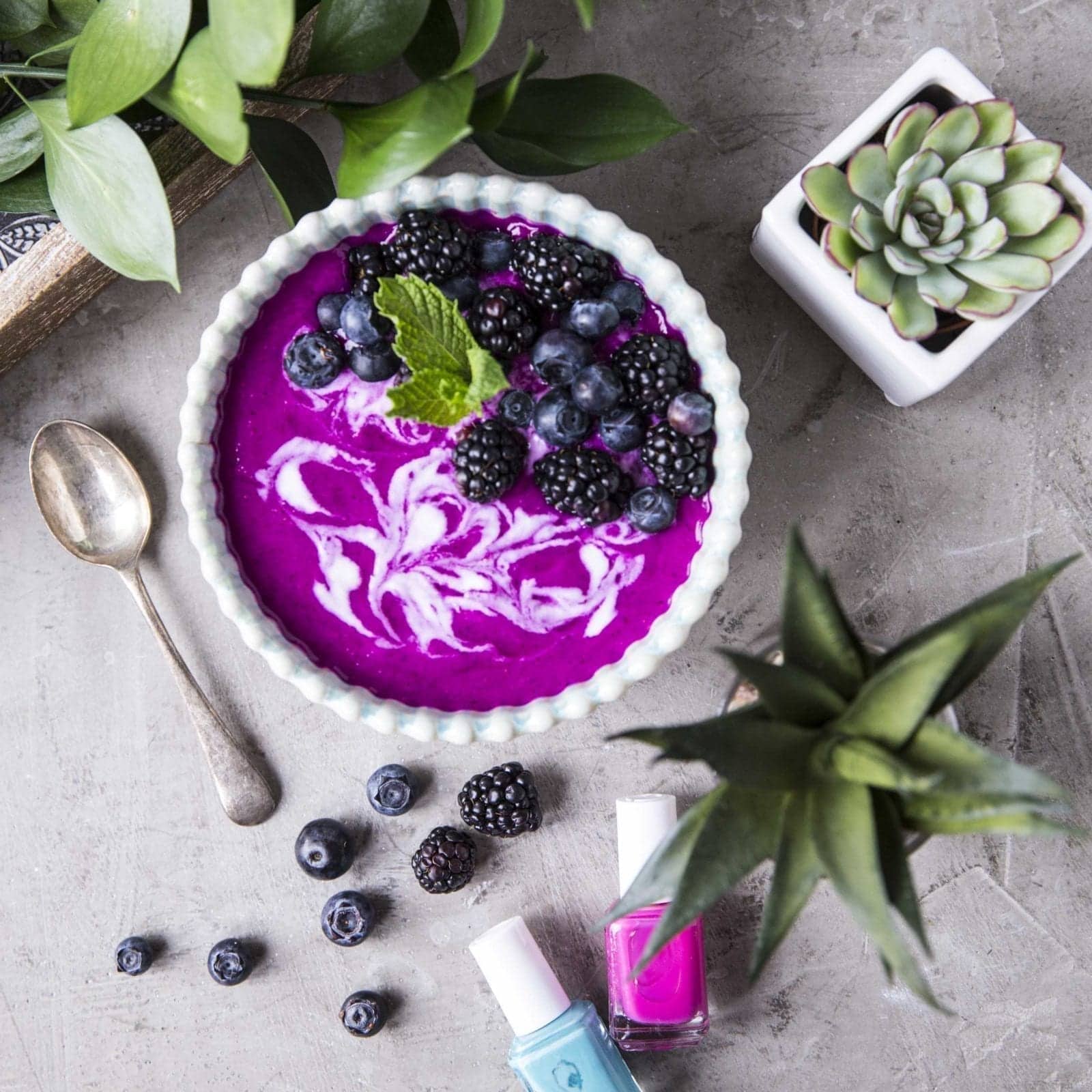 Spa day dragon fruit smoothie bowl
The below recipe is what started my journey into dragon fruit recipes. One of my fav ways to spend time with my daughter Clare is painting our nails together and talking about life. What a better way to let those new nails dry than to indulge in a festive snack?!
Smoothie bowls are an easy snack-win because you can top them however you want. Some like to add in a crunch from granola or freeze dried fruit, while others load up the top with more fruit. This dragon fruit smoothie bowl is the perfect base for a bowl full of berries.
Different varieties
The most common variety of dragon fruit I find in grocery stores have white flesh and are either pink or yellow on the outside. There are also pink-fleshed versions with pink or orange skin. You can use any variety in these dragon fruit recipes.
All are equally delicious, yet the color is more a preference of how you want your dish to turn out visually. Obviously a pink dragon fruit will turn pretty much any dish hot pink… but there's nothin' wrong with that!
Description
This dragon fruit recipe is inspired by my daughter, Clare, because it's beautiful and sweet. It's also a bit unique, because dragonfruit is not a staple Simple Green Smoothies ingredient. But I've been buying it a lot more since I got a membership to Costco. Try this bowl today! 
---
1

(3.5 ounce) packet frozen dragon fruit puree (pitya)

1

bananas (large frozen )

1/2 cup

pineapple ( frozen )

1/2 cup

cauliflower florets ( frozen )

1/4

–

1/2

cup water ( plus more if needed, for blending)
Toppings:
coconut cream (for swirling)
fresh berries
---
Blend all ingredients together.
Use a tamper to push down and encourage blending if getting stuck.
Spoon mixture into a bowl.
Swirl in coconut cream.
Top with fresh berries.
Notes
Coconut cream is added for visual affect, yet not needed!
Make sure not to add in too much liquid. You want this to be yogurt consistency.
Category:

Smoothie

Method:

Blending

Cuisine:

Healthy
Keywords: Dragon fruit smoothie bowl, dragon fruit recipes
FAQs
What can you make with dragon fruit?
So many things! From syrups to sauces, taco shells to smoothie bowls, this tropical fruit is incredibly versatile. Use the white fleshed variety to keep it subtle, or go for the pink flesh to make a bright statement dish.
What's the best way to peel dragon fruit?
This unique fruit can be intimidating to peel looking at its spiky exterior. To peel, I cut off both ends then slice the fruit in half length-wise. Then using a spoon, I scoop out the fresh fruit inside.
What does dragon fruit taste like?
To me, dragon fruit is similar in taste to kiwi. It's fairly mild in flavor and slightly sweet, making it a great ingredient to toss into your next smoothie bowl.