Blog
15 Cacao Powder Recipes – Healthy + Easy Chocolate Recipes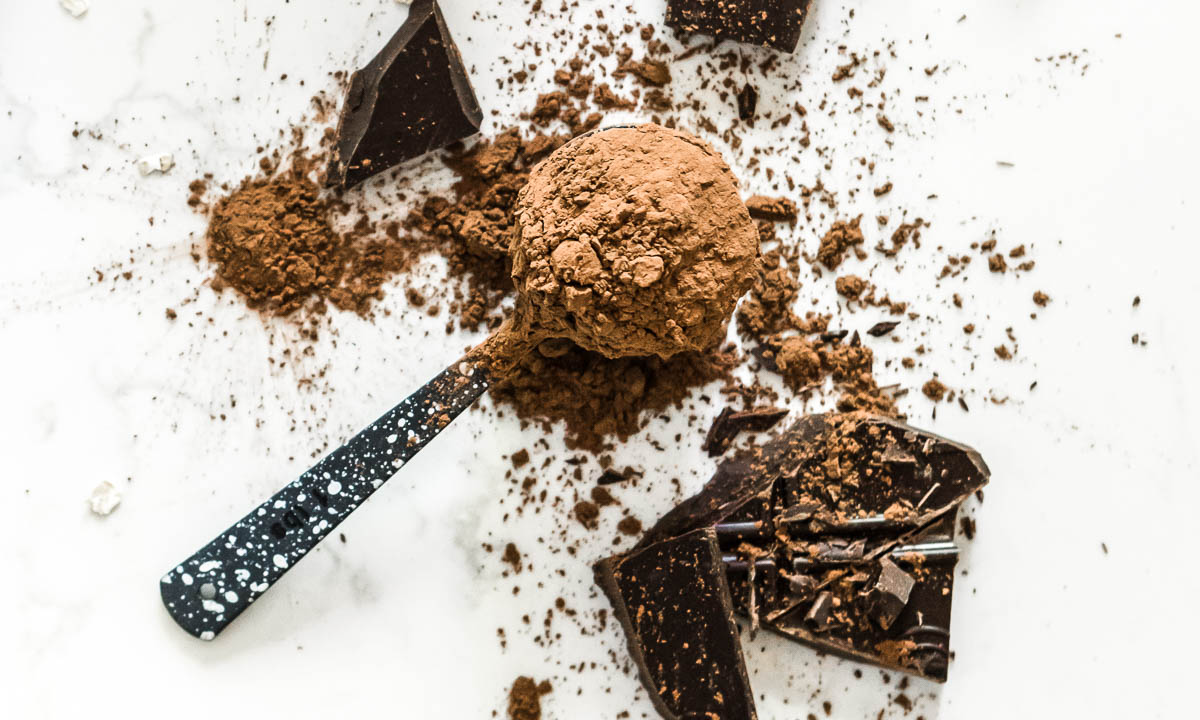 More natural, less processed forms of chocolate are gaining popularity, so let's learn how to use cacao powder and discover the best ways to use it in food. I've got 15 cacao powder recipes that are just plain good. They will fill any chocolate cravings you have with 100% plant-based ingredients and whole food.
I'm not crazy in love with chocolate, so it's got to be a great recipe for me to want to eat it. That said, my fudgy brownies and chocolate peanut butter smoothie are on repeat in my house. They are #worthit. Which one of the below recipes are you excited to try?
Cacao Powder Recipes
When looking for cacao at the grocery store, you may come across cocoa powder. They are similar, yet cocoa powder often has sweetener or gums added to it. So as always, READ YOUR LABELS. No matter which powder you use, make sure it only has one ingredient. I love using Mountain Rose Herbs Roasted Cacao Powder since it has the best flavor in my opinion.
Since this plant-derived ingredient is naturally unsweetened, it's great for smoothies and desserts. You are going to add in other natural sweeteners like fruits or maple syrup, so cacao can focus on providing a deeply rich, dark flavor to your recipe. Now, on to the recipes!
Smoothies with Cacao
Adding a scoop of cacao powder transforms smoothies into chocolate shakes. It's a great natural energy boost (be careful if you're sensitive to caffeine). Pretty much any 'chocolate smoothie' recipe I make uses this natural ingredient as it's the least processed and fairly easy to find at your local grocery store.
Red Velvet Smoothie
Give your heart a healthy boost with cacao (unsweetened cocoa) in this green smoothie recipe. Serve it in a fancy glass with two straws so you and your loved one can enjoy it together!
Chocolate Peanut Butter Smoothie
Better than a milkshake! This plant-based peanut butter chocolate smoothie is so creamy and decadent, you'll think it's ice cream. Your body will thank you for enjoying this all-natural, no-sugar-added sweet treat.
Vegan Shamrock Shake
Not only will this vegan shamrock shake win you over with the taste, but you can feel good knowing you're raking in the health benefits with every sip. 
Chocolate Cherry Smoothie
This antioxidant-packed Chocolate Cherry Smoothie is a healthy indulgence that will satisfy any sweet tooth. Blend it as an energy-boosting snack or a fun and sippable dessert that will leave you smiling.
Chocolate Strawberry Smoothie
If you're a chocolate lover, this Chocolate Strawberry Smoothie a great smoothie for you. Sweet bananas, nutty almond milk and ripe strawberries make this plant based dessert win.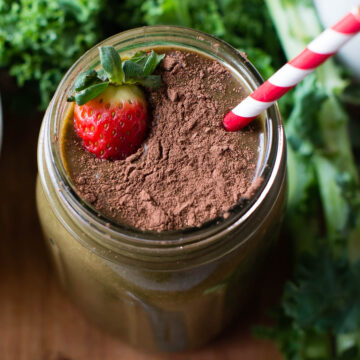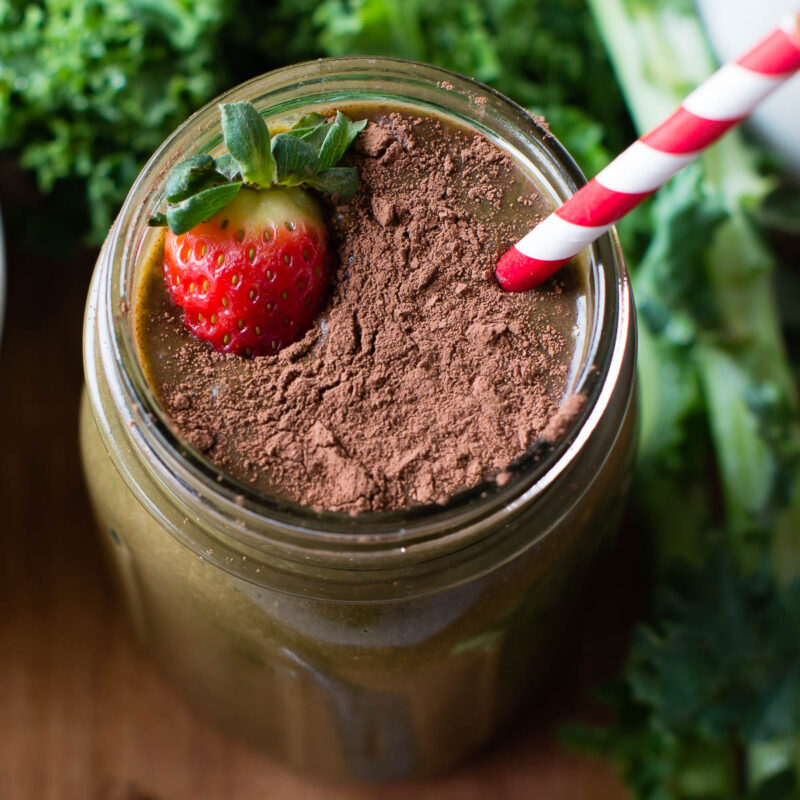 Energizing Mocha Coffee Smoothie
Sip on this cool and creamy coffee smoothie for breakfast or as a mid-afternoon pick-me-up. 
Chocolate Protein Shake
Blend up a creamy, cold chocolate protein shake smoothie made with plant-based superfood protein powder for a delicious meal or snack, or before/after a workout. Includes adaptogens to help ease inflammation.
Skinny Mint Smoothie
The combination of cacao powder and fresh mint leaves will give you that chocolatey-mint flavor you've been craving, but instead of packing in the fat and calories, you'll be packing in nutrients from spinach, and avocados! It's really a win-win. When the Girl Scout cravings hit, reach for this smoothie instead.
Hot Chocolate Smoothie
This dessert-like smoothie is perfect for a cool day or healthy treat. It's packed with chocolaty flavor as well as ingredients like spinach and hazelnuts.
Iron-Rich Smoothie Bowl
Boost your iron intake with this plant-based iron-rich smoothie bowl using fruits vegetables naturally high in iron.
Smoothie Cubes
Blend up a batch of these Smoothie Cube Blender Bombs to keep on hand for a quick and easy meal replacement smoothie that is full of fiber and protein to keep you fuller, longer and keep your digestive tract humming along.
Chocolate Dessert Recipes
Cacao isn't just for smoothies. Use it in dessert bowls, drinks and more! I love the rich flavor it brings to my homemade hot chocolate recipe and these fudge brownies are next-level good. How do you like to use this fun ingredient? Drop your favorite cacao powder recipe in the comments below!
Homemade Hot Chocolate
Take a spin on the classic hot chocolate recipe and not even miss a beat with this homemade hot chocolate recipe. This one is even better tasting AND twice as good for you. Let's cheers to that!
Chocolate Smoothie Bowl
Cacao adds rich chocolate flavor as well as a big boost of iron and other vitamins and minerals coupled with healthy fats to this chocolate smoothie bowl.
Fudgy Gluten Free Brownies
Thick, fudgy brownies that also happen to be vegan and gluten-free. (No one will be able to tell!) Loaded with delicious chocolate flavor and a great texture, this Fudgy Gluten Free Brownie Recipe really hit the spot.
Coconut Joy Vegan Smoothie Bowl
Blend up some plant-based goodness for a delicious, nutrient-rich dessert or snack. The flavors of coconut, chocolate, and almond come together quickly in this vegan smoothie bowl.
How to Use Cacao Powder
Any recipe that calls for cocoa powder can easily be switched to cacao powder (though the unsweetened cocoa powder is fine, too!). I like using a tablespoon of cacao in smoothies to turn them into chocolate creations. This powder pairs well with berries and cherries, as well as nut/seed butter.
Make 'chocolate milk' by adding cacao powder and a squirt of maple syrup to a cup of your favorite plant milk and stirring until dissolved. I also use it in my homemade hot chocolate recipe for a rich flavor.
Questions About Cacao Powder Recipes
What can I do with cacao powder?
What can't you do? Cacao powder can be used just like cocoa powder. Add it to smoothies, baked goods, oatmeal, plant milk, coffee and more to satisfy that chocolate craving.
Can I drink cacao every day?
In moderation, of course! Cacao powder contains natural caffeine so if your body is sensitive to this, then a little goes a long way. It is the perfect way to turn any smoothie into a chocolate delight and to add a chocolate flavor to desserts without adding extra sugar.
Can you drink raw cacao powder?
Yes. Cacao powder is a less processed form of chocolate. Make sure you look for 100% cacao, with no added sweetener. You can also use cacao nibs, which taste like unsweetened chocolate chips.